Books

Featured Books

pcb007 Magazine

Latest Issues

Current Issue

The Registration Sweet Spot

Registration is underrated and underappreciated. The key is to ensure proper registration from layer to layer across the entire printed circuit board. It's a holistic process requiring anticipation, prediction, precise attention at each step, and detailed data tracking and monitoring.

High-reliability Fabrication

In this month's issue, our expert contributors discuss the latest in technologies, trends, complexities and resources regarding high-reliability fabrication.

Finding Ultra

New demands on PCB fabrication, namely advanced packaging, ultra high density interconnect (UHDI), and new specialty materials, are converging, changing the landscape of our business. Is it time to start paying close attention to this convergence?

Columns

Latest Columns

||| MENU
Isola Launches Low-loss Laminate for 100 GB Ethernet Apps
March 30, 2015 | I-Connect007
Estimated reading time: 2 minutes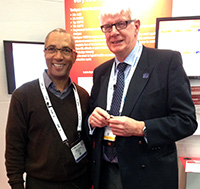 I spent time at IPC APEX EXPO 2015 talking about Isola's launch of a low-loss, low-skew laminate prepreg with Fred Hickman, senior director of high-speed digital products. Hickman explains that the new material, Chronon, will be one of the enablers of 100 GB Ethernet applications.
Pete Starkey: Fred, it's great to meet you. As the senior director of high-speed digital products at Isola, you are the ideal person to tell us about the new product launch. The brand is Chronon and it's a low-loss, low-skew laminate prepreg. Could you just give me a short introduction to this material?
Fred Hickman: Thanks for coming by, Pete, and thank you for giving me a chance to introduce you and your readers to Chronon. Chronon is indeed a new low-loss material for us. Essentially, it's one of the enablers, we think anyway, for 100 GB Ethernet applications, with a combination of good DK, 3.64 DK, less than .004 loss, but also excellent for skew. Fiber weave affects skew so it is a skew mitigator. So what we're proposing for people who currently use other competitive materials on the market, this is a drop-in material with very similar electrical, but very much improved skew mitigation capabilities.
So we have this product, Chronon, and last year we also introduced Tachyon 100G. Both have lower insertion loss, but Tachyon does not have the same ability to mitigate skew as Chronon.
Starkey: Are you in a position to give me a brief explanation as to how you've gone about minimizing the skew? What is it about normal materials that causes skew and how can that be overcome?
Hickman: With most materials, when you change the resin content it has a very big impact on the DK of the material. For instance, our best skew mitigator is GigaSync, changing the resin content from 50% all the way up to 75% and you get about a 3% change in the DK. So if you have lines going across resin/glass it doesn't matter because the DK basically stays the same. With Chronon, the DK change is only about 9% and in that same range, but with most other materials the DK range is around 20%.
Starkey: Oh, I see.
Hickman: So essentially what we're doing is using a combination of spread glass, also some proprietary engineering techniques with which we're minimizing the weave effect of glass.
Starkey: I understand now. It's really on a microscopic scale. Because there's such a difference in product and concept between glass and resin, if you've got a material where the signal has a glass-rich area and a resin-rich area, you can sort of smooth that out while still keeping the benefits of woven glass reinforcement, but having that reinforcement much more uniformly distributed through the substrate.
Hickman: Absolutely. You hit it right on the head.
Starkey: Well, Fred. Thanks very much indeed.
Hickman: Thank you, Pete. 
---
Suggested Items
12/05/2023 | Robert Erickson and Lorena Villanueva, IPC
About 200 kilometers (125 miles) north of Mexico City lies Queretaro, an area rich in history, with stone streets and public squares, and which twice has been the country's capital. But it's also quickly becoming a global capital of electronics manufacturing, especially aeronautics, and was the location for the first IPC Day Mexico this past June.
12/01/2023 | Nolan Johnson, I-Connect007
This week's news items taught me a few things I didn't know. For instance, there's news about the new equipment for THT work, governmental support for advanced packaging technologies, an upcoming webinar from iNEMI on counterfeits, an interview with U.S. Rep. Blake Moore, one of the sponsors of the bipartisan Protecting Circuit Boards and Substrates Act, and columnist Tim Haag, using Star Trek to illustrate why simplicity is, ahem, paramount.
11/30/2023 | PRNewswire
VPT, Inc., a HEICO company, VPT, Inc., a trusted provider of power conversion solutions for aerospace and defense, proudly announces its latest achievement of obtaining SAE AS9100 Revision D certification. SAE AS9100 Revision D enhances VPT's existing suite of certifications, including MIL-PRF-38534, MIL-STD-883, J-STD-001 (Space), IPC-A-610, and IPC-A-600, further cementing our commitment to excellence in quality and reliability.
11/29/2023 | TRI
Test Research, Inc. (TRI), the industry's leading provider of Test and Inspection systems for the electronics manufacturing industry, is pleased to announce the expansion of its Malaysian office, which opened in 2010.
11/29/2023 | Dana Korf -- Column: Dana on Data
November's issue of Design007 Magazine had an excellent theme that evolved around design simplification. There were exceptionally good articles about how to reduce over-constrained or needlessly complex designs. One significant time-consuming category is the creation of many design files and drawings which lead to lengthy creation and interpretation time along with the considerable time to resolve conflicting or erroneous information.