Books

Featured Books

smt007 Magazine

Latest Issues

Current Issue

Attracting New Talent

To get different results in staffing, you must change how you define, promote and recruit your job opportunities. How do you become magnetic to high-quality early-career candidates?

Test and Inspection

Test and inspection methods are undergoing rapid change. In this issue, we consider the influence of AOI, AI, and human eyes. How exactly are these pieces of the puzzle changing the role of test and inspection?

Chips Don't Float

In Europe and the U.S., legislation is under way to revitalize PCB fabrication and packaging. What is the status of this work, and how specifically does this change the industry landscape for EMS companies? What will help keep us afloat?

Columns

Latest Columns

||| MENU
High Reliability Thanks to Adhesives
April 8, 2015 | Kevin Balben, DELO
Estimated reading time: 1 minute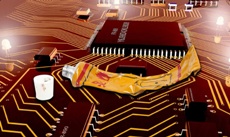 Protecting electronic components from thermal, mechanical and chemical stress is becoming increasingly important in many industries.
While application-friendly packaging is one way to ensure components' stability, highly reliable encapsulants are playing a more important role as well.
DELO Industrial Adhesives' product specialist Kevin Balben explains the correct uses of today's encapsulants and compounds and clarifies the myths that surround them.
True or False?
When using encapsulants and casting compounds in electronic production, there is no alternative to heat curing in ovens.
True. While users have a choice between heat curing and light curing, the latter is used in a handful of applications including those that use connectors, switches and relays. Light curing acrylates are ideal for these applications and enable extremely short cycle times.
As soon as components are exposed to harsh environmental conditions, heat-curing epoxy resins are the only game in town. These robust products contain an anhydride hardener activated by heat. Therefore, curing requires temperatures between +100°C and +180°C.
For demanding conditions there are no alternatives to heat curing. Thermodes and induction are forms of heat curing and work faster than a normal oven, but are still slower than light curing. Users cannot always use induction or thermodes because the geometry and size of the parts may not allow it. For the most part, there is no way around air convection ovens.
Temperature and freedom from tensions are conflicting goals when trying to optimize the curing process.
True. The higher the temperature, the faster the adhesive cures. Thus, high temperatures are good for fast processes. At the same time, high tension causes a great deal of warping since the polymer network is created through heat and shrinks during cooling.
If warping is too intense, the materials should be cured at lower temperatures for a few minutes more. Unfortunately, there is no rule of thumb, so keep in mind that every component and assembly must be assessed individually.
Editor's Note: This article originally appeared in the March issue of SMT Magazine.
---
Suggested Items
09/20/2023 | I-Connect007 Editorial Team
Panasonic's Darren Hitchcock spoke with the I-Connect007 Editorial Team on the complexities of moving toward ultra HDI manufacturing. As we learn in this conversation, the number of shifting constraints relative to traditional PCB fabrication is quite large and can sometimes conflict with each other.
09/19/2023 | Anaya Vardya -- Column: Standard of Excellence
In my last column, I discussed cutting-edge innovations in printed circuit board technology, focusing on innovative trends in ultra HDI, embedded passives and components, green PCBs, and advanced substrate materials. This month, I'm following up with the products these new PCB technologies are destined for. Why do we need all these new technologies?
09/18/2023 | ViTrox
ViTrox, which aims to be the world's most trusted technology company, is excited to announce that our trusted Sales Channel Partner (SCP) in Mexico, SMTo Engineering, S.A. de C.V., will be participating in SMTA Guadalajara Expo & Tech Forum. They will be exhibiting in Booth #911 from the 25th  to the 26th of October 2023,  at the Expo Guadalajara in Jalisco, Mexico.
09/18/2023 | Intel
Intel announced one of the industry's first glass substrates for next-generation advanced packaging, planned for the latter part of this decade.
09/18/2023 | Aidan Salvi -- Column: Facing the Future
I have been in and around circuit boards most of my life. I started 20 years ago in my family's PCB shop, leaving after a couple of years to start my own software company. About a year ago, I returned to the family business, and the first thing I noticed was that nothing had really changed. We were doing the same things in the same way as the day I left. After talking to several experts in the industry, I realized it was worse than that: The manufacturing of PCBs had not changed in 70 years.