Books

Featured Books

pcb007 Magazine

Latest Issues

Current Issue

Finding Ultra

New demands on PCB fabrication, namely advanced packaging, ultra high density interconnect (UHDI), and new specialty materials, are converging, changing the landscape of our business. Is it time to start paying close attention to this convergence?

Developing a Strategy

A solid strategy is a critical part of success. This month, we asked some of the top industry leaders and business strategy "gurus" to share their thoughts on developing strategies.

Winning With TQM

In this issue, we explore how TQM has entered the DNA of continuous improvement disciplines, and the role leadership transformation plays in this. If you've ever competed against a TQM company, you understand their winning advantage.

Columns

Latest Columns

||| MENU
21 Years of Growth: A-Gas Electronic Materials Has 2020 Vision
April 9, 2015 | Pete Starkey, I-Connect007
Estimated reading time: 4 minutes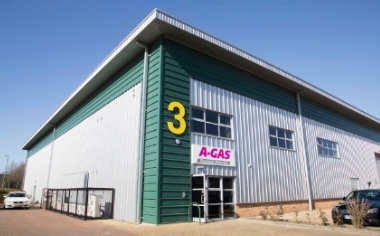 Technical Editor Pete Starkey recently sat down for an interview with Jonathan Sellars, managing director of A-Gas Electronic Materials, at the company's new facility in Rugby, UK. The company is a distributor of specialist chemicals and processes for semiconductor, PCB, electronic and industrial metal finishing, photovoltaic and advanced packaging technology industries. Sellars outlined the history of the company, its business philosophy and its future plans.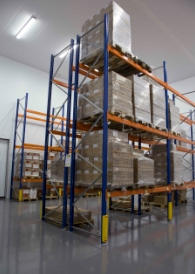 Pete Starkey: Hello Jonathan. This is a very impressive new facility. It's encouraging to see you continuing to expand.
Jonathan Sellars: Yes, welcome to our new 20,000 square-foot distribution and technical service centre, which represents a major investment and a strategic step in our growth plan; it extends our capacity for secure and controlled storage of our chemicals and materials and emphasises our commitment to health and safety. It has also allowed us to significantly enhance our laboratory capability.
Starkey: It must be over 20 years since your business started out. Can you give me a brief history?
Sellars: Certainly. The company was founded in 1994 here in Rugby by Alan Billinghurst, primarily as a distributor for Shipley, and traded as Chestech, servicing the requirements of small-to-medium-sized customers and enjoying steady growth in its early years. Its focus was to change significantly after Shipley was acquired by Rohm and Haas, who took the decision to focus on the Asian market, with a reduced presence in Europe. Chestech had the opportunity to take over many of Shipley's mainstream services to the PCB and electronic finishing sectors, and a new division was formed to handle the additional responsibilities.
The business grew rapidly and moved to successively larger premises. Chestech became a prominent name within the sector and soon caught the attention of potential investors. In 2008, the company was bought by A-Gas International, a multinational supplier of refrigerants, speciality gases and performance chemicals, with headquarters in Bristol, UK.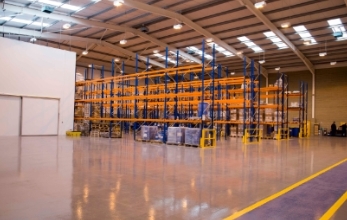 For A-Gas, this represented a diversification into a business sector that was quite distinct from its existing core portfolio. For us, being part of the A-Gas group has brought the benefits of financial and management strength, which has given encouraging profit growth each year, achieved through an enhanced focus on careful financial management, and minimising overheads. It has also enabled us to work more closely with our suppliers to continue to expand our product range.
Starkey: And what is the extent of your product range now?
Sellars: The focus of our business is to support the supply of specialist photosensitive chemicals, plating solutions and processes to customers who require imaging and plating technologies for a variety of applications and to offer a broad distribution, technical support and service network throughout the UK and Eire.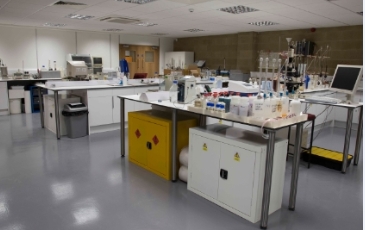 Starkey: What are the main features of your new premises?
Sellars: We now have a great deal more space to support our plans for expansion, and our new base has been carefully designed to our specifications. It includes a host of state-of-the-art functions to enhance the quality of our products and the services we can offer to customers. Among them is a new cold storage room, which is temperature controlled at 11 degrees, with 50% humidity. This is an important investment for the business, as it allows us to store dry film photoresist under conditions that preserve its optimum quality, to ensure customer satisfaction. We have also been able to significantly extend our laboratory capabilities, including new inductively coupled plasma technology, which enables us to identify metal impurities at parts-per-billion levels.
Starkey: Tell us about your business philosophy.
Sellars: A-Gas Electronic Materials has built its reputation on its relationships—with its suppliers as well as its customers. Today, the company maintains a strong partnership with Dow Electronic Materials, one of the biggest global chemical companies, as well as with many of the UK's largest manufacturers. And from its origins as a family business, our company has maintained the ethos of a small independent throughout the growth we've enjoyed since. Our point of difference remains the combination of excellent customer service with in-depth technical knowledge. Our staff are always well placed to offer informed and expert advice, ensuring a solution that meets the need of every customer.
Starkey: And your future plans?
Sellars: Through the fresh investment in the company, we are now set to accelerate our growth. Having become a leading distributor in the UK and Ireland, we're taking our first steps into overseas trading, and we're confident that this will play a key role in helping us to achieve our targeted profits. With 21 years of success and consistent growth behind A-Gas Electronic Materials, it remains to be seen what the coming years will bring. However, with the state-of-the-art facilities now at our disposal, few would bet against the business achieving its 2020 vision of a million pounds of profit.
Starkey: Jonathan, carry on with the plan—that's a realistic target. Many thanks for your time.
---
Suggested Items
09/26/2023 | Cadence Design Systems, Inc.
Cadence Design Systems, Inc. announced the expansion of its node-to-node design migration flow based on the Cadence® Virtuoso® Studio, which is compatible with all TSMC advanced nodes, including the latest N3E and N2 process technologies.
09/25/2023 | Q Source
Q Source, a provider of custom solutions for the Bio-Medical, Electronic, Pharmaceutical Manufacturing industries, is excited to announce its strategic partnership with XDry Corporation, a renowned dry cabinet manufacturer.
09/22/2023 | Qualcomm Technologies, Inc.
Charter Communications, Inc. and Qualcomm Technologies, Inc., today announced a collaboration to deliver the next-generation Advanced Wi-Fi router that will bring Wi-Fi 7 and 10 Gbps Wi-Fi capabilities to Spectrum Internet users, helping support and enhance the converged connectivity experience for residential and small and medium-sized business customers. Advanced Wi-Fi routers with Wi-Fi 7 are expected to be available to Spectrum customers in 2024.
09/21/2023 | Dymax
Dymax, a leading manufacturer of light-curing materials and equipment, will exhibit in booth 1526 at SMTA International 2023 in Minneapolis, MN, from October 10-11.
09/21/2023 | Altus Group
Altus Group, a leading supplier of capital equipment and services to the electronics manufacturing industry, has signed an agreement with SMT Thermal Discoveries to distribute its advanced reflow soldering and thermal technology solutions in Ireland.