Reading time ( words)
IPC understands that presenting a unified voice for the electronics industry is essential for advancing policies that affect the industry's long-term future and strengthens the U.S. and global economy. That is why 22 IPC member-company executives descended on the nation's capital for IMPACT 2015: IPC on Capitol Hill, IPC's annual advocacy event.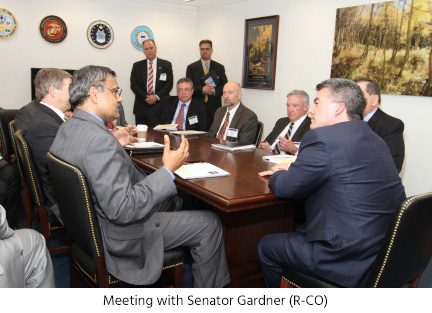 During the two-day event, executives held several discussions with members of Congress and Administration officials on issues that are critical to the future of the electronics industry and the economy.
These meetings provided industry insiders an opportunity to educate lawmakers on key issues from the association's Global Policy Framework, including support for the following key topics: Robust funding for the public-private partnerships authorized by the Revitalize American Manufacturing and Innovation (RAMI) Act, passed by Congress and signed into law in December 2014;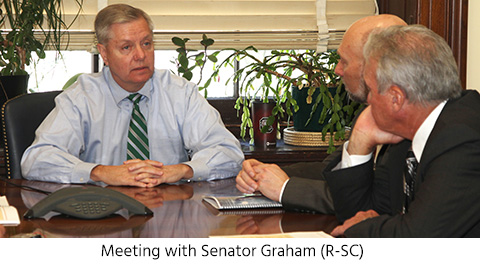 Increased long-term funding for basic research and development programs, including the "American Innovation Act" (S. 747, H.R. 1398); Comprehensive tax reform, including a permanent R&D tax credit (H.R. 880); Education & training programs in the STEM fields (science, technology, engineering and math); and Bipartisan efforts to reform the Toxic Substances Control Act (TSCA) (S. 697).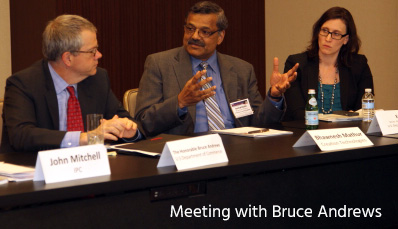 IPC members met with key policymakers in both the Executive and Legislative branches, including: Bruce Andrews, Deputy Secretary of Commerce, and Dr. Willie May, Director of the National Institute of Standards and Technology (NIST) about the National Network for Manufacturing Innovation (NNMI) and its status; Jessica "J.J." Raynor, Special Assistant to President Obama for Economic Policy, to discuss the Administration's efforts to support the U.S manufacturing industry. Ms. Raynor described a new program announced by President Obama in March 2015, the White House Supply Chain Initiative, designed to strengthen domestic supply chains through greater public-private collaboration. She invited IPC to take part in this initiative and asked for case studies and industry challenges related to supply chains. Rep. John Shimkus (R-IL), Chairman of the House Energy and Commerce Subcommittee on Environment and the Economy, discussing bipartisan efforts to reform the Toxic Substances Control Act (TSCA); Reps. Tom Reed (R-NY) and Joe Kennedy (D-MA), key supporters for the manufacturing industry and leaders in championing the RAMI Act and the NNMI. Both Congressmen commented that they were looking forward to working with IPC to acquire full funding for the NNMI; and Senator Lindsey Graham (R-SC), the Republican Co-Chair of the U.S. Senate Manufacturing Caucus, who recently cosponsored the Manufacturing Universities Act of 2015, which authorizes NIST to establish a program to designate up to 25 institutions of higher education as U.S. manufacturing universities.
The full agenda and list of meetings can be found here.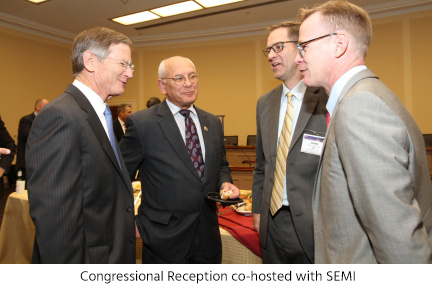 In addition to these meetings, IPC also arranged over 40 individual meetings between member company executives and their hometown congressional representatives. These meetings provided the opportunity for executives to establish personal relationships with their Member of Congress and share personal experiences from the industry. We hope to further these relationships throughout the year, inviting these elected officials to visit IPC member's facilities and see first-hand how our industry contributes to the workforce and economy.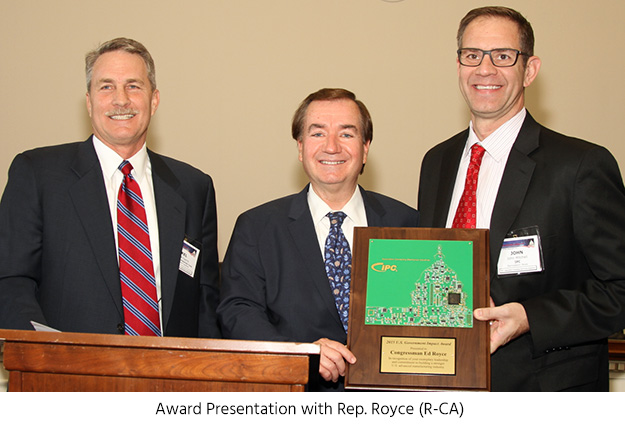 A new addition to this year's IMPACT was the "2015 Government Impact Award," which was awarded to Congressman Edward Royce (R-CA) for his exemplary leadership and commitment to building a stronger U.S. electronics industry. As Chairman of the House Foreign Affairs Committee, Congressman Royce has been a true partner and friend to the electronics industry, emerging as the industry's most forceful advocate for clear export control rules on printed circuit boards (PCBs) designed for ITAR-controlled equipment. With his support, IPC was successful in convincing the U.S. State Department to enumerate PCBs on the UlS. Munitions List. Following the awards ceremony, Congressman Royce thanked the industry and IPC for helping to give the U.S. Armed Forces its technological edge over adversaries. IPC looks forward to continuing our strong relationship with Congressman Royce.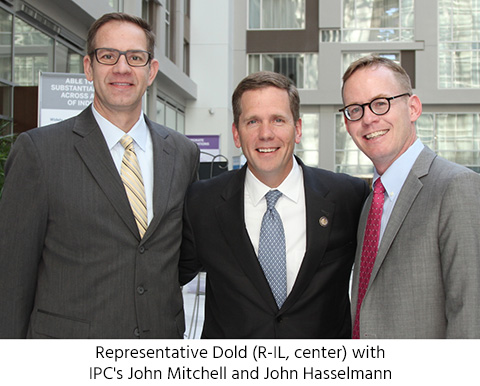 We look forward to strengthening the relationships created during the event between IPC, our members, and policymakers. IPC will continue to advocate for the industry's needs here in Washington, D.C. and across the world. Additionally, IPC helps coordinate member site visits with their respective representatives through its "Meet The Policymakers' program. This is an important program that allows policymakers to see first-hand the work IPC members are doing to create jobs and foster economic growth.
IMPACT 2015 was a huge success for IPC and its members, bringing in the largest number of executives yet for the event. IMPACT 2015, along with IPC's advocacy work around the world, demonstrates a commitment to strengthen the electronic industry's voice in the halls of government. Representing our industry as a unified force is one of the most effective ways we can shape its future. We hope to see everyone again next April for IMPACT 2016.
Share
Suggested Items
06/24/2022 | Nolan Johnson, I-Connect007
Market news was certainly big this week. While the U.S. stock market continues make some large swings, the PCB and PCBA are doing their own dance with the numbers. We're still feeling the effects of the pandemic, but it seems to be more about playing catch up. Still, the industry is showing some instability, both in positive and negative ways.
06/15/2022 | Pete Starkey, I-Connect007
The British Motor Museum in Warwickshire, housing the world's largest collection of historic British cars, was venue for the 2022 Annual Symposium of the Institute of Circuit Technology on June 8, which attracted a substantial gathering of manufacturers and suppliers from the UK printed circuit industry. ICT chair Emma Hudson reflected upon lessons learned during the pandemic lock-down and how the industry has successfully adapted to circumstances. She commented that the UK's PCB fabricators are extremely busy, as she introduced an outstanding conference programme including a keynote from the incomparable Happy Holden.
06/03/2022 | Andy Shaughnessy, Design007 Magazine
Things are heating up in the world of PCB design and manufacturing as well. In the past week, we published quite a bit of news—some good, some not so good. Some of the news is mixed, as we see with the EMS industry shipments rising YOY in April, but falling from the previous month. It's nice to see NASA investing in American small businesses, but they didn't really have a choice, did they?