Books

Featured Books

pcb007 Magazine

Latest Issues

Current Issue

Finding Ultra

New demands on PCB fabrication, namely advanced packaging, ultra high density interconnect (UHDI), and new specialty materials, are converging, changing the landscape of our business. Is it time to start paying close attention to this convergence?

Developing a Strategy

A solid strategy is a critical part of success. This month, we asked some of the top industry leaders and business strategy "gurus" to share their thoughts on developing strategies.

Winning With TQM

In this issue, we explore how TQM has entered the DNA of continuous improvement disciplines, and the role leadership transformation plays in this. If you've ever competed against a TQM company, you understand their winning advantage.

Columns

Latest Columns

||| MENU
Insulectro Expands Sales Leadership to Meet Demands of Changing Marketplace
June 16, 2015 | Insulectro
Estimated reading time: 3 minutes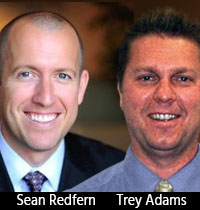 Insulectro, a leading distributor of materials for use in the PCB and printed electronics industries, has announced promotions to the leadership of its sales division.
"2015 has been a strong year for us in both the PCB side of our business as well as our new printed electronics initiatives," Insulectro Vice President of Sales Ken Parent commented. "It's time to increase our focus on sales and service with two well deserved promotions."
Effectively immediately, longtime Insulectro veterans Trey Adams and Sean Redfern become Regional Vice Presidents for the Eastern US and Western US respectively. Both Adams and Redfern will continue to report to Parent.
"Insulectro has long had a national footprint with its 10 stocking locations domestically. We learned years ago we want to be where our customers are. It makes sense that we also specialize our sales management regionally to align with our operations," Parent continued.
Under the new plan, Trey Adams will assume responsibility for sales in Londonderry, NH; Bloomingdale, IL; Dallas, TX; and Eden Prairie, MN (Insulectro's new location in the Twin Cities area); and Canada. Adams will also oversee sales efforts, as well, in the Pacific Northwest, an area he formerly served.
Redfern will lead the sales in Southern California, Silicon Valley, Tempe, AZ, and Aurora, CO, 
Adams has been a key player in Insulectro's growth and success in the Midwest PCB market for over 11 years. His intimate knowledge of PCB and PE products and has great rapport with customers making him invaluable to Insulectro's OEM strategy by successfully embracing the company's highly-touted ACT! Initiative (a synergistic program that advancing the needs of all members of the supply chain – OEM, designer, fabricator, distributor, and supplier). 
Sean Redfern has been involved in leadership roles across most of the Redfern Companies during his 14 years, including Tri-Star Laminates (LCOA), relocating to Shanghai, China for nearly 2 years and establishing a presence in China with Tri-Star International Group (TIG), spearheading our sales and marketing efforts for Integral Technologies. For the past 1½ years Redfern has fulfilled a Regional Sales Management role for Insulectro in Southern California.  His experience will be invaluable to Insulectro's strategic growth initiatives along with his proven track record of building strong alliances with customers and suppliers.
"I'm pleased we have two remarkably talented sales leaders in these new, important roles. As a distributor of best-in-class materials from such PCB suppliers as Isola, DuPont, LCOA, CAC, Pacothane, Ormet Circuits, and Focus Tech Chemicals, along with DuPont, Kodak, Vistana, and Coveme, and others on the Printed Electronics side, we are in the middle of rapidly changing technologies and an amazing onslaught of new, high performance materials. I know Trey and Sean look forward to meeting Insulectro's customers throughout their territories," Parent stated.
"This is the first of several announcements we will make in the near future – all exciting and each providing new strategies for helping our customers strengthen their businesses," Ken Parent concluded.
About Insulectro
Insulectro is the leading supplier of PCB materials used to manufacture circuit boards as well as materials for Printed Electronics. Insulectro combines its premier product offering with local inventory in strategic stocking locations across the country, fabrication capabilities and backed up by expert customer and technical support services.
Insulectro supplies advanced engineered materials manufactured by DuPont®, Isola, LCOA®, CAC, Inc., Integral Technology, Pacothane, Vistana, and Focus Tech. These products are used by our customers to fabricate complex, multilayer circuit boards and to manufacture printed electronics components. Insulectro serves a broad customer base manufacturing rigid, rigid/flex and flexible circuit boards for applications in a variety of end markets including telecom, data communications, high speed computing, mobile devices, military, and medical.
---
Suggested Items
10/02/2023 | Gen3
Gen3, Global leader in SIR, CAF, Solderability, Ionic Contamination & process optimisation equipment, is pleased to announce the appointment of John Barraclough as the Head of Business Development.
10/02/2023 | KYZEN'
KYZEN, the global leader in innovative environmentally friendly cleaning chemistries, announced that Debbie Carboni, Global Product Line Manager - Electronics, will present as part of the Electric Vehicle (EV) panel during the IPC High Reliability Forum.
10/02/2023 | Mycronic AB
Mycronic AB has received the first order for upgrades of already installed display mask writers from gas laser to solid state laser from SK Electronics in Japan.
09/29/2023 | Dixon
Dixon wholly owned subsidiary- Padget Electronics Private Limited enters into an Agreement with Xiaomi to carry out manufacturing of smart phones and other related products for Xiaomi.
09/29/2023 | USPAE
In a major initiative to innovate how the Department of Defense (DoD) spurs commercial technology development, the U.S. Partnership for Assured Electronics (USPAE) and DoD launched a Defense Business Accelerator (DBX) to open doors for industrial base growth and stimulate private investment.