IC Manufacturers Close or Repurpose 83 Wafer Fabs During Great Recession
June 17, 2015 | IC Insights
Estimated reading time: 1 minute
Since the global economic recession of 2008-2009, the IC industry has been on a mission to pare down older capacity (i.e., ≤200mm wafers) in order to produce devices more cost-effectively on larger wafers. From 2009-2014, semiconductor manufacturers have closed or repurposed 83 wafer fabs, according to data compiled, updated, and now available in IC Insights' Global Wafer Capacity 2015-2019 report.
Figure 1 shows that 41% of fab closures since 2009 have been 150mm fabs and 27% have been 200mm wafer fabs. Qimonda was the first company to close a 300mm wafer fab after it went out of business in early 2009.  More recently, ProMOS and Powerchip closed their respective 300mm wafer fabs in 2013.
Semiconductor suppliers in Japan have closed 34 wafer fabs since 2009, more than any other country/region over the past six years. In the 2009-2014 timeframe, 25 fabs were closed in North America and 17 were shuttered in Europe (Figure 2).
Worldwide fab closures surged in 2009 and 2010 partly as a result of the severe economic recession at the end of the previous decade. A total of 25 fabs were closed in 2009, followed by 24 being shut down in 2010. Ten fabs closed in 2012 and 12 were removed from service in 2013. Six fabs were closed in both 2011 and in 2014, the fewest number of closures per year during the 2009-2014 time span.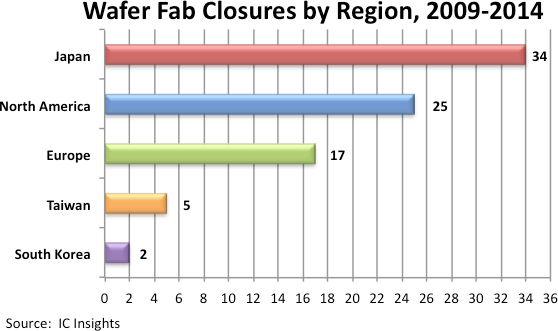 Given the flurry of merger and acquisition activity seen in the semiconductor industry recently, the skyrocketing cost of new wafer fabs and manufacturing equipment, and as more IC companies transition to a fab-lite or fabless business model, IC Insights expects the number of fab closures to accelerate in the coming years—a prediction that will likely please foundry suppliers but make semiconductor equipment and material suppliers a little bit nervous.
---
Suggested Items
09/20/2023 | I-Connect007 Editorial Team
Panasonic's Darren Hitchcock spoke with the I-Connect007 Editorial Team on the complexities of moving toward ultra HDI manufacturing. As we learn in this conversation, the number of shifting constraints relative to traditional PCB fabrication is quite large and can sometimes conflict with each other.
09/19/2023 | Anaya Vardya -- Column: Standard of Excellence
In my last column, I discussed cutting-edge innovations in printed circuit board technology, focusing on innovative trends in ultra HDI, embedded passives and components, green PCBs, and advanced substrate materials. This month, I'm following up with the products these new PCB technologies are destined for. Why do we need all these new technologies?
09/18/2023 | ViTrox
ViTrox, which aims to be the world's most trusted technology company, is excited to announce that our trusted Sales Channel Partner (SCP) in Mexico, SMTo Engineering, S.A. de C.V., will be participating in SMTA Guadalajara Expo & Tech Forum. They will be exhibiting in Booth #911 from the 25th  to the 26th of October 2023,  at the Expo Guadalajara in Jalisco, Mexico.
09/18/2023 | Intel
Intel announced one of the industry's first glass substrates for next-generation advanced packaging, planned for the latter part of this decade.
09/18/2023 | Aidan Salvi -- Column: Facing the Future
I have been in and around circuit boards most of my life. I started 20 years ago in my family's PCB shop, leaving after a couple of years to start my own software company. About a year ago, I returned to the family business, and the first thing I noticed was that nothing had really changed. We were doing the same things in the same way as the day I left. After talking to several experts in the industry, I realized it was worse than that: The manufacturing of PCBs had not changed in 70 years.