Books

Featured Books

pcb007 Magazine

Latest Issues

Current Issue

Finding Ultra

New demands on PCB fabrication, namely advanced packaging, ultra high density interconnect (UHDI), and new specialty materials, are converging, changing the landscape of our business. Is it time to start paying close attention to this convergence?

Developing a Strategy

A solid strategy is a critical part of success. This month, we asked some of the top industry leaders and business strategy "gurus" to share their thoughts on developing strategies.

Winning With TQM

In this issue, we explore how TQM has entered the DNA of continuous improvement disciplines, and the role leadership transformation plays in this. If you've ever competed against a TQM company, you understand their winning advantage.

Columns

Latest Columns

||| MENU
Prototron Taps Kelly Dack and Jerome Larez for Technical Sales Team
June 17, 2015 | Prototron Circuits
Estimated reading time: 3 minutes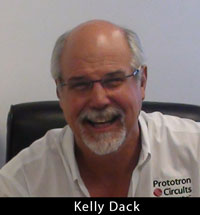 Prototron Circuits has appointed industry experts Kelly Dack and Jerome Larez to technical sales positions. Dack and Larez will be collaborating side-by-side to handle all of the technical sales duties required to support their customers.
In his new position, Dack, one of the electronic industry's most consummate printed circuit board designers, industry supporters, IPC instructors and interviewer of electronics trendsetters, has joined Prototron Circuits to meet the growing need for PCB manufacturing support in the Seattle area engineering communities.
With over 30 years of industry expertise in aerospace, medical, telecom and the gaming industries, Dack has been responsible for overseeing extensive design projects from initial concept, to complete fabrication and packaging. His career experiences span a myriad of CAD design tools and numerous technical standards, some of which he continues to support developmentally today.
Dack's strong affiliations with I-Connect007's exclusive event coverage, "REALTime with…" as an interviewer and his role as an educator for IPC's designer certification program, administered by the renowned EPTAC Corporation, will highly complement his new position at Prototron Circuits.
"I have long advocated the continuing need for understanding between the design and manufacturing communities. I hope to be able to increase the depth of meaning specified in manufacturing data and on fabrication drawings by inviting PCB designers and engineers right into our plant to understand how a board is fabricated. Working at Prototron, it is wonderful to be able to walk down the hallways from my office to literally stay in touch with the incredible machinery, processes and people who make these printed circuit boards. Understanding Prototron's capabilities made me a better designer and now, as a design & manufacturing liaison, I look forward to sharing the experience," commented Dack.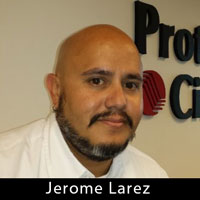 Larez, a 20-year veteran in the PCB industry—mostly with Prototron Circuits—has gained a great deal of cross-functional knowledge in the organization. He started his career by zealously tackling shop floor manufacturing positions. He moved to inside sales/customer service and gained experience in communications.
Soon, his abilities to problem solve were tapped for pre-production engineering where he learned the recipe for successful PCB manufacturing.  Leaning forward, Larez is now helping to support Technical Sales in the Northwest for Prototron Circuits.  His unique background and experience makes him particularly qualified to work closely with all of his customers, especially when it comes to new product development.
Larez has a tremendous amount of experience in pre-production engineering, including configuring layer stack-ups, controlling impedance calculations, and reviewing designs for manufacturability.  He knows how to offer engineering support and build printed circuit boards. He is in the unique position of being able to sell to his customers and offer them expert advice when it comes to designing economically manufacturable PCBs. Larez personifies Prototron's goal of providing their customers with the very best PCB solutions available on the market today. His background, knowledge and experience accentuate the company's philosophy: "Your design is not complete until we build your board!"
"We have built our reputation by helping our customers achieve the best printed circuit board solutions possible. It is with this in mind that we add two technical experts to our sales organization. Our plan is for Jerome and Kelly to sell Prototron by adding value to the customer sales experience. Drawing from their in the trenches design and manufacturing experience, their ability to speak our customer's language and identify with their challenges will help get to the root of solving most any design or manufacturing challenge to offer a truly complete printed circuit board solution," says Dave Ryder, president of Prototron Circuits.
"New product development is exploding in the Pacific Northwest. As Seattle's only local quick-turn production quality fabricator, we want to provide our customer base with the technical capabilities needed -- not only today – but well into the future.  We have recently added a training center within our facility and look forward to inviting our customers -- designers, engineers and all key people -- to attend our in touch PCB manufacturing training sessions to be facilitated by Kelly and Jerome in association with our long-serving industry expert and media contributor Mark Thompson. We are extremely fortunate to have such talented and experienced people added to this highly dedicated Prototron team."
---
Suggested Items
09/29/2023 | Intel
Intel celebrated the arrival of its Intel 4 technology, which uses extreme ultraviolet (EUV) technology, and the first use of EUV in high-volume manufacturing (HVM) in Europe.
09/29/2023 | Dixon
Dixon wholly owned subsidiary- Padget Electronics Private Limited enters into an Agreement with Xiaomi to carry out manufacturing of smart phones and other related products for Xiaomi.
09/28/2023 | Technica USA
Technica USA announced it has reached a Master Distribution Agreement with SAA to promote and support automation systems & technology offered by SAA.
09/28/2023 | GlobalFoundries
GlobalFoundries (GF) announced the official opening of a new hub facility in Penang, Malaysia.
09/28/2023 | IPC
IPC continues to collaborate with the electronics manufacturing industry to meet their current and future workforce training needs.