Books

Featured Books

pcb007 Magazine

Latest Issues

Current Issue

Finding Ultra

New demands on PCB fabrication, namely advanced packaging, ultra high density interconnect (UHDI), and new specialty materials, are converging, changing the landscape of our business. Is it time to start paying close attention to this convergence?

Developing a Strategy

A solid strategy is a critical part of success. This month, we asked some of the top industry leaders and business strategy "gurus" to share their thoughts on developing strategies.

Winning With TQM

In this issue, we explore how TQM has entered the DNA of continuous improvement disciplines, and the role leadership transformation plays in this. If you've ever competed against a TQM company, you understand their winning advantage.

Columns

Latest Columns

||| MENU
Eliminate Connectors with Sculptured Flex
July 23, 2015 | Dave Becker, All Flex
Estimated reading time: 1 minute

In a previous column, I discussed connectors for flexible circuits and the various options that are available. One of the options is very popular because in reality it is a "connector-less" connector. The connector pins are actually fabricated as part of the flexible circuit, as opposed to being an assembled component.
This option uses sculptured flex. A sculptured flexible circuit has unsupported metal traces.  These protruding traces act as the male pin part of the connector. The technology for fabricating a sculptured circuit is fairly unique in the industry.    All Flex starts with thick copper (as thick as 7 ounces which can be plated up from there with copper, tin, solder, gold or other metals). The rest of the traces are etched down to achieve thicknesses that are consistent with good flexibility. Back-bared fabrication is used so that there is no need to remove the dielectric with laser ablation or routing. To fabricate a back-bared flexible circuit, the base dielectric is pre-punched or drilled to expose the metal traces that will form the connector pins.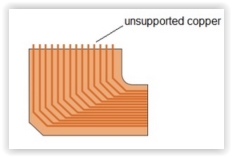 Figure 1: Sculptured flexible circuit.
 Sculptured circuits have a number of advantages:
Better reliability: There is no assembly or junction point that could weaken so these connector pins hold up better to vibration testing or thermal cycling.
Less costly: The connector component is eliminated along with the labor to attach it.
Weight and space: Because a connector component is eliminated, the flexible circuit assembly weighs less and takes up less space.
Configurability: There are significant choices in terms of number of pins, density of pins and even thickness and length. They can be bent for 90-degree or 45-degree insertion.
Surface finishing: Leads can be plated with tin, tin-lead, gold or other surface finishes.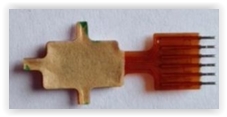 Figure 2: Actual sculptured flex circuit.
Any time you eliminate a component, hidden costs are eliminated, such as the cost of stocking, tracking and managing the supply chain for that part number. When designing an electronic package, don't assume that you need a component for every connection point. Sculptured flex will give some options that can make your electronic package, lighter, less costly, more reliable, and take up less space.
Dave Becker is vice president of sales and marketing at All Flex Flexible Circuits LLC.
---
Suggested Items
09/29/2023 | Indium Corporation
Indium Corporation Regional Product Manager Wisdom Qu will present at the SMTA China South Technical Conference, held in conjunction with NEPCON Asia, on October 11 in Shenzhen, China.
09/28/2023 | Nolan Johnson, I-Connect007
The practical question around CHIPS Act development and electronics assembly is, "Will this change how we do business?" Indium Corporation's Dr. Andy Mackie sat down with Nolan Johnson to share what he sees as emerging answers to that question from his perspective as an expert in electronics assembly and packaging, and as a participant in standards development through IPC, JEDEC, and SEMI.
09/27/2023 | Nihon Superior Co. Ltd.
Nihon Superior Co. Ltd. is pleased to announce that Keith Sweatman, the company's Senior Technical Advisor, will deliver a presentation titled "A Path to Ductile Low-Temperature Solders for Mass Production of Electronic Assemblies" at the upcoming SMTA International conference and exposition.
09/27/2023 | Hentec Industries/RPS Automation
Hentec Industries/RPS Automation, a leading manufacturer of selective soldering, lead tinning and solderability test equipment, is pleased to announce that Kyocera International has finalized the purchase of a Hentec/RPS Odyssey 1325 robotic hot solder dip component lead tinning machine. 
09/26/2023 | Conecsus Metals México
Conecsus Metals México, an innovative environmental technology and recycling company, will exhibit at the SMTA Foro Tecnico & Expo, Guadalajara, Jalisco, México, on Wednesday, October 25, 2023, beginning at 11:00 a.m.