Lockheed Martin Delivers First Upgraded PAC-3 Missile Interceptors
October 8, 2015 | Lockheed Martin
Estimated reading time: 1 minute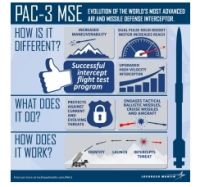 The U.S. Army significantly upgraded its missile defense capabilities today as it accepted the first PAC-3 Missile Segment Enhancement (MSE) interceptors built by Lockheed Martin. With improved mobility and range, the new interceptors will defend against evolving threats around the globe.
"We are proud to deliver these interceptors to the U.S. Army and are confident the men and women of the armed forces can count on the PAC-3 MSE when it matters most," said Scott Arnold, vice president of PAC-3 programs at Lockheed Martin Missiles and Fire Control. "As enemy threats grow in number and complexity, these interceptors will be critical to protecting soldiers, citizens and infrastructure around the globe."
The PAC-3 MSE missile is a high-velocity interceptor that defends against tactical ballistic missiles, cruise missiles and aircraft.
Building on the battle-proven PAC-3 missile, the PAC-3 MSE brings a larger, dual-pulse solid-rocket motor, larger control fins and upgraded support systems. With the enhancements, Lockheed Martin nearly doubled the missile's reach and dramatically improved maneuverability against today's faster and more sophisticated ballistic and cruise missiles threats.
Lockheed Martin received the first PAC-3 MSE production contract in April 2014 and earned a follow-on order in July 2015. For additional information, visit our PAC-3 and PAC-3 MSE webpages.
About Lockheed Martin
Headquartered in Bethesda, Maryland, Lockheed Martin is a global security and aerospace company that employs approximately 112,000 people worldwide and is principally engaged in the research, design, development, manufacture, integration and sustainment of advanced technology systems, products and services. The Corporation's net sales for 2014 were $45.6 billion.
---
Suggested Items
11/29/2023 | TT Electronics
TT Electronics, a global provider of custom power solutions and engineered technologies, has announced that its Power and Control business has officially opened its new state-of-the-art research, development and manufacturing facility.
11/27/2023 | HyRel
HyRel Technologies, a global provider of quick turn semiconductor modification solutions, announces the achievement of International Traffic in Arms Regulations (ITAR) registration.
11/20/2023 | MIT
MIT's Department of Aeronautics and Astronautics (AeroAstro) recently hosted the 2023 Future Leaders in Aerospace Symposium, inviting women and underrepresented minorities in aerospace fields to campus for a two-day program.
11/14/2023 | NEO Tech
NEOTech, a leading provider of electronic manufacturing services (EMS), design engineering, and supply chain solutions in the high-tech industrial, medical device, and aerospace/defense markets, is thrilled to welcome James Doyle to the team as Chief Executive Officer of NEOTech's Aerospace & Defense division, effective immediately.
11/06/2023 | PRNewswire
Vuzix Corporation, a leading supplier of smart glasses and Augmented Reality (AR) technology and products, announced it has completed delivery against a follow-on order from a Tier-1 aerospace and defense contractors with which it has been working with.