A Conversation with IPC President and CEO John Mitchell
December 29, 2015 | Patty Goldman, I-Connect007
Estimated reading time: 1 minute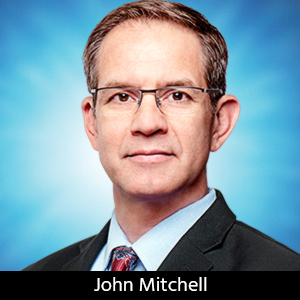 A few weeks ago I was able to sit down with John Mitchell, president and CEO of IPC, to discuss the organization and where we are going as an industry. We discussed IPC's four aspirational goals—standards, education, advocacy and solutions—as well as short-term goals. We also talked a bit about going virtual and becoming paperless.
Patty Goldman: John, could you start by giving readers the background on IPC.
John Mitchell: IPC serves the entire global electronics industry supply chain. And we represent all facets of the industry from design to materials, boards, assembly and test, and the suppliers along that chain. We're really trying to meet the needs of this whole industry value chain and the various segments as well, whether it's aerospace, defense, military, medical, automotive, consumer electronics, telecommunications, etc. Overall, we're trying to make sure our member
companies achieve success. We do that by focusing on four goals. It's easy to remember because the acronym spells SEAS: S-E-A-S. The first "S" is for standards. IPC is known around the world for our standards. We continue to try to make our standards even better. Many people have this mistaken notion that IPC creates standards, but we don't. IPC manages the development process. It's really all of the industry that creates standards. To note however, annually, IPC publishes dozens of new and revised standards in areas from printed board design and intellectual property protection through box build. Our collection of industry guidelines and standards exceeds 300 active standards and our resource library contains more than a 1,000.
Editor's Note: This article originally appeared in the December 2015 issue of The PCB Magazine
---
Suggested Items
11/29/2023 | TT Electronics
TT Electronics, a global provider of custom power solutions and engineered technologies, has announced that its Power and Control business has officially opened its new state-of-the-art research, development and manufacturing facility.
11/27/2023 | HyRel
HyRel Technologies, a global provider of quick turn semiconductor modification solutions, announces the achievement of International Traffic in Arms Regulations (ITAR) registration.
11/20/2023 | MIT
MIT's Department of Aeronautics and Astronautics (AeroAstro) recently hosted the 2023 Future Leaders in Aerospace Symposium, inviting women and underrepresented minorities in aerospace fields to campus for a two-day program.
11/14/2023 | NEO Tech
NEOTech, a leading provider of electronic manufacturing services (EMS), design engineering, and supply chain solutions in the high-tech industrial, medical device, and aerospace/defense markets, is thrilled to welcome James Doyle to the team as Chief Executive Officer of NEOTech's Aerospace & Defense division, effective immediately.
11/06/2023 | PRNewswire
Vuzix Corporation, a leading supplier of smart glasses and Augmented Reality (AR) technology and products, announced it has completed delivery against a follow-on order from a Tier-1 aerospace and defense contractors with which it has been working with.