Breakthrough Achieved in Ceramics 3D Printing Technology
January 4, 2016 | HRL Laboratories, LLC
Estimated reading time: 1 minute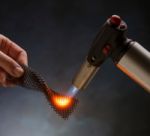 Researchers at HRL Laboratories, LLC, have achieved a new milestone in 3D printing technology by demonstrating an approach to additively manufacture ceramics that overcomes the limits of traditional ceramic processing and enables high temperature, high strength ceramic components.
HRL's Senior Chemical Engineer Zak Eckel and Senior Chemist Dr. Chaoyin Zhou invented a resin formulation that can be 3D printed into parts of virtually any shape and size. The printed resin can then be fired, converting it into a high strength, fully dense ceramic. The resulting material can withstand ultrahigh temperatures in excess of 1700°C and exhibits strength ten times higher than similar materials.
Ceramics are much more difficult to process than polymers or metals because they cannot be cast or machined easily. Traditionally ceramic parts are consolidated from powders by sintering, which introduces porosity and limits both achievable shapes and final strength. "With our new 3D printing process we can take full advantage of the many desirable properties of this silicon oxycarbide ceramic, including high hardness, strength and temperature capability as well as resistance to abrasion and corrosion." says program manager Dr. Tobias Schaedler.
The novel process and material could be used in a wide range of applications from large components in jet engines and hypersonic vehicles to intricate parts in microelectromechanical systems and electronic device packaging.
---
Suggested Items
11/27/2023 | Andrew Kelley, XACTPCB LTD
While previous industrial revolutions have introduced factories, mass production, and computer-controlled systems, the advent of Industry 4.0 and the concept of the Smart factory have ushered in a new era in PCB manufacturing. For the PCB industry it is a very ambitious and aspirational objective to evolve from disconnected processes to an integrated system with automated data capture, real-time data analysis, process visualization, autonomous control, and self-correcting processes. 
11/22/2023 | PRNewswire
Slenergy, a leading innovator in the renewable energy industry, celebrates significant success in Europe with its ground-breaking iShare-Home one-stop residential energy solution.
11/27/2023 | Hannah Nelson & Paige Fiet -- Column: The New Chapter
Imagine you've just graduated college and are off to start a career at an electronics manufacturer. Week one is filled with meeting the team, orienting your way around the floor, and learning the general flow of PCB manufacturing. Wow, there are so many steps! The next week is off to a similar start but with a team meeting to review a new part. Suddenly, the friendly team you met is speaking what sounds like a foreign language. Words are thrown around, such as buried vias, 370HR, back drill, and routed plated edges. None of these terms were taught during the college education you've just completed. Then, an overwhelming feeling kicks in, and you wonder if you will ever learn to speak this new language as fluently as your team.
11/21/2023 | Steve Williams, The Right Approach Consulting LLC
American Standard Circuits is an early adopter of Averatek's A-SAP process for its ultra-high definition interconnect (UHDI) products. I sat down with industry veteran John Johnson to discuss this. John, vice president of business development, oversees quality at American Standard Circuits, and previously worked at Averatek. In the spirit of full disclosure, we will be discussing and sharing photos, slides, and materials with permission from both ASC and Averatek. This is the first of a three-part interview. 
11/21/2023 | SCHMID Group
The SCHMID Group, a global solution provider for the high-tech electronics, photovoltaics, glass and energy systems industries, is very pleased with the course of productronica in Munich.