Highly Efficient, High-Speed Technology for Satellite Communications
January 8, 2016 | University of Tokyo
Estimated reading time: 2 minutes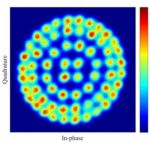 A group including University of Tokyo researchers used 64 APSK, a highly efficient signal modulation technology, to successfully demonstrate 505 megabits per second (Mbps) communications with the Hodoyoshi-4 nanosatellite, the highest communication speed yet achieved with an earth-observation micro satellite. This high-speed communications technology will be of great value to future generations of earth observation micro satellites of under 100 kg.
In recent years Earth observation satellites are increasingly being equipped with high resolution cameras and radar able to discern objects of a few tens of centimeters in size. High-speed transmission systems are required to transmit the observational data obtained from such sensors to the surface of the Earth. However, the frequency bandwidth available for such use is limited, so in order to speed up transmission speeds, research has focused on development of technologies that make efficient use of the available frequency bandwidth.
When using electromagnetic waves to transmit digital data, information can be assigned to each combination of phase (frequency) and amplitude so that when the wave is received, the original information can be decoded by estimating the phase and amplitude that was transmitted. One promising technology that makes efficient use of frequency bandwidth and that is being pursued is 64 APSK modulation, or 64 amplitude phase modulation. In 64 APSK modulation, the 64 possible combinations of amplitude and phase allow the transmission of 6 bits of information, making it 1.5 to 2 times more efficient than conventional technologies. However, it is highly susceptible to noise and had yet to be demonstrated in Earth observation satellite.
Page 1 of 2
---
Suggested Items
11/29/2023 | TT Electronics
TT Electronics, a global provider of custom power solutions and engineered technologies, has announced that its Power and Control business has officially opened its new state-of-the-art research, development and manufacturing facility.
11/27/2023 | HyRel
HyRel Technologies, a global provider of quick turn semiconductor modification solutions, announces the achievement of International Traffic in Arms Regulations (ITAR) registration.
11/20/2023 | MIT
MIT's Department of Aeronautics and Astronautics (AeroAstro) recently hosted the 2023 Future Leaders in Aerospace Symposium, inviting women and underrepresented minorities in aerospace fields to campus for a two-day program.
11/14/2023 | NEO Tech
NEOTech, a leading provider of electronic manufacturing services (EMS), design engineering, and supply chain solutions in the high-tech industrial, medical device, and aerospace/defense markets, is thrilled to welcome James Doyle to the team as Chief Executive Officer of NEOTech's Aerospace & Defense division, effective immediately.
11/06/2023 | PRNewswire
Vuzix Corporation, a leading supplier of smart glasses and Augmented Reality (AR) technology and products, announced it has completed delivery against a follow-on order from a Tier-1 aerospace and defense contractors with which it has been working with.