Catching up with…PNC: Open House Planned for May
April 6, 2016 | Dan Beaulieu, D.B. Management Group
Estimated reading time: 3 minutes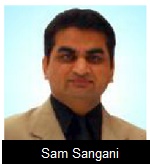 I'm a great believer in open houses. Any time customers and vendors get together to learn and talk about what they can do for each other it's a good thing. That's why, when I heard that PNC, in Nutley, New Jersey, planned to hold an open house on May 20, I wanted to learn more about it. So I called my friend Sam Sangani, the company's owner, to learn more about it. Here is that conversation.
Dan Beaulieu: Sam, good talking with you again. I understand you are holding a pretty significant event in a couple of months. Can you tell me about that?
Sam Sangani: We're having our first-ever open house and we're really excited about it. We have invited various suppliers, vendors, customers, and well-wishers, among others, to attend and learn about the new things we're doing here at PNC Inc.
Beaulieu: Sam, what is the purpose of the open house?
Sangani: When planning this event, we had a multi-pronged approach. Primarily, we wanted to give everyone a look at all the new things taking place at PNC Inc., including expansion and most importantly, our Total Concept capabilities. Additionally, we wanted to thank everyone from vendors to customers who have stood by us for so many years. Finally, we wanted to do what any business does to survive and succeed: market ourselves.
Beaulieu: Tell me, what are some of the highlights?
Sangani: With respect to Total Concept, we'll have speakers from each of the three departments that relate to it: design, fabrication and assembly. Furthermore, there will be an open forum discussion where attendees can ask us questions or questions of each other. Tours of our facilities will be given as well.
Beaulieu: So you will be having plant tours, that's great. I understand that you have invested a great deal of capital in the company during the past couple of years. I assume it's time to show these people what you've done?
Sangani: Absolutely. Like I said earlier, we're really excited about this event and this is one of the big reasons why. You can tell people about the great things going on at your business until you're blue in the face, but to actually show them what you've done and how you've grown and improved is an opportunity we are glad to have.
Beaulieu: And you are one of the few companies in the industry that offers Total Concept, which makes you pretty unique. Can you talk about that?
Sangani: At its very core, Total Concept—with respect to the PCB industry—is the ability to design, fabricate and assemble. With our relatively recent foray into assembly, we can proudly say that PNC Inc. is now a Total Concept company and have been doing very well with the projects we have handled thus far.
Beaulieu: And if I am one of your customers, what can I expect to get out of spending this time with you?
Sangani: You can expect to gain a more comprehensive understanding of our capabilities and what we can do for you as a valued customer. You can also feel free to ask any member of our team questions with regard to the solutions you require or anticipate you may require in the future.
Beaulieu: Excellent. Sam, one last thing… where can people go to learn more about this open house and more importantly about your company?
Sangani: Visit our website for more information, or drop us a note at sales@pnconline.com. We're also active on social media on Facebook, Twitter, Instagram and LinkedIn.
---
Suggested Items
09/20/2023 | I-Connect007 Editorial Team
Panasonic's Darren Hitchcock spoke with the I-Connect007 Editorial Team on the complexities of moving toward ultra HDI manufacturing. As we learn in this conversation, the number of shifting constraints relative to traditional PCB fabrication is quite large and can sometimes conflict with each other.
09/19/2023 | Anaya Vardya -- Column: Standard of Excellence
In my last column, I discussed cutting-edge innovations in printed circuit board technology, focusing on innovative trends in ultra HDI, embedded passives and components, green PCBs, and advanced substrate materials. This month, I'm following up with the products these new PCB technologies are destined for. Why do we need all these new technologies?
09/18/2023 | ViTrox
ViTrox, which aims to be the world's most trusted technology company, is excited to announce that our trusted Sales Channel Partner (SCP) in Mexico, SMTo Engineering, S.A. de C.V., will be participating in SMTA Guadalajara Expo & Tech Forum. They will be exhibiting in Booth #911 from the 25th  to the 26th of October 2023,  at the Expo Guadalajara in Jalisco, Mexico.
09/18/2023 | Intel
Intel announced one of the industry's first glass substrates for next-generation advanced packaging, planned for the latter part of this decade.
09/18/2023 | Aidan Salvi -- Column: Facing the Future
I have been in and around circuit boards most of my life. I started 20 years ago in my family's PCB shop, leaving after a couple of years to start my own software company. About a year ago, I returned to the family business, and the first thing I noticed was that nothing had really changed. We were doing the same things in the same way as the day I left. After talking to several experts in the industry, I realized it was worse than that: The manufacturing of PCBs had not changed in 70 years.