Books

Featured Books

pcb007 Magazine

Latest Issues

Current Issue

Finding Ultra

New demands on PCB fabrication, namely advanced packaging, ultra high density interconnect (UHDI), and new specialty materials, are converging, changing the landscape of our business. Is it time to start paying close attention to this convergence?

Developing a Strategy

A solid strategy is a critical part of success. This month, we asked some of the top industry leaders and business strategy "gurus" to share their thoughts on developing strategies.

Winning With TQM

In this issue, we explore how TQM has entered the DNA of continuous improvement disciplines, and the role leadership transformation plays in this. If you've ever competed against a TQM company, you understand their winning advantage.

Columns

Latest Columns

||| MENU
The Importance of Choosing Equipment Suppliers Carefully and Investing in the Future
April 7, 2016 | Pete Starkey, I-Connect007
Estimated reading time: 4 minutes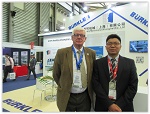 Burkle Process Technologies, a long-time PCB equipment supplier to high-end manufacturers in the world, is seeing their business continuing to grow despite the perceived slowdown in the industry in China. They ensure this by working closely with customers, making premium products to understand future technology needs, and offering the highest quality in laminating machines and technical support. In Shanghai at CPCA recently, I had a chance to speak with Jianming Wu, general manager of Burkle China, who helped me understand Burkle's strategy for success.
Pete Starkey: Mr. Wu, thank you very much for agreeing to talk to me.  I'm very familiar with the equipment you have supplied in the past because in my generation I was a very happy user of Burkle laminating presses and coating machines. Perhaps you could bring me up to date with the sort of equipment that you are presently supplying into the Chinese market. Specifically, what is the market demanding of you, and how do you see the future of market?
Jianming Wu: The market for PCB production in China is getting more and more fierce. As an OEM supplier of laminating machines, our target is to provide real value-added equipment to our customers so that when they are using Burkle laminating presses, even if our price is a little higher than the competition, they are achieving the very best in product quality. The other trend we are always focusing on is environmental protection and energy savings for our customers. Our customers world-wide, and especially here in China, see this as a great benefit.
Starkey: What sort of laminating equipment are you presently supplying? What is typical platen size, and number of daylights?
Wu: We deliver exactly what the customer specifies, from very small machines up to a maximum of twenty four daylights as for CCL. And as you know, Burkle does not make only standard machines, we can also make customer-specific machines, when the customer has specific innovations or special demands. We work closely with customers to develop machines to suit their requirements.
Starkey: Can you give an example of a customer's specific demand and his application, and how you would then configure your equipment to suit it?
Wu: One recent example is a customer in South China. In the past, he was using machines from our competition, which had special features that we believed were not really necessary. When the customer had problems with those machines, which were from a very well-known producer in the world, the customer requested our help. We have made many modifications to our machines to make them compatible with our competitors' transportation system, which the customer uses for moving product to the presses.
Starkey: What is typical of the type of printed circuit board that your customers are manufacturing? Are they manufacturing rigid multi-layer, are they manufacturing flex, are they manufacturing flex-rigid multi-layer?
Wu: Currently, customers in China are using our machines to make high-end products like HDI, flex and rigid-flex and so on. In many cases, they can make products with our machines that are not possible with our competitors' equipment.
Starkey: There has been very much discussion recently about a slowing down of the market in China, is this something that you have experienced, or not?
Wu: Yes, we have received some feedback from our customers that the market is slowing down. But we have some premium customers, and they are continuing to buy our machines. This could be seen as a contradiction to the public statements, that we are doing business in contrast to the feedback coming from the market. Maybe this is something we need to investigate further!
Starkey: These customers hopefully can see further into the future; the present slow-down in growth will change and probably the growth will increase again. They can see their technology needs for the future, and if they have good vision and also the financial resources to invest now, then they are ready for the market when it comes back, instead of waiting for the market and then running behind it. Is this something that you experience?
Wu: Yes, exactly. You make a very good point. We have customers making premium products, and with such products they are really focusing for the future. And we also have those customers who are taking the strategy of wait-and-see before they prepare themselves for the future. Currently, the world economy is really down, especially in China when compared with the high performance in the past decades. But we have some customers who are really preparing themselves now, not waiting until the market comes back up. They can immediately get into the market; that is their strategy and we are fully supporting them.
Starkey: Mr. Wu, thank you very much indeed for your time and for a very interesting discussion. We wish you every success.
Wu: Thank you, Mr. Starkey.
---
Suggested Items
09/27/2023 | IFR
The new World Robotics report recorded 553,052 industrial robot installations in factories around the world – a growth rate of 5% in 2022, year-on-year.
09/26/2023 | Kirk Thompson, Isola Group
Despite being a leader in R&D investment in semiconductors and packaging with greater than $50 billion per year, the U.S. has seen its market share decrease to less than 3% in areas like advanced packaging and advanced substrates. The cause for this market share erosion was a laser focus in Asian countries to attract semiconductors and advanced packaging investment through ecosystem development and incentives. If the U.S. is serious about changing the momentum to onshore advanced packaging and advanced substrates, an ecosystem approach to innovation and manufacturing incentives must be employed. It is not enough to have the most innovative technology if the supply chain and manufacturing economics do not deliver competitive commercial opportunities.
09/26/2023 | IDC
The global PC monitor market remained steadfast in its efforts to manage inventory levels amidst a significant drop in demand during the second quarter of 2023 (2Q23).
09/26/2023 | GlobalFoundries
GlobalFoundries (GF) announced it has applied for U.S. CHIPS and Science Act Funding, with two full applications submitted to the CHIPS Program Office of the U.S. Department of Commerce.
09/26/2023 | TrendForce
The latest "Automotive Display Market Analysis" from TrendForce indicates that the overall demand for automotive display panels (automotive panels) is gradually stabilizing and shows an upward trend as the automotive market as a whole slowly recovers, and promotional activities related to smart cockpits continue to expand.