Books

Featured Books

pcb007 Magazine

Latest Issues

Current Issue

The Registration Sweet Spot

Registration is underrated and underappreciated. The key is to ensure proper registration from layer to layer across the entire printed circuit board. It's a holistic process requiring anticipation, prediction, precise attention at each step, and detailed data tracking and monitoring.

High-reliability Fabrication

In this month's issue, our expert contributors discuss the latest in technologies, trends, complexities and resources regarding high-reliability fabrication.

Finding Ultra

New demands on PCB fabrication, namely advanced packaging, ultra high density interconnect (UHDI), and new specialty materials, are converging, changing the landscape of our business. Is it time to start paying close attention to this convergence?

Columns

Latest Columns

||| MENU
IPC President John Mitchell on the Past, Present, and Future, Pt. 2
April 8, 2016 | Barry Matties and Patty Goldman, I-Connect007
Estimated reading time: 9 minutes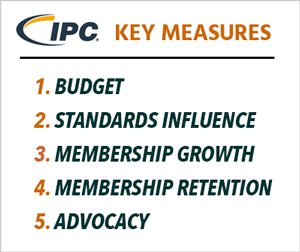 In Part 2 of our on-the-show-floor interview with John Mitchell, conducted at IPC APEX EXPO 2016, John continues describing IPC's key measures, and then invites industry folks who are reading this to participate in a unique challenge—some might say experiment. The question is, will there be any takers?
Matties: And your fifth key measure?
Mitchell: We have an advocacy metric in terms of the influence that we're making in that arena. I can tell you the number we're shooting for is 60, but the number doesn't mean anything. What we do is we measure presidents and CEOs coming to IMPACT. We measure donations to our PAC. We measure site visits by Congressmen to members' locations and we measure various white papers and comments that we provide to various government entities. This is done globally as well. I mentioned Congressmen, but we also do it in China and Europe.
We take all that and there's a little table we plug it in to that generates a number. The number is just an engagement metric. Once we exceed a certain point, we'll rewrite the metric and measure additional things, but it's a way for us to tell when we're making a difference in advocacy. You'll notice that every single thing that we do ties to one of our four aspirational goals. We're always focused on standards, education, advocacy, and solutions. We have metrics to show this to the board.
We have another metric just for the year on our specific strategic initiatives that we're working on, like European expansion this year. We're measuring that and how well we're doing. We just opened the Brussels office which we're super excited about. Ales Sinkovec was here at the show. He's our director of operations over there. He and his team, plus some of the existing people we've had over there, are going to be working very diligently to meet the nearly 550 members we have in Europe and grow that membership and provide stronger member benefits.
To have standards meetings over there so that they can have stronger, easier influence without having to feel like they have to jump across the pond. We'll have more events over there. We're going to do stronger advocacy over there than we have in the past in Brussels. That's one of the strategic initiatives.
The other one is our online training initiative. This summer we're going to be launching some programs in the online forum. We have the various certification programs like 610, 620, 001, etc. One of the complaints that we've heard from our cert centers is that many of the people that come into those programs just aren't ready for the classes. They spend a lot of their class time trying to bring them up to speed. We're creating some "get up to speed" prep courses for those people that we'll put online and they can go in, take the course and then they'll be much more ready for the certification class. It will hopefully save our trainers and our partner's trainers a lot of lost and wasted effort.
We're going to be launching what's called IPC 101, which is an introduction to IPC standards. The course teaches you how to use standards, where to use standards, what's a legal use of standards; it will likely be a two-hour course that you do online. When you finish, you'll be able to have new skills and new abilities to bring directly to your company and say, "Wow, because I took this course I know how to do this." Then that's another area they don't have cover in the certification stuff. We're going to hopefully utilize our network of certification centers to actually help sell that piece.
Matties: When you talk about value, one of the things that I've heard the people that go to your training say is their wages go up. Have you measured the impact on wage?
Mitchell: That's a good and bad thing.
Matties: Yes, from the employer's point of view.
Mitchell: Exactly, from the employer point of view, 'I just paid money to get you certified and now I have to pay you money because I did that. Because you're smarter;' but hopefully you're saving them a lot of money as well. There's a value creation.
Matties: That's the idea. There's an ROI that has come out of that.
Mitchell: That's right. Let me put out to your readership a request or a challenge that I would love to engage. Please contact John Mitchell at johnmitchell@ipc.org if you're interested in participating in this. This has been my desire since the day I got here. I would love somebody who's running production lines, it could be in whatever industry whether it's PCB or EMS or whatever. If you're building product and you're going to do IPC training, I would love for you to run a test and run one line without anybody who's IPC certified and an identical line with people who are certified for the week. Let's measure everything. We'll come in and let's take the data. I'll list your organization as participating in that study everywhere we go. Free recognition if I can get that data.
Matties: That's a great challenge.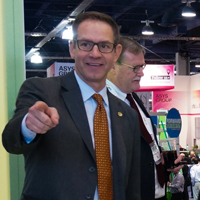 Mitchell: Isn't that great?
Matties: It is.
Mitchell: I'd love to have three or four…it doesn't have to be just one. This way we can test it and we can look at different industry segments. We have a case study that shows that, by investing in training, people have watched quality throughput go from 73% to nearly 100%, so the ROI paid back in one year is thousands to millions of dollars.
I want more of that data so I can walk in and say, "By the way, if you do this, here's the investment: You're going to invest $150,000 in training for the next year. Why are you going to do that? Because you're going to save $200,000 every year thereafter by doing that." I just made up those numbers, of course—that's why I need the data.
Matties: Whatever the numbers ultimately turn out to be, it's not just what you saved in productivity, it's the gains that you bring in new revenue because your quality is so much higher.
Mitchell: Exactly, and that's part of the QML program. We love to sit there and put IPC's brand on your organization. Right now we certify, we provide standards, and that's great. You buy a book, but who cares? It's great because you needed to. It's required for your business. But if you don't read it and don't understand it, that's not good. Hence, the certification program. That teaches people how to do that.
The next step up is IPC's Validation Services program which says not only are my people trained, but I am doing these things. Knowing it and doing it are two different things. Validation and the QML programs are really trying to say we've gone in and proved that you have the capabilities and are doing those things.
Matties: So it's just a process—it is validation and an increase in revenue, because all that goes right to your sales and marketing department. If they don't know what to do with it the IPC needs a training course for that.
Page 1 of 2
---
Suggested Items
12/05/2023 | Robert Erickson and Lorena Villanueva, IPC
About 200 kilometers (125 miles) north of Mexico City lies Queretaro, an area rich in history, with stone streets and public squares, and which twice has been the country's capital. But it's also quickly becoming a global capital of electronics manufacturing, especially aeronautics, and was the location for the first IPC Day Mexico this past June.
12/01/2023 | Nolan Johnson, I-Connect007
This week's news items taught me a few things I didn't know. For instance, there's news about the new equipment for THT work, governmental support for advanced packaging technologies, an upcoming webinar from iNEMI on counterfeits, an interview with U.S. Rep. Blake Moore, one of the sponsors of the bipartisan Protecting Circuit Boards and Substrates Act, and columnist Tim Haag, using Star Trek to illustrate why simplicity is, ahem, paramount.
11/30/2023 | PRNewswire
VPT, Inc., a HEICO company, VPT, Inc., a trusted provider of power conversion solutions for aerospace and defense, proudly announces its latest achievement of obtaining SAE AS9100 Revision D certification. SAE AS9100 Revision D enhances VPT's existing suite of certifications, including MIL-PRF-38534, MIL-STD-883, J-STD-001 (Space), IPC-A-610, and IPC-A-600, further cementing our commitment to excellence in quality and reliability.
11/29/2023 | TRI
Test Research, Inc. (TRI), the industry's leading provider of Test and Inspection systems for the electronics manufacturing industry, is pleased to announce the expansion of its Malaysian office, which opened in 2010.
11/29/2023 | Dana Korf -- Column: Dana on Data
November's issue of Design007 Magazine had an excellent theme that evolved around design simplification. There were exceptionally good articles about how to reduce over-constrained or needlessly complex designs. One significant time-consuming category is the creation of many design files and drawings which lead to lengthy creation and interpretation time along with the considerable time to resolve conflicting or erroneous information.