NASA Investigates 3-D Printing for Building Densely Populated Electronic Assemblies
April 26, 2016 | NASA
Estimated reading time: 2 minutes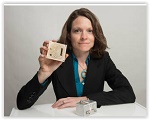 As detector assemblies get smaller and denser — packed with electronic components that all must be electrically connected to sense and read out signals — it's becoming increasingly more challenging to design and manufacture these all-important instrument devices. 
A team of NASA technologists at the Goddard Space Flight Center in Greenbelt, Maryland, however, has begun investigating the use of a technique called aerosol jet printing or direct-write manufacturing to produce new detector assemblies that are not possible with traditional assembly processes.
"If we succeed, aerosol jet technology could define a whole new way to create dense electronic board assemblies and potentially improve the performance and consistency of electronic assemblies," explained Goddard technologist Beth Paquette, who is leading the R&D effort that began last fiscal year. Furthermore, aerosol jet printing promises to slash the time it takes to manufacture circuit boards, from a month to a day or two, she added.
Important Distinction
As with other 3-D printing techniques, aerosol jet manufacturing builds components by depositing materials layer-by-layer following a computer-aided design, or CAD, drawing. However, jet aerosol printing offers an important difference.
Instead of melting and fusing plastic powder or some other material in precise locations, as in the case of many 3-D printers, aerosol jet printing uses a carrier gas and printer heads to deposit a fine aerosol of metal particles, including silver, gold, platinum, or aluminum, onto a surface. Aerosol jet printers also can deposit polymers or other insulators and can even print carbon nanotubes, cylindrically shaped carbon molecules that have novel properties useful in nanotechnology, electronics, and optics.
"It can print around bends, on spheres or on something flat, or on a flexible surface, which then can be flexed into the shape you want," she said.
These attributes make the technology ideal for detector assemblies, particularly those that need to be shaped differently or are very small, yet dense because of the large number of tiny components that must be electrically wired or linked together on a circuit board — an inescapable reality as instruments get smaller and smaller.
"We can make these wires microns in width," Paquette said. "These lines are very small, down to 10 microns wide. These sizes aren't possible using traditional circuit board manufacturing processes." (By way of comparison, the average human hair measures between 17 and 191 microns in width.)
Page 1 of 2
---
Suggested Items
12/04/2023 | USPAE
Seven microelectronics firms received nearly $10 million in combined funding to commercialize technologies of interest to the U.S. military services as winners of the Defense Business Accelerator (DBX) Microelectronics Challenge. This groundbreaking initiative is funded by the Department of Defense (DoD) and led by the U.S. Partnership for Assured Electronics (USPAE).
12/04/2023 | Horizon Sales
Horizon Sales is pleased to announce the newest addition to its team, Mr. Andre Kundert. Joining the company in November 2023, Andre brings with him two years of invaluable experience in surface mount technology (SMT) and a robust background in the electronics manufacturing industry.
11/30/2023 |
The goal of the collaboration is to promote the standardization of post-quantum cryptography.
11/30/2023 | PRNewswire
Hyundai Mobis is poised to secure new orders for premium vehicle displays, characterized by large screens, high definition, and slim design, using a fusion of innovative technologies targeting global automakers.
11/30/2023 | Aoshikang
On November 28, Aoshikang Technology Co., Ltd., a prominent player among the world's top 100 PCB companies, held a grand topping-out ceremony for its Thailand-based production base, SUNDELL Technology Co., Ltd.