Books

Featured Books

pcb007 Magazine

Latest Issues

Current Issue

The Registration Sweet Spot

Registration is underrated and underappreciated. The key is to ensure proper registration from layer to layer across the entire printed circuit board. It's a holistic process requiring anticipation, prediction, precise attention at each step, and detailed data tracking and monitoring.

High-reliability Fabrication

In this month's issue, our expert contributors discuss the latest in technologies, trends, complexities and resources regarding high-reliability fabrication.

Finding Ultra

New demands on PCB fabrication, namely advanced packaging, ultra high density interconnect (UHDI), and new specialty materials, are converging, changing the landscape of our business. Is it time to start paying close attention to this convergence?

Columns

Latest Columns

||| MENU
Koen Hollevoet Explains Rogers' New PEEK-based Material for Extreme Temps
April 28, 2016 | Barry Matties, I-Connect007
Estimated reading time: 9 minutes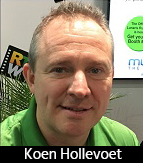 Rogers has been developing a new material called XT/duroid laminate, which is based on polyether ether ketone (PEEK) material and can withstand some of the harshest temperatures and environments.  I met with Koen Hollevoet, Business Development Manager at Rogers Corporation, at IPC APEX EXPO 2016 to further discuss this material and learn how it might benefit the PCB market.
Barry Matties: Koen, let's talk first about what you're introducing and what you've been presenting here at IPC APEX EXPO.

Koen Hollevoet: At Rogers, we're introducing XT/duroid laminates which are based on PEEK material. PEEK is a high temperature thermoplastic material that's already well-known in the avionics industry and in oil and gas, because it's a material that is very chemical resistant and is also resistant to extremely hot temperatures or cold temperatures.
Rogers is using this PEEK-based material for PCBs. It works as an insulator with very interesting characteristics from a circuit perspective in terms of dielectric breakdown, thermal behavior, and things like that. As it is already known in the avionics industry and oil and gas, we think there's a very interesting market out there where we can introduce this as a circuit or maybe as a shielding material if it is covered not with copper but with aluminum or nickel, which we can do.
It really is multipurpose, and it takes us really out of our wheelhouse and into a new area that we have to learn about.
Matties: Why did you go into this area with this composite? Is this something that you just said, "Boy, this is an explosive market," or what was the impetus behind it?
Hollevoet: Actually, what drove us into this was working in high-frequency and seeing materials getting thinner and thinner. With the PEEK material we were working very closely with a supplier that was making films and we said, "Wait a minute, if they can make films that are 1 mil or 2 mil thick, we can make thin RF circuits out of it." In the beginning it didn't really fit high frequency applications, but today we've learned more about the impact of the copper, the impact of delamination and now we can make it into a high frequency laminate that is very stable over temperature. It has the lowest TCDk of Rogers' product range.
By the time we went through this, we had many other people asking, "Can you stick nickel  to it? Can you stick aluminum to it?" We tried more and more things and then we realized that there's a far bigger market beyond the high-frequency applications because people are hitting the limits with their current PTFE and polyimide materials and want to use PEEK because of the chemical resistance, low moisture absorption and thermal conductivity. We know this works for mechanical parts so let's use it in circuits for avionics or automotive and some of these things.
So we discovered that there are whole new markets out there, which was not our original intention.
Matties: Sometimes that's how the best things happen, right?
Hollevoet: It's interesting also because my background within Rogers for the first five years was originally in the power electronics market, and there temperature is much more of an issue with getting more power in smaller things like in electrical cars.  So I have a background which is quite different from most of my high frequency colleagues in PCB laminates. That allows me today to combine different product technology knowledge and different market knowledge within the company.
Matties: So how fast do you think this technology will be embraced and creating great revenue streams for you? That's the million, or multi-million dollar question.
Hollevoet: My bosses always say, "Where's the money? Show me the money." This is quite a new material, especially in the circuits world, so it takes time for people to do qualifications before adopting. That takes some time to do, especially in this market. It's all about reliability, and reliability is not something you do with overnight testing—you need 1,000 hours here, you need 500 hours there, etc.  The next step is to design it in and to qualify the application. We expect it might take a few  years from now until it turns into really big volume.
In the meantime, there are a lot of interesting opportunities we're working on, most of which are on the avionics side at this stage. We got involved with the Clean Sky Project, a research program funded by the European Community where they were asking for an alternative, new system, to replace the PTFE cable harnesses in the engines of airplanes. These cables are expensive and they are heavy because everything has to be shielded in there. So there's a lot of weight to save, especially  in the future when the newer engines will have more sensors which means more wiring and more electronics in the engine. The new fuels will also push the temperatures up.
We teamed up with Trackwise  and SEA (Systems Engineering and Assessment Ltd) from the UK and developed a multi-layer large flexible printed circuit to replace the PTFE wire harness. That really pushed the limits because up until then we said, "Oh yeah, we can do 200°C," but actually the engineers from Rolls Royce that were behind this project wanted to push it to the max. We passed more than 3600 hours at 260°C without any failure, including 16 hours vibrations in 2 axis. We succeeded also more than 1500 hours at 330°C, but that was only after we introduced an additional oxidation barrier layer. The constructions  stayed very stable with no delamination. That gave us enough confidence to proceed with people like Rolls Royce to pursue more commercial applications. We are pushing the boundaries thanks to these calls for development and R&D.
Matties: Are there standards around this yet?
Hollevoet: We consider that these materials on one hand are being used as a flexible material, so we should get into the flexible side. On the other hand, we can use it as a rigid material when it's thicker and contains more layers of glass reinforcement. It is a material with dual use in terms of flex or rigid or a combination.
Today the IPC and other regulators have their standards based on today's electronics, and we are pushing those limits so we can't fit everything into the standards that exist today. Today there is nothing foreseen for PEEK-based materials, so we have to create and set some new standards. Luckily, often innovators are less reluctant to depend only on the standard specifications.
Matties: Is there any special manufacturing from the manufacturer's point of view when they're using it that they have to be aware of or invest into?
Hollevoet: Basically people that are already using materials in high-end circuit boards, such as processing PTFE multilayer boards should be able to handle this XT/duroid circuit laminate. Of course, it's chemical resistant so it will not react to many of the chemicals and you'll need plasma treatment or laser drilling and things like that because that's going to be more effective than any of the chemical processes.
Matties: So there are no barriers to entry for adopting this technology?
Hollevoet: No, I don't think so. It can be done, and it is being done in a number of shops we are working with today.
Matties: How long have you been working with it in shops?
Hollevoet: We started in 2010.
Matties: So you have some history with it.
Hollevoet: We have indeed some history with it.  Now we have to develop it further and support the adoption in the market. We are also discovering new markets that have been developing only recently. One example is  the oil and gas market—before oil and gas was drilled down to 1,000 to 2,000 meters but now they go much deeper. So now suddenly they find out that the traditional materials they use today go out of their capability range and start to delaminate, dissolve or don't resist the more hostile environment. I think that's where today the market is opening up more than it was in 2010 or before.
Matties: If a fabricator adopts this, does this open up new market potential for them to increase their revenue?
Hollevoet: I think it's in the high-end markets where we're looking at this material to be used where performance and reliability prevail and where the current materials no longer meet the requirements of the OEMs. These markets are definitely on the rise.
Matties: So they can come in with a new solution and perhaps keep a customer, or gain a customer?
Hollevoet: Yeah, the fabricator can create more value now because they can offer material that is extending the customer's current capabilities, and like I said, some major markets are pushing the boundaries to extreme temperatures. The second market opportunity for XT/duroid material is where the circuits have  to be very chemical resistant, like in anything related to fumes, fuels etc.
PEEK is also a material that is radiation resistant. So any application dealing with X-rays or gamma rays, because that's where materials tend to oxidize extremely rapidly, is a potential fit for XT/duroid material. As you notice, there are all kinds of new markets that have needs that can't be met with current materials.
Matties: It sounds like a product like this could also help somebody enter into a new market.
Hollevoet: It definitely helps because it enables new technologies in more extreme environments beyond  the limits of today.
Matties: Is there anything that we haven't talked about that we should cover around this?
Hollevoet: Another interesting aspect of the material is that it can go very thin. We start at 2 mil (50µm), with or without woven glass, and it can go much thicker from there. It's flexible at first and as it gets thicker with more glass we can make it stiffer. It is halogen-free but it's inherently flame retardant and there are no toxic fumes, which is an environmental concern that's alive today.
This material is laminated  without any adhesive. That enables us to reduce the thickness. The adhesive is also most often the weakest spot in the laminate. It's the first that's going to dissolve. It's the first that's going to oxidize or pick up moisture, so if you can avoid this by eliminating the adhesive you have made a big step forward.
Matties: In the space that you're describing, the extreme high-end, is this the total replacement product for everything that's now being used? Is that what you guys see when you're blue skying this?
Hollevoet: I don't think it is just a drop-in replacement. It can overlap with a lot of things today but I think the real use will be mainly at the edge and beyond the capabilities of the current materials. Some of the materials today, like polyimide, have been so commoditized nowadays that there's definitely a price difference with this material. When you're at the edge of the current technology and current materials, that's where we can step in and make a difference.
Matties: Sounds great, thanks for sharing all this with us today. It's really interesting and we wish you the best of success.
Hollevoet: Thank you very much.
---
Suggested Items
11/13/2023 | Global Newswire
The "Global Copper Clad Laminates Market (by Type, Application, Reinforcement Material, & Region): Insights and Forecast with Potential Impact of COVID-19 (2023-2028)" report has been added to ResearchAndMarkets.com's offering.
11/07/2023 | SCHMID Group
The SCHMID Group, a global solution provider for the high-tech electronics, photovoltaics, glass and energy systems industries, will be exhibiting at productronica in Munich from November 14 – 17, 2023.
11/01/2023 | Alex Stepinski, Stepinski Group
The topic of intrinsic copper structure has been largely neglected in discussions regarding the PCB fabrication quality control process. At face value, this seems especially strange considering that copper has been the primary conductor in all wiring boards and substrates since they were first invented. IPC and other standards almost exclusively address copper thickness with some mild attention being paid to surface structure for signal loss-mitigation/coarse properties. 
10/26/2023 | Andy Shaughnessy, Design007
At PCB West, I sat down for an interview with John Andresakis, the director of business development for Quantic Ohmega. I asked John to update us on the company's newest materials, trends in advanced materials, and the integration of Ticer Technologies, which Quantic acquired in 2021. As John explains, much of the excitement in materials focuses on laminates with lower and lower dielectric constants.
10/25/2023 | Preeya Kuray -- Column: Material Insight
Printed circuit board (PCB) reliability testing is generally performed by exposing the board to various mechanical, electrical, and/or thermal stimuli delineated by IPC standards, and then evaluating any resulting failure modes. Thermal shock testing is one type of reliability test that involves repeatedly exposing the PCB test board to a 288°C pot of molten solder for a specific time (typically 10 seconds) and measuring the number of cycles it takes for a board's copper layer to separate from the organic dielectric layer. If there is no delamination, fabricators can rest assured that the board will perform within expected temperature tolerances in the real world.