Books

Featured Books

pcb007 Magazine

Latest Issues

Current Issue

The Registration Sweet Spot

Registration is underrated and underappreciated. The key is to ensure proper registration from layer to layer across the entire printed circuit board. It's a holistic process requiring anticipation, prediction, precise attention at each step, and detailed data tracking and monitoring.

High-reliability Fabrication

In this month's issue, our expert contributors discuss the latest in technologies, trends, complexities and resources regarding high-reliability fabrication.

Finding Ultra

New demands on PCB fabrication, namely advanced packaging, ultra high density interconnect (UHDI), and new specialty materials, are converging, changing the landscape of our business. Is it time to start paying close attention to this convergence?

Columns

Latest Columns

||| MENU
Weiner's World
May 2, 2016 | Gene Weiner, Weiner International Inc.
Estimated reading time: 11 minutes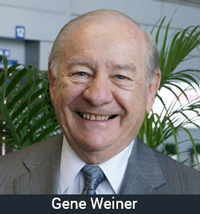 Editor's note: This blog was originally published in April 2016 at Weiner Intl.  and is being reprinted here with special permission from the author.
In Memoriam
We lost another icon this past month, Eugene (Gene) Ronald Selven. Although he had a long history in the semiconductor industry at such firms as TI, Fairchild, and Raytheon, many of us will best remember him as the publisher of Chip Scale Review for which I wrote a column for several years. Gene bought the journal from Tessera in 1999 and built it to prominence in the semiconductor industry. What I remember most about Gene was his insight and gentlemanly way of handling challenges. It was always a pleasure being with him to discuss the industry or to exchange "fish stories."  Although he has been retired for a number of years, his passing last month has created a vacuum felt by many. Chip Scale Review continues today under the auspices of Kim Newman, Gene's daughter.
Other News
Presidential candidate Donald Trump singled out 3D printing in his first foreign policy speech as one of the advanced technologies that America should develop and protect.
The electro-deposited copper foil industry is booming in China, but not for PCBs and CCLs. The factories are running at full capacity for the battery industry. The significant portion is for electric cars. About 50,000 electric cars were sold in Shanghai alone in 2015. The margins are much better than for PCBs and CCLs, so it is anticipated that price and delivery issues will arise. The batteries are primarily made in Asia.
The market for assembly (SMT) equipment and robotics has improved substantially in China this month. It appears that some companies could no longer delay purchases of equipment that had been on hold. The same recovery has not yet been noticed for bare board fabrication systems.
In a recent It's Only Common Sense column, Dan Beaulieu wrote, "And the cold hard fact is that the smaller guys are on their own. They have no one to look out for them, no one at all. Over the years, IPC has made it abundantly clear that they have a vast amount of interest in the big guys, but very little interest in the smaller shops." Then Dan went on to list 10 advantages that he felt smaller fabricators have over the "big guys."
I have a different view. The IPC does not work for any individual company. It does work for most companies if they actively participate together as a group in activities that are in their best, collective interests. IPC interacts with our government on behalf of all interconnect companies. It provides a vehicle whereby a class or group of members can get together and work on programs for their mutual benefit.
IPC is reinventing itself. It does more than just develop standards. It offers training for member companies and its employees. It provides focused showcases for its members' products and services combined with a major conference every year. It recognizes that the electronic supply chain is changing and new solutions must be found as more and more systems bring silicone and components closer together in packages. It recognizes the global world of packaging and works to the benefit of all its members. It fosters cooperation and consortia to the benefit of its fabricators, assembly and packaging members…and industry.
IPC even has a VP in charge of member success. Changes are inevitable. Major consolidations have reshaped the industry. Supply chains are changing. Those that wish to avoid the fate of buggy whips should rethink their company strategies.
To this end, I am working towards presenting a PCB Executive Forum, under the auspices of the IPC, to be held at the next IPC APEX EXPO event in San Diego in February 2017. It will be focused on helping the smaller companies overcome today's industry challenges. It will be designed to help CEOs, presidents and company owners solve some of the problems they face in today's environment. All members of the bare board fabricating community, as well as their supply chain, will be invited to attend—even if they are not currently members of the IPC.
Chinese Counterfeiters Caught with the Goods
Daofu Zhang, 40, of Shenzen, China, pleaded guilty this month in New Haven (CT) federal court to conspiring to sell counterfeits of sophisticated integrated circuits to a purchaser in the United States. His co-conspirator Yan proposed to supply the U.S. source with "fake" ICs that "look the same," to replace the ones to be stolen from the military. Yan and another co-conspirator, Zuo, were also apprehended and pled guilty last month. The case is being prosecuted by Assistant U.S. Attorney Henry Kopel* and U.S. Department of Justice Counterintelligence and Export Control Section Trial Attorney Casey Arrowood.
(*Kopel is the son-in-law of Gene Weiner, publisher of Weiner's World.)
A Prediction Long Coming
Taiwan-based PCB players are pushing into car-use products as demand for PCs, smartphones and tablets has been weakening. Chin Poon (experiencing record profits) and Tripod Technology, which have been operating in the car-use PCB market for a long time, are looking to expand their presence in the market, while newcomers including Unitech, Unimicron Technology, Global Brands Manufacture (GBM), Apex International, Zhen Ding Tech, and Ichia have been trying to catch up. With demand for smart car applications including Internet of Things (IoT), semi-auto drive, infotainment systems, around-view monitoring systems, parking sensors and portable navigation device growing rapidly, demand for related upstream components such as PCBs is rising, and many PCB makers are aggressively looking to grab a share of the market. Car-use components require certification from car vendors, and the process usually takes more than 2−3 years. (Source: DIGITIMES, April 14)
A senior ADI manager said to us, "Today, automotive is everything!"
We just received a solicitation from a board fabricator offering the following:
-Express PCB Prototyping (2–40 layer) 
-HDI PCB with 4 mil laser holes—flexible printed board (1–8 layer)
-Flexi-rigid printed board
-High-frequency board (Rogers, Arlon, PTFE) 
-Blind/buried via board
-High Tg thick copper PCB (up to 12 oz. with TG210)
-Mix-material (FR-4+Rogers) multilayer PCB 
-Embedding resistance/capacitance board 
-Halogen-free/lead-free board
-Thick gold plating/immersion gold/ENEPIG board
Yep! You guessed it! It came from China. How many of America's remaining 200 or so board builders (excluding those "giants" with multi hundred millions in sales) can match all of the listed 11 items as a service? Do you consider the ability to build lots of 20 or 100 complex HDI boards at a time in a secure U.S. location necessary for America's defense? If so, who will support the acquisition of the capital equipment needed to do so? Who will provide (pay for) the expensive secured digital network required by prime contractors (Raytheon, Lockheed, Boeing, etc.)? The latter could cost up to a million dollars—a bit on the rich side for shops with an annual turnover of just $10 or $15 million or so.
Caveat Emptor
The April 15 online edition of PCB Update had a column by Peter Bigelow, president and CEO of IMI, which offers very sound advice worth repeating in the wake of a number of recent industry false starts and overly ambitious claims. A very brief excerpt is below:
"Be judicious when studying 'game-changing' technologies! Improvements pitched as being the elusive 'one size fits all' breakthrough usually are not. We must be diligent, using rigorous analysis and verification, to avoid processes that are oversold but underperform. If a new material, machine, or process simplification does not improve overall quality, add to overall capability, or have a measurable, favorable impact on cost, it most likely is not worth the effort. Many very interesting and promising technologies may be game-changers for us all. However, some, such as conductive inks, have been around for decades but are still just not ready for prime time. Others may have the potential to transform the industry in ways unimaginable just a few years ago. We need to be aware and inquisitive about all but not allow ourselves to become too mesmerized by any until they demonstrate tangible and proven value."
Intel said it plans to reduce its global workforce by up to 12,000 jobs, or 11%, as the semiconductor giant reported a worse-than-expected 7% increase in first-quarter revenue. The chip maker said the job cuts are part of the company's restructuring away from a computer-based company to one that powers the cloud and billions of connected computing devices. (Source WSJ)
The joint IPC APEX−HKPCA show in Shenzhen China is now the largest in the printed circuit industry. It will be about 500,000 square feet at the next edition in December 2016. That's four times the recent IPC event in Las Vegas.
BPA's short term PWB forecast for 2016 is essentially flat with different segments increasing or declining as in the following summary:
Consumer—falling levels of demand
Automotive—healthy demand and a bright spot supported by new applications
High speed equipment—steady demand
Computers—flat or decline
Medical and industrial—steady demand growth
Handsets—flat
Military—flat
Aerospace—steady demand
BPA's 2016 worldwide semiconductor forecast suggests that we will see a flat year to a single figure contraction (in semiconductor value terms) of shipments as compared to 2015. With the macro economic factors as they are at the time of writing, the analysis would conclude that 2016 sales growth will be flat compared to 2015. However, the less optimistic outcome (supported by the semiconductor forecasts), may well be a contraction of 3−5%.
Page 1 of 2
---
Suggested Items
11/13/2023 | Global Newswire
The "Global Copper Clad Laminates Market (by Type, Application, Reinforcement Material, & Region): Insights and Forecast with Potential Impact of COVID-19 (2023-2028)" report has been added to ResearchAndMarkets.com's offering.
11/07/2023 | SCHMID Group
The SCHMID Group, a global solution provider for the high-tech electronics, photovoltaics, glass and energy systems industries, will be exhibiting at productronica in Munich from November 14 – 17, 2023.
11/01/2023 | Alex Stepinski, Stepinski Group
The topic of intrinsic copper structure has been largely neglected in discussions regarding the PCB fabrication quality control process. At face value, this seems especially strange considering that copper has been the primary conductor in all wiring boards and substrates since they were first invented. IPC and other standards almost exclusively address copper thickness with some mild attention being paid to surface structure for signal loss-mitigation/coarse properties. 
10/26/2023 | Andy Shaughnessy, Design007
At PCB West, I sat down for an interview with John Andresakis, the director of business development for Quantic Ohmega. I asked John to update us on the company's newest materials, trends in advanced materials, and the integration of Ticer Technologies, which Quantic acquired in 2021. As John explains, much of the excitement in materials focuses on laminates with lower and lower dielectric constants.
10/25/2023 | Preeya Kuray -- Column: Material Insight
Printed circuit board (PCB) reliability testing is generally performed by exposing the board to various mechanical, electrical, and/or thermal stimuli delineated by IPC standards, and then evaluating any resulting failure modes. Thermal shock testing is one type of reliability test that involves repeatedly exposing the PCB test board to a 288°C pot of molten solder for a specific time (typically 10 seconds) and measuring the number of cycles it takes for a board's copper layer to separate from the organic dielectric layer. If there is no delamination, fabricators can rest assured that the board will perform within expected temperature tolerances in the real world.