Books

Featured Books

pcb007 Magazine

Latest Issues

Current Issue

Finding Ultra

New demands on PCB fabrication, namely advanced packaging, ultra high density interconnect (UHDI), and new specialty materials, are converging, changing the landscape of our business. Is it time to start paying close attention to this convergence?

Developing a Strategy

A solid strategy is a critical part of success. This month, we asked some of the top industry leaders and business strategy "gurus" to share their thoughts on developing strategies.

Winning With TQM

In this issue, we explore how TQM has entered the DNA of continuous improvement disciplines, and the role leadership transformation plays in this. If you've ever competed against a TQM company, you understand their winning advantage.

Columns

Latest Columns

||| MENU
MuTracx Appoints Jeroen de Groot as New CEO
May 9, 2016 | MuTracx
Estimated reading time: 1 minute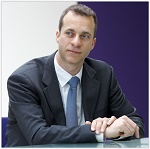 Jeroen de Groot has been appointed CEO of MuTracx International BV - full subsidiary of innovative technology partner Sioux - as of 1 May 2016. Strengthening MuTracx with the addition of De Groot fits perfectly within the growth aspirations of the manufacturer of digital inkjet PCB printers.
De Groot, who was previously CEO of Assembléon (now part of Kulicke & Soffa), will be taking on the responsibility of, among other things, setting out the strategic lines and developing the market areas in order to guarantee the further growth of MuTracx in size, customers and machines.
Jeroen de Groot comments, "Green and digital PCB production is the future. With a start-up like MuTracx, I can work closely with my colleagues to give further shape to the sustainable future of PCB production. The opportunity to represent Mutracx as CEO was an exciting challenge I simply could not let pass me by."
About MuTracx
MuTracx offers a unique solution for the PCB industry with LUNARIS, the first fully digital printer based on inkjet technology. The high tech professionals at MuTracx are specialized in using ink-jet technology, mechatronics and scanning solutions for the PCB Industry. Headquartered in the Netherlands and operating from multiple locations internationally, MuTracx's highly talented and inter-disciplined engineers design, manufacture, sell and service the company's high-end portfolio of solutions for the benefit of customers all over the world, click here.
MuTracx originated from Océ (part of the Canon group), the global leader in the supply of print and document management products. In transition to the commercialization phase MuTracx was recently acquired by the Sioux Group, a multidiscipline technology partner.
About Sioux
Sioux is an innovative technology partner with over 450 engineers in the fields of technical software, mechatronics, electronics, industrial mathematics and remote solutions. Sioux removes the burden for leading high-tech companies in de development and manufacturing of their products, whereby it supports or acts as the R&D department of its customers. With its focus on productivity, Sioux helps to shorten the development time and and to create a sustainable and competitive advantage at a better price/performance ratio. Besides the development, Sioux also takes care of the delivery of products. This is achieved both at the level of replacement parts and in the assembly of modules, subsystems and finished products. For more information, please click here.
---
Suggested Items
09/28/2023 | Anaya Vardya, American Standard Circuits
There has always been pressure to reduce line and space as we have seen the bleeding edge technology go from 8 mils to 5 mils and then to 3 mils. The difference between "then" and "now" is that the prior advancements, for the most part, used the same processes, chemistry and equipment going from 8 mils to 3 mils. But going from 3 mil to sub 1 mil trace and space is a quantum leap in printed circuit board (PCB) technology that requires a whole new set of processes and materials.
09/28/2023 | PNNL
Pacific Northwest National Laboratory is collaborating with leading technology companies Microsoft Corp. and Micron Technology to make computational chemistry—a challenging subject but one with far-reaching significance for our lives—broadly available to applied researchers and industrial users.
09/28/2023 | SIA
The Semiconductor Industry Association (SIA) announced Geoff Martha, chairman and CEO of healthcare technology leader Medtronic, will be the keynote presenter at the 2023 SIA Awards Dinner on Thursday, Nov. 16 in San Jose, Calif.
09/26/2023 | Kirk Thompson, Isola Group
Despite being a leader in R&D investment in semiconductors and packaging with greater than $50 billion per year, the U.S. has seen its market share decrease to less than 3% in areas like advanced packaging and advanced substrates. The cause for this market share erosion was a laser focus in Asian countries to attract semiconductors and advanced packaging investment through ecosystem development and incentives. If the U.S. is serious about changing the momentum to onshore advanced packaging and advanced substrates, an ecosystem approach to innovation and manufacturing incentives must be employed. It is not enough to have the most innovative technology if the supply chain and manufacturing economics do not deliver competitive commercial opportunities.
09/25/2023 | StenTech
StenTech Inc., the leading multinational SMT Printing Solutions company, is pleased to announce plans to exhibit at the SMTA Guadalajara Expo, scheduled to take place Oct. 25-26, 2023 at the Expo Guadalajara in Guadalajara, Jalisco, Mexico.