Books

Featured Books

pcb007 Magazine

Latest Issues

Current Issue

The Registration Sweet Spot

Registration is underrated and underappreciated. The key is to ensure proper registration from layer to layer across the entire printed circuit board. It's a holistic process requiring anticipation, prediction, precise attention at each step, and detailed data tracking and monitoring.

High-reliability Fabrication

In this month's issue, our expert contributors discuss the latest in technologies, trends, complexities and resources regarding high-reliability fabrication.

Finding Ultra

New demands on PCB fabrication, namely advanced packaging, ultra high density interconnect (UHDI), and new specialty materials, are converging, changing the landscape of our business. Is it time to start paying close attention to this convergence?

Columns

Latest Columns

||| MENU
MuTracx Appoints Jeroen de Groot as New CEO
May 9, 2016 | MuTracx
Estimated reading time: 1 minute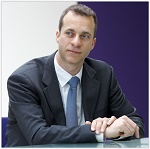 Jeroen de Groot has been appointed CEO of MuTracx International BV - full subsidiary of innovative technology partner Sioux - as of 1 May 2016. Strengthening MuTracx with the addition of De Groot fits perfectly within the growth aspirations of the manufacturer of digital inkjet PCB printers.
De Groot, who was previously CEO of Assembléon (now part of Kulicke & Soffa), will be taking on the responsibility of, among other things, setting out the strategic lines and developing the market areas in order to guarantee the further growth of MuTracx in size, customers and machines.
Jeroen de Groot comments, "Green and digital PCB production is the future. With a start-up like MuTracx, I can work closely with my colleagues to give further shape to the sustainable future of PCB production. The opportunity to represent Mutracx as CEO was an exciting challenge I simply could not let pass me by."
About MuTracx
MuTracx offers a unique solution for the PCB industry with LUNARIS, the first fully digital printer based on inkjet technology. The high tech professionals at MuTracx are specialized in using ink-jet technology, mechatronics and scanning solutions for the PCB Industry. Headquartered in the Netherlands and operating from multiple locations internationally, MuTracx's highly talented and inter-disciplined engineers design, manufacture, sell and service the company's high-end portfolio of solutions for the benefit of customers all over the world, click here.
MuTracx originated from Océ (part of the Canon group), the global leader in the supply of print and document management products. In transition to the commercialization phase MuTracx was recently acquired by the Sioux Group, a multidiscipline technology partner.
About Sioux
Sioux is an innovative technology partner with over 450 engineers in the fields of technical software, mechatronics, electronics, industrial mathematics and remote solutions. Sioux removes the burden for leading high-tech companies in de development and manufacturing of their products, whereby it supports or acts as the R&D department of its customers. With its focus on productivity, Sioux helps to shorten the development time and and to create a sustainable and competitive advantage at a better price/performance ratio. Besides the development, Sioux also takes care of the delivery of products. This is achieved both at the level of replacement parts and in the assembly of modules, subsystems and finished products. For more information, please click here.
---
Suggested Items
12/05/2023 | PRNewswire
Samsung Foundry certified Ansys' RaptorX on-chip electromagnetic (EM) solution for analyzing high-speed products manufactured with Samsung's 8nm (nanometer) LN08LPP Low Power Plus silicon process.
12/04/2023 | USPAE
Seven microelectronics firms received nearly $10 million in combined funding to commercialize technologies of interest to the U.S. military services as winners of the Defense Business Accelerator (DBX) Microelectronics Challenge. This groundbreaking initiative is funded by the Department of Defense (DoD) and led by the U.S. Partnership for Assured Electronics (USPAE).
12/04/2023 | Horizon Sales
Horizon Sales is pleased to announce the newest addition to its team, Mr. Andre Kundert. Joining the company in November 2023, Andre brings with him two years of invaluable experience in surface mount technology (SMT) and a robust background in the electronics manufacturing industry.
11/30/2023 |
The goal of the collaboration is to promote the standardization of post-quantum cryptography.
11/30/2023 | PRNewswire
Hyundai Mobis is poised to secure new orders for premium vehicle displays, characterized by large screens, high definition, and slim design, using a fusion of innovative technologies targeting global automakers.