IMPACT Washington, D.C. 2016: Industry Leaders Advocate for a Pro-Manufacturing Policy Agenda
May 9, 2016 | IPC
Estimated reading time: 2 minutes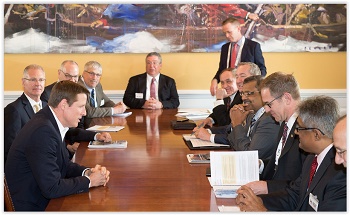 IPC places a high priority on educating government officials about key policy issues of importance to the electronics industry.
That's why top executives from leading electronics companies gathered in Washington, D.C. recently for "IMPACT Washington, D.C. 2016."  During this two-and-a-half day event, executives met with members of Congress, Administration officials and other leaders to discuss policies that affect their companies, including:  
Robust funding for the National Network for Manufacturing Innovation (NNMI), a system of public-private R&D partnerships established by Congress with IPC's support in 2014;
Corporate tax reform, including an increase in the R&D tax credit, a permanent extension of bonus depreciation, and a reduction in corporate marginal tax rates; and
A balanced, fact-based approach to regulation, including pending rules on toxic substances and overtime pay.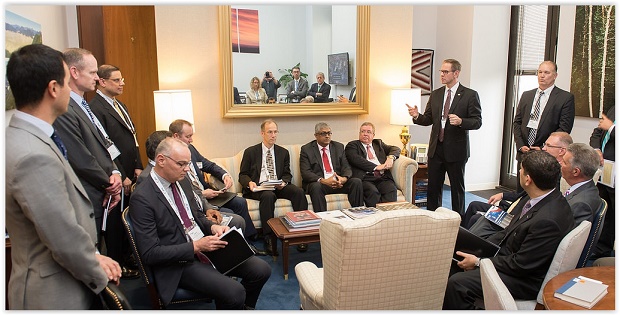 IPC members met with key policymakers including:
Sen. Orrin Hatch (R-UT), Chairman of the Senate Finance Committee, which has a leadership role on tax policy;
Rep. Bill Huizenga (R-MI), Chairman of the House Financial Services Subcommittee on Monetary Policy Trade, who has a role in U.S. "conflict minerals" policy;
Rep. Steve Chabot (R-OH), Chairman of the House Small Business Committee, who is keeping an eye on the overtime pay issue;
Rep. Kurt Schrader (D-OR), a member of the House Energy and Commerce Committee, which oversees environmental regulations;
Sen. Tom Udall (D-NM), an influential member of the Senate Appropriations and Commerce, Science Transportation committees; and
Luis Jimenez, Counselor to the U.S. Trade Representative, who briefed us on pending international trade agreements.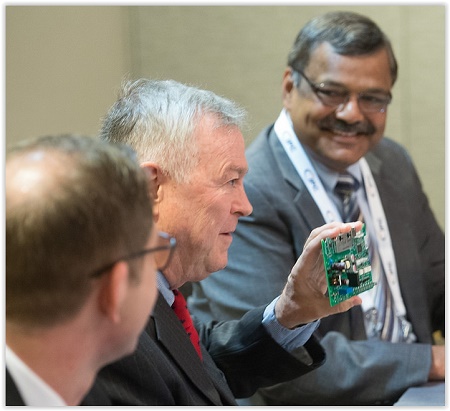 With 2016 being an election year, IPC is closely watching the presidential and congressional elections to determine what impact they may have on policy making in the coming years. During IMPACT, executives met with surrogates for four of the leading presidential campaigns to hear how their candidates might support our industry. We heard from:
Rep. Dana Rohrabacher (R-CA), on behalf of Senator Ted Cruz;
Rep. Duncan Hunter (R-CA), on behalf of business executive Donald Trump;
Mr. Kris Balderston, on behalf of former Secretary of State Hillary Clinton; and
Former Rep. Vin Weber, on behalf of Governor John Kasich. 
The campaign of Sen. Bernie Sanders (D-VT) was invited but did not provide a surrogate.  
During IMPACT, IPC also recognized two members of Congress with the "IPC Government Impact Award." Rep. Bill Johnson (R-OH) was honored for his advocacy of smart, fact-based environmental regulations and export controls; and Rep. Mike Honda (D-CA) was honored for his leadership on the NNMI and environmental regulations. 
In addition to group meetings with key leaders, IPC also arranged individual meetings for member company executives and their hometown elected officials.
Altogether, IMPACT Washington, D.C. 2016 was another big step forward in strengthening the electronics industry's presence in the halls of government. Developing long-term relationships with key policymakers is one of the most effective ways we can advocate for policies that will enhance the success of our industry.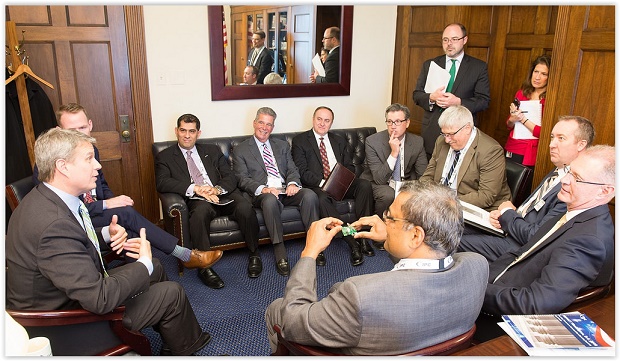 On behalf of all the IPC staff who put this event together, thanks to all who participated!
Please make a note on your calendars to participate in IMPACT Washington, D.C. 2017 during the week of May 8, 2017, and let us know if you have any comments or questions.
In this video, IPC President and CEO John Mitchell, along with executives from leading electronics companies and members of Congress recap IMPACT Washington, D.C. 2016.
---
Suggested Items
12/04/2023 | USPAE
Seven microelectronics firms received nearly $10 million in combined funding to commercialize technologies of interest to the U.S. military services as winners of the Defense Business Accelerator (DBX) Microelectronics Challenge. This groundbreaking initiative is funded by the Department of Defense (DoD) and led by the U.S. Partnership for Assured Electronics (USPAE).
11/30/2023 | BUSINESS WIRE
Nordson Electronics Solutions, a global leader in electronics manufacturing technologies, is pleased to announce the release of the new ASYMTEK Select Coat® SL-1040 conformal coating system.
11/29/2023 | TT Electronics
TT Electronics, a global provider of custom power solutions and engineered technologies, has announced that its Power and Control business has officially opened its new state-of-the-art research, development and manufacturing facility.
11/27/2023 | IPC
IPC welcomes the actions outlined today by the U.S. Government "to strengthen supply chains critical to America's economic and national security."
11/27/2023 | GOEPEL Electronics
The US branch of GÖPEL electronic is proud to announce the addition of David Kalaidjian as the new National Sales Development Manager.