Dragon Finalizing Departure Preps
May 9, 2016 | NASA
Estimated reading time: Less than a minute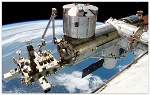 The SpaceX Dragon is being packed with critical science today and tomorrow before its release and splashdown on Wednesday. The crew is also reviewing Dragon departure procedures and training for its release from the grip of the Canadarm2 robotic arm.
Dragon is currently attached to the Harmony module. After it is uninstalled early Wednesday with the 57.7 foot Canadarm2, the Dragon will be released at 9:18 a.m. EDT for a splashdown in the Pacific Ocean at 2:55 p.m. NASA TV will broadcast the release and departure activities live, however the splashdown and recovery work will not be televised.
A pair of science freezers carrying experiment samples for analysis will be removed from the space station and returned to Earth inside Dragon. The commercial space freighter is returning a variety of science and gear for NASA.
The Russian cosmonauts are relaxing today in observance of Victory Day when Germany surrendered to the Soviet Union on May 9, 1945, ending World War II. The astronauts in the U.S. segment of the station continued science work, Dragon packing and robotics training for Wednesday's release activities.
---
Suggested Items
11/08/2023 | I-Connect007 Editorial Team
In this month's issue of Design007 Magazine, our expert contributors explain how to design PCBs without making them complex and over-constrained—whatever the level of technology. We also discuss the effect your decisions and tradeoffs have on design complexity, as well as the need to thoroughly understand how electrical and manufacturing limitations can lead to over-constraining your board.
11/07/2023 | SMTA
SMTA, a leading advocate for workforce development and education supporting the electronics manufacturing community, will host a roundtable discussion focused on workforce development challenges in Arizona during the SMTA Arizona Expo and Tech Forum, at 8:30am on November 14, 2023, at the Double Tree by Hilton Mesa in Mesa, Arizona.
10/26/2023 | Michelle Te, I-Connect007
Eleven-year-old girls hold many interests, from sports and playing games, to learning how to make more complex decisions and finding commonalties with friends and loved ones. While Brandy Tharp may have been doing all those things at that age, she was also learning a new skill that most of her friends probably weren't—how to solder. It lit a fire in this young girl who enjoyed math, helping others, and finding ways to harness her energy. Now director of education at IPC, Brandy brings decades of training, experience, and passion to what she does.
10/24/2023 | Rheinmetall
Coordinated and led by Rheinmetall, the FEDERATES consortium, which stands for Federated Ecosystem of European Simulation Assets for Training and Decision Support, has been selected by the European Union for €30 million in funding.
10/09/2023 | Kurtz Ersa
Kurtz Ersa Inc., a leading supplier of electronics production equipment, is excited to announce two upcoming training opportunities for industry professionals seeking to enhance their skills and knowledge in the field.