Books

Featured Books

pcb007 Magazine

Latest Issues

Current Issue

The Registration Sweet Spot

Registration is underrated and underappreciated. The key is to ensure proper registration from layer to layer across the entire printed circuit board. It's a holistic process requiring anticipation, prediction, precise attention at each step, and detailed data tracking and monitoring.

High-reliability Fabrication

In this month's issue, our expert contributors discuss the latest in technologies, trends, complexities and resources regarding high-reliability fabrication.

Finding Ultra

New demands on PCB fabrication, namely advanced packaging, ultra high density interconnect (UHDI), and new specialty materials, are converging, changing the landscape of our business. Is it time to start paying close attention to this convergence?

Columns

Latest Columns

||| MENU
Frontline Launches InCAM Flex
May 18, 2016 | Frontline PCB Solutions
Estimated reading time: 2 minutes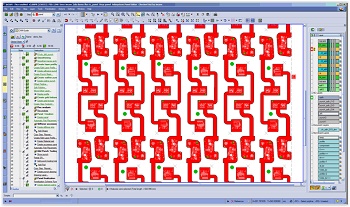 Frontline PCB Solutions, an Orbotech-Mentor Graphics company, today announced the launch of InCAM Flex, a dedicated new CAM solution for flex and rigid-flex PCB makers. InCAM Flex combines analysis and editing capabilities with automatic production data optimization to perform high-precision CAM tooling for flex and rigid-flex manufacturing, helping manufacturers meet the challenges of flex PCB production by maximizing their capabilities and flex processes.
"Flex circuit makers are looking to expand their capacity and enhance their processes to meet the increasing demands and challenges of a rapidly growing flex PCB market," said Yovav Sameah, president, Frontline PCB Solutions. "Delivering InCAM Flex to flex manufacturers enables our customers to get the best out of their flex production processes and is the next phase in our strategy to bring our world-leading InCAM capabilities to the entire PCB market."
Frontline PCB Solutions equips PCB shops with a deeply integrated preproduction software experience. InCAM®Flex for CAM and InPlan Flex for Engineering work seamlessly to integrate data flow between front-end departments, resulting in smooth and efficient time-saving interactions and processes.
InCAM Flex provides fast, high-precision CAM tooling for flex and rigid-flex manufacturers and enables automatic production data optimization via flex design for manufacturing tools. Combined with powerful flex CAD tools and automatic flex board panelization, InCAM Flex brings with it benefits that are most important for businesses ‒ increasing yields and achieving faster job turnaround. In addition, InCAM Flex seamlessly integrates and shares information with InPlan®Flex Engineering Suite, design and assembly via ODB++, and has a streamlined user interface.
About Frontline PCB Solutions and the Frontline product suite
Frontline is a world expert in preproduction CAM and engineering software solutions for the PCB industry, creating smart, future-oriented technologies and solutions. Frontline has a strong track record of success, with more than 20 years' experience and over 10,000 installations worldwide. Frontline offers its customers a complete preproduction solution, from design to manufacturing, and builds long-term partnerships with customers, offering ongoing training and consulting.
InCAM — A comprehensive, high-precision CAM solution for HDI and IC packaging; InCAM Flex  - A smart CAM Solution for Flex and Rigid-Flex PCB Makers  - Genesis 2000 — The industry-leading CAM solution for rigid multilayer PCBs; GenFlex — A complete CAM solution for flex and rigid-flex PCB manufacturing; InPlan — A fully integrated automatic engineering system for optimal PCB manufacturing workflows; InPlan Flex — An automated PCB engineering system for flex and rigid-flex boards; InStack — An automatic stackup designer; InCoupon — An automatic impedance coupon generator, InSolver - An Impedance field solver, and InSight PCB – A web‑based tool for fast and accurate pre-CAM assessment.
---
Suggested Items
12/05/2023 | Travis Kelly -- Column: American Made Advocacy
For this month's PCBAA Member Profile, the focus is on Hari Pillai, president, Technology Components, Sanmina. Hari says, "I think I've had a good dose of luck throughout my career. But beyond luck, I had a vision to become a general manager as far back as my undergraduate years. I made all my career decisions based on that. My evaluation criteria was always, "How does this opportunity get me closer to my goal?" Sometimes opportunities come from unexpected places."
12/05/2023 | Amkor Technology
Amkor Technology, Inc., a leading provider of semiconductor packaging and test services, has announced its plan to build an advanced packaging and test facility in Peoria, Arizona.
12/05/2023 | HANZA
HANZA AB has signed an agreement to acquire all shares in Orbit One AB, a Swedish company that offers contract manufacturing of electronics and electromechanics. Orbit One has annual sales of approximately SEK 1.1 billion with an operating profit (EBITA) of approximately SEK 70 million.
12/05/2023 | Arch Systems
Arch Systems, the leading provider of data, analytics, and insightful actions for manufacturing operations, announced this week its collaboration with Plexus Corp., a global leader in complex product design, supply chain, manufacturing, and sustaining services.
12/05/2023 | Mycronic
Mycronic AB has received an order for an SLX mask writer from a new customer in Asia. The order value is in the range of USD 5-7 million. Delivery of the system is planned for the first quarter of 2025.