Station Gets Ready for BEAM Expansion
May 23, 2016 | NASA
Estimated reading time: 1 minute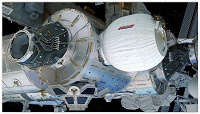 The Expedition 47 crew is getting a new module recently attached to the Tranquility module ready for expansion later this week. The International Space Station residents are also running experiments today exploring a wide variety of phenomena and checking station gear.
BEAM, or the Bigelow Expandable Activity Module, is scheduled to expand to full pressurized volume Thursday morning. In preparation, the crew is installing computer cables, checking connections and verifying hardware prior to BEAM deployment. NASA TV will televise the BEAM expansion activities live. Crew entry into the new module is scheduled for next week but will not be televised.
The Rodent Research-3 (RR-3) experiment was completed last week and the astronauts are cleaning up and inventorying the gear today. During the wrap up work, the crew also collected station air and astronaut breath samples for the Marrow bone study sponsored by the Canadian Space Agency.
Some of the station hardware that helps run and monitor equipment and experiments is getting new gear and upgrades. The Microgravity Science Glovebox, which housed the RR-3 activities last week, is being prepared for video equipment upgrades. A new laptop computer is being loaded with software to demonstrate control of station assets from both the orbital lab and the ground.
---
Suggested Items
12/01/2023 | SEMI
Global semiconductor equipment billings contracted 11% year-over-year to US$25.6 billion in the third quarter of 2023, while quarter-over-quarter billings slipped 1% during the same period, SEMI announced today in its Worldwide Semiconductor Equipment Market Statistics (WWSEMS) Report.
11/16/2023 | Pete Starkey, I-Connect007
After a rainy Tuesday for the start of productronica, we had a brief respite on Wednesday morning, so we were able to walk from the U-bahn to the west entrance of Messe München without getting wet. We were accompanied by a horde of eager exhibition attendees mobbing the turnstiles to get into what promised to be an even livelier second day of the show. Yes, productronica has come back to life after COVID and re-established its identity as a premier event with more than 1,300 exhibitors from 45 countries, together with an exclusive supporting program.
11/15/2023 | ZDI
Zero Defects International [ZDI] has announced their participation as an exhibitor at the SMTA Silicon Valley Expo and Tech Forum. It will be held at Building 3 on the FLEX campus located at 727 Gibralter Drive, Milpitas, CA.  Expo time and date:  8:30 a.m., Thursday, December 7, 2023.
11/15/2023 | PIT Equipment
PIT – Equipment Services, LLC is pleased to announce Don Dennison, founder and CEO of PIT Equipment Services, has been honored with the prestigious 2023 GLOBAL Technology Award in the category of Best Manufacturers Representative - USA. The award ceremony took place during productronica in Munich on November 14, 2023.
11/14/2023 | SEMI
The global semiconductor manufacturing industry is on track for recovery in the fourth quarter of 2023, setting the stage for continued growth in 2024, SEMI announced today in its Q3 2023 publication of the Semiconductor Manufacturing Monitor (SMM) Report, prepared in partnership with TechInsights.