Reading time ( words)
By Lynne Curry, PhD
Copyright 2016 Amacom
Price $16.95
Pages: 250 with index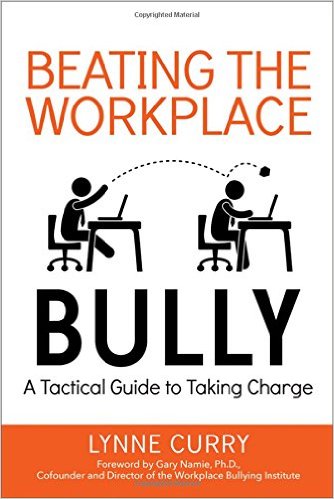 Beating the Workplace Bully: A Tactical Guide to Taking Charge is a great book with some really terrible stories. Wow, where did these people come from? These are some of the worst workplace stories I have ever read, or even heard about.
There's the woman who conned her co-worker into buying her coffee on the first day and then made it a daily event. Or the boss who was always threatening to fire his staff and telling them, "There's blood in the water." Or the supervisor who told her new employee on the first day that it was not her choice to hire her, because she had only worked in a small firm and "did not have the sophistication this corporate position needs. You don't even dress properly."
The first story in the book is my favorite. Molly was a nurse who was ten months from retirement when she got a new supervisor who did everything she could to undermine her. She told Molly that the system she had set up was "antiquated" and that she would update it without Molly's help. At the first staff meeting, the new supervisor told everyone that Molly's system was "pitiful" and then next started a stream of negative e-mails to Molly that denigrated all of the work she had been doing for the past 20 years. This woman almost ruined Molly's self-esteem and self-confidence. I could go on and on with these true stories about people who I consider nothing less than social monsters and mean beyond belief.
But the whole point of the book is to learn how to handle these kinds of people, counteract them, and finally to know when it is time to give up and get the heck out of Dodge.
My favorite chapter was Chapter 5, which focuses on the basic steps for handling some of these situations. From the book:
Step 1. Control your initial reactions: Take time to truly evaluate the situation.
Step 2. Control your response: Ask yourself:
What is going on?
Is this the way I want to be treated?
Is this situation or bully worth taking on?
If so how?
Step 3. Assess the situation.
Step 4. Determine why you are the target.
Step 5. Analyze the pros and cons of taking on the bully.
Step 6. Take back the power (this is the key step in my estimation): How you handle yourself is in your hands. And if you feel that this is a job you want to keep then go up against the bully. This is your job and it is within your power to keep it.
Step 7. Decide on your game plan.
The rest of the book shows you how to implement and execute your plan to handle the bully and the situation.
I was not sure I wanted to take the time to read this book, and I approached it tentatively. But once I got into it, I understood and appreciated its value. This is one of the few books that covers business from the human aspect. Yes, there are bullies out there and they can really mess up your chances of having a successful job experience. Bullying in the workplace is a real problem, and this book offers real solutions to solving those problems.
Beating the Workplace Bully: A Tactical Guide to Taking Charge is a must-read for anyone working in the real world. This is a great book for all workplaces: businesses, non-profit organizations, and even religious institutions. This book is valuable for anyone who has to deal with a bully in the workplace.
Share
Print
Suggested Items
04/11/2021 | Patty Goldman, I-Connect007
Gosh, I sure missed the live event! I listened in on several technical sessions, the awards ceremony, the keynotes, and the Hall of Fame management session. I tried a couple of professional development courses but got the frownie face on my screen and didn't go back in. I have almost 90 days(!) to browse them to my heart's content, so what the heck. There were good points and a few not so good things about this first ever virtual conference. You probably experienced some yourself.
04/06/2021 | Dan Beaulieu, D.B. Management Group
Dr. Andrew Temte writes, "Discussing a philosophy for balanced work is really discussing a philosophy for a balanced life." For me, this is really the true value of his new book, Balancing Act: Teach Coach Mentor Inspire. I love any book that talks about a holistic view to work as included in the entire balanced view of life.
04/02/2021 | Dan Beaulieu, D.B. Management Group
Earlier this year, I-Connect007 columnist Dan Beaulieu submitted a book review on "The Business of WE: The Proven Three-Step Process for Closing the Gap Between Us and Them in Your Workplace." As a follow up to that review, Dan has interviewed the book's author, Laura Kriska.