ELTEK Looking for Strong Growth in the USA
August 25, 2016 | Barry Matties, I-Connect007
Estimated reading time: 2 minutes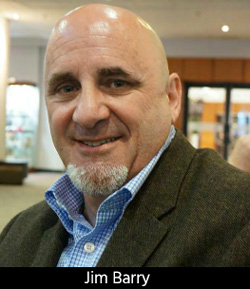 At the recent Nadcap meeting in London, I spoke with Eltek USA President Jim Barry about the state of the company, further investment from their new owner, and their focus on the U.S. market.
Barry Matties: Jim, why don't we start with a little bit about Eltek and what you do.
Jim Barry: Eltek is a manufacturer of high-density, high-reliability PCBs. Our market is primarily medical, military and aerospace. The majority of our  technology mix is rigid-flex boards. We focus on the high-reliability, high-density, "can't-fail" type of technology.
Matties: There was some recent news about ownership buying additional shares of stock in the last couple of weeks, correct?
Barry: Correct. Our controlling shareholder and chairman and board, Yitzhak Nissan, bought control of the company about two and a half years ago and has made some changes within management. We've downsized management level a bit, and we've become leaner and meaner, I guess you could say. 2015 ended with net profit, and  we are shipping quality product on time. So to show his confidence in our growth, he recently went out and purchased about
620,000 shares in our company, increasing his holding in Eltek from 50.5% to 56.6%.  I think it was around $583,000 worth of his cash he's investing in the company. His confidence factor in the growth of the company shows, and we've been growing in the United States significantly. As the Israeli market is tightening and getting some offshore competition, the U.S. market is actually growing with our military and aerospace customers.
Matties: Just for clarification, you have two manufacturing locations?
Barry: Yes, Eltek's parent company is Nistek, but Eltek itself has two locations. Eltek LTD is our main factory located in Petah Tikva in Israel. It's about 100,000 square feet, maybe 350+ employees. It has a small facility in Germany called Kubatronik. They're small, maybe 40 people, and do smaller batch sizes. They service the German market, or the European market. Then we have a smaller division in the United States called Eltek USA, which is our U.S. subsidiary. It is a small company with sales, customer service, engineering, and applications. You could say it's the front door or the store window for Eltek LTD in the U.S. It allows us to bring in military and aerospace work into Eltek USA and bring it to Eltek Israel through our ITAR export license to build for U.S. customers.
Editor's Note: This article originally appeared in the August 2016 issue of The PCB Magazine.
---
Suggested Items
11/29/2023 | TT Electronics
TT Electronics, a global provider of custom power solutions and engineered technologies, has announced that its Power and Control business has officially opened its new state-of-the-art research, development and manufacturing facility.
11/27/2023 | HyRel
HyRel Technologies, a global provider of quick turn semiconductor modification solutions, announces the achievement of International Traffic in Arms Regulations (ITAR) registration.
11/20/2023 | MIT
MIT's Department of Aeronautics and Astronautics (AeroAstro) recently hosted the 2023 Future Leaders in Aerospace Symposium, inviting women and underrepresented minorities in aerospace fields to campus for a two-day program.
11/14/2023 | NEO Tech
NEOTech, a leading provider of electronic manufacturing services (EMS), design engineering, and supply chain solutions in the high-tech industrial, medical device, and aerospace/defense markets, is thrilled to welcome James Doyle to the team as Chief Executive Officer of NEOTech's Aerospace & Defense division, effective immediately.
11/06/2023 | PRNewswire
Vuzix Corporation, a leading supplier of smart glasses and Augmented Reality (AR) technology and products, announced it has completed delivery against a follow-on order from a Tier-1 aerospace and defense contractors with which it has been working with.