Northrop Grumman Advances the Frontier of Sensing Technology for Space Domain Awareness
June 1, 2023 | Northrop Grumman
Estimated reading time: 1 minute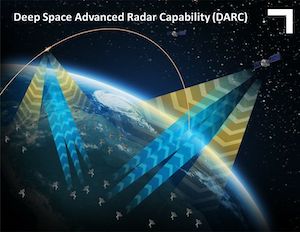 Northrop Grumman Corporation continues to advance the frontiers of sensing technology, successfully completing the Critical Design Review (CDR) and software demonstration for the U.S. Space Force's (USSF) Deep-Space Advanced Radar Capability Program (DARC).
Key milestones completed within 12 months of contract award include:
Preliminary Design Review
Critical Design Review
Initial software demonstration
Northrop Grumman Advances the Frontier of Sensing Technology for Space Domain Awareness
Artist Rendering (Credit: Northrop Grumman)
Expert:
"DARC will be the first to provide an all-weather, at all times capability in support of the space domain awareness mission that's critical to national and global security," said Pablo Pezzimenti, vice president, integrated national systems, Northrop Grumman. "The successful critical design review is demonstration of our ability to develop a complex, advanced system with agility and speed."
Details:
Following the completion of CDR, the program now turns its focus to the Factory Acceptance Testing of key subsystems starting later this year.
Current ground-based optical systems only operate at night and are impacted by weather conditions. DARC will deliver an all-weather, 24/7 capability to monitor the rapidly evolving geosynchronous orbital environment – providing the nation with enhanced space domain awareness. DARC will augment the military's space surveillance network as an additional sensor to monitor deep space objects, eventually providing full global coverage.
---
Suggested Items
11/21/2023 | iNEMI
iNEMI Packaging Tech Topic Series Webinar, LSI/PKG/PCB Co-Design to Support 3D-IC/Chiplet Design will be held on November 28, 2023, by guest speaker Kazunari Koga, Zuken Inc.
11/16/2023 | Keysight Technologies, Inc.
Keysight Technologies, Inc. expanded the simulation capabilities in its Electronic Design Automation (EDA) software suite to include electro-thermal simulation for the Tower Semiconductor SiGe Power Amplifier (PA) process.
11/16/2023 | John Watson -- Column: Elementary, Mr. Watson
William of Ockham was a significant figure in medieval philosophy who lived from 1285 to 1347 and was an English Franciscan friar, philosopher, and theologian. William of Ockham is most famously known for formulating the principle of Occam's Razor, also known as the principle of parsimony. In simple terms, Occam's Razor is a problem-solving rule suggesting that when you have multiple possible explanations, the simplest one is usually the best. The most straightforward solution that fits all the facts without adding extra assumptions or complications.
11/15/2023 | Martyn Gaudion -- Column: The Pulse
Albert Einstein said, "Everything should be made as simple as possible, but not simpler." Whilst his words were aimed at those describing complex theory in the simplest way possible, but not so simplified that key information is lost—a process which the media is often criticised for as "dumbing down" information. However, from an engineering perspective, if a design can be engineered to perform the required application in a simpler or more economic way than previously then simplification is truly a valuable goal.
11/14/2023 | Cadence Design Systems, Inc.
Cadence Design Systems, Inc. announced a collaboration with Autodesk to provide solutions that accelerate intelligent system design leveraging Autodesk Fusion and Cadence® PCB solutions.