Global Server Shipments for 2024 Projected to Undergo Constrained Growth, Estimated Annual Increase of 2.3%
August 15, 2023 | TrendForce
Estimated reading time: 2 minutes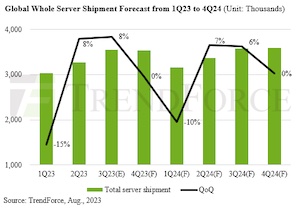 The global server market, grappling with the impact of worldwide inflation, saw significant shifts in 2023. Server OEMs and CSPs revamped their investment strategies, resulting in cutbacks in both annual shipments and ODM production plans. TrendForce observes that as the server market continues to decline, demand for AI surges. These combined factors have had a domino effect, compressing the rollout of new server platforms across the board.
Forecasts predict that this year's shipments of server motherboards are expected to decline by a market of 6~7%. Concurrently, shipments of whole servers aren't faring much better, with a projected decrease of 5~6%.
Amid an uncertain economic climate intensified by an uptick in CSP investments in AI, the server sector in 2024 is expected to remain the same as in 2023 with whole machine shipment volumes being suppressed. Therefore, TrendForce foresees that there may be three potential scenarios affecting the server market and shipment forecasts in 2024.
Assuming that the reduction of CSP inventory comes to a temporary halt, there's a chance for the server market to recover due to new demands. However, factors such as heightened inflation and the economic stagnation that follows could continue to emphasize investments in AI, thereby squeezing budgets. Additionally, there's a shift toward cloud services in the long term for enterprise servers. As a result, overall shipments from server OEMs might see a slight decline. Consequently, TrendForce estimates that whole server shipments in 2024 will grow by only 2~3% YoY. This scenario is the most probable.
Assuming a more intensified economic downturn and that the related server supply chain inventory has yet to be fully depleted, overall server demand remains conservative. Simultaneously, continued demand for AI compresses the construction of traditional servers. TrendForce predicts that whole server shipments in 2024 will either remain on par with this year's figures or even decrease.
On a more optimistic note, should the market revert to its pre-pandemic state and, building on the optimistic CapEx plans of major players like CSPs, the server market could witness robust growth. Furthermore, with an increase in consumer spending power, corporate IT expenditures are expected to rise year-over-year. This could potentially propel whole server shipments to grow nearly 5% in 2024.
Anticipated DDR5 Penetration Rate Expected to Surpass 50% Only by 3Q24
The adoption rate of DDR5 continues to be constrained due to factors such as the prolongation of older product lifecycles by clients and the delayed introduction of new models. Additionally, increased investment in AI servers has led to a significant reduction in the shipment of traditional servers, substantially affecting OEM expectations for DDR5.
Both Intel and AMD have considerably revised their market shares for server CPUs this year, specifically their SPR and Genoa proportions. These shifts have had a direct impact on the DDR5 penetration rate. TrendForce estimates that the adoption rate of DDR5 for the entire year, across both CSP and OEM, will be around a mere 13.4%.
---
Suggested Items
11/30/2023 | PRNewswire
Hyundai Mobis is poised to secure new orders for premium vehicle displays, characterized by large screens, high definition, and slim design, using a fusion of innovative technologies targeting global automakers.
11/30/2023 | PRNewswire
Hi Sharp, a leading maker of video surveillance systems, is globally announcing its expansion into AI and cloud-based technologies for video capture.
11/29/2023 | TrendForce
TrendForce's latest research indicates that despite a decrease in the CPI in Europe and the US this year, consumer budgets are still constrained due to the current high-interest-rate environment, and the real estate bubble in China has suppressed TV demand. Moreover, a significant increase in TV panel prices this year has led brands to scale down promotional events.
11/28/2023 | Preeya Kuray -- Column: Material Insight
On May 11, 2023, Reps. Blake Moore (R-UT) and Anna Eshoo (D-CA) introduced the Protecting Circuit Boards and Substrates (PCB) Act to Congress. In October, I had the great pleasure of discussing the bipartisan Protecting Circuit Boards and Substrates Act with Congressman Moore, who represents Utah's First Congressional District. He shared his thoughts on how supporting and investing in the domestic PCB industry can help bolster American security.
11/27/2023 | Real Time with...productronica
Koh Young's Harald Eppinger talks about the company's technology for the semiconductor and advanced packaging market and how they address the challenges introduced by reflective components and micro solder deposits.