Nordson TEST & INSPECTION Showcases Inspection and Metrology Solutions at SEMICON Taiwan
August 28, 2023 | Nordson Test & Inspection
Estimated reading time: 1 minute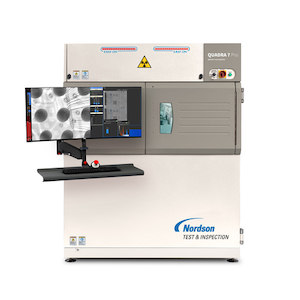 Nordson TEST & INSPECTION announced its participation in SEMICON Taiwan, one of the most anticipated events in the semiconductor industry. The company will be showcasing its state-of-the-art inspection and metrology solutions, including the CyberOptics SQ3000™+ Multi-Function system, the new Quadra 7 Pro Manual X-ray Inspection (MXI) System, and the revolutionary WaferSense® Auto Teaching System™ (ATS2). The event will take place from Sept. 6-8, 2023 at TaiNEX 1&2 in Taipei.
The new Quadra 7 Pro MXI system sets a new standard for 3D/2D manual inspection in back-end semiconductor applications. Powered by the revolutionary Onyx® detector technology, it delivers exceptional image clarity and reduced noise levels, elevating the inspection experience to new levels of precision and efficiency.
Equipped with the latest Dual Mode Quadra NT4® tube, the Quadra 7 Pro provides users with maximum flexibility. This innovative feature offers brightness and resolution modes, allowing operators to dynamically switch between them based on specific application requirements.
Enhancing the Quadra 7 Pro's capabilities is the newly developed Revalution™ software, tailored specifically for high-end semiconductor applications. With an intuitive interface, optimized workflow, and expanded functionality, Revalution™ software empowers operators to efficiently analyze and interpret inspection data, contributing to faster decision-making and improved overall productivity.
The CyberOptics SQ3000™+ Multi-Function system is designed for high-end applications, including advanced packaging, mini-LED, advanced SMT, and 008004/0201 SPI. This all-in-one solution offers unmatched accuracy and high speed, utilizing an even higher resolution Multi-Reflection Suppression® (MRS®) sensor that effectively eliminates reflection-based distortions caused by shiny components and specular surfaces.
The WaferSense® Auto Teaching System™ (ATS2) is a multi-camera sensor that, when used in conjunction with CyberSpectrum™ software, enables accurate wafer hand-off calibration for semiconductor tool alignment and setup for front-end semiconductor fab environments. With the ability to capture three-dimensional offset data (x, y, and z) in real-time, ATS2 simplifies wafer position teaching without the need to open the tools. This results in repeatable and reproducible setups, streamlined maintenance checks, accelerated troubleshooting, and reduced technician-to-technician variation, leading to significant yield improvements and enhanced productivity for semiconductor fabs worldwide.
To witness the future of advanced inspection and metrology technology, visit booth #L0800 on the 4th floor at SEMICON Taiwan 2023, and explore Nordson TEST & INSPECTION's range of industry-leading solutions.
---
Suggested Items
11/30/2023 | BUSINESS WIRE
Nordson Electronics Solutions, a global leader in electronics manufacturing technologies, is pleased to announce the release of the new ASYMTEK Select Coat® SL-1040 conformal coating system.
11/30/2023 | PRNewswire
Hi Sharp, a leading maker of video surveillance systems, is globally announcing its expansion into AI and cloud-based technologies for video capture.
11/29/2023 | Intel
Ahead of Enlit Europe, Intel announced that its technology is helping power the Edge for Smart Secondary Substations (E4S) Alliance's new solution to modernize the energy grid.
11/29/2023 | Airbus
Airbus has signed a contract with the Spanish Ministry of Defence for the development and acquisition of SIRTAP, a High Performance Tactical UAS that will reinforce the tactical capabilities of the Spanish Army and the Air and Space Force.
11/28/2023 | Real Time with...productronica
Marc Aicheler and Pete Starkey discuss TSK's horizontal vacuum systems, including vacuum etching process equipment. Aicheler details the benefits of a vacuum etch in managing challenges such as etchant puddling, etc. Aicheler also teases at a vacuum alkaline etchant systems as well.