Indium Corporation's Jason Chou to Present at SEMICON Taiwan
August 29, 2023 | Indium Corporation
Estimated reading time: Less than a minute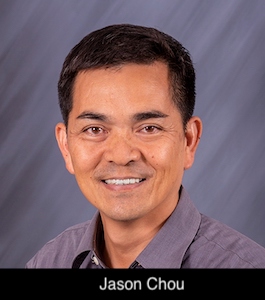 Indium Corporation Senior Area Technical Manager Jason Chou will present at SEMICON Taiwan on September 7, in Taipei, Taiwan.
In his presentation, The Lead-Free Materials Evolution in Power Die-Attach Soldering Applications, Chou will provide an overview of the die-attach process and explore the ongoing evolution of materials used in the application including high-Pb, low-alpha solder paste, high-temperature, Pb-free paste, and sintering products.
As senior area technical manager in Taiwan, Chou provides technical support to customers with a focus on the semiconductor industry. He has 10 years of industry experience, including specialization in front-end wafer fabrication processes, thin-film modules, and defect analysis for wafer metrology. Chou earned a master's degree in Chemistry from National Tsing Hua University and a bachelor's degree in Chemistry from National Cheng Kung University. He served as the group leader for the National Nano Device Laboratory, Tainan, Taiwan, where he collaborated with university professors and industry professionals on special projects for semiconductor manufacturing.
---
Suggested Items
12/06/2023 | Indium Corporation
Indium Corporation is proud to announce the addition of Sales Engineer Meik Fratzel to its European team.
12/04/2023 | Transition Automation
Transition Automation, Inc. recently received a large order for Advanced Holder and Blade Assemblies compatible with DEK printers from Rotec BV in Belgium.
11/30/2023 | AIM
AIM Solder, a leading global manufacturer of solder assembly materials for the electronics industry, is pleased to announce its new NC259FPA Ultrafine No Clean Solder Paste, which it revealed recently during the Productronica Germany trade show.
11/27/2023 | Real Time with...productronica
Koh Young's Harald Eppinger talks about the company's technology for the semiconductor and advanced packaging market and how they address the challenges introduced by reflective components and micro solder deposits.
11/27/2023 | HyRel
HyRel Technologies, a global provider of quick turn semiconductor modification solutions, announces the achievement of International Traffic in Arms Regulations (ITAR) registration.