Books

Featured Books

smt007 Magazine

Latest Issues

Current Issue

Economic Headwinds

This issue takes stock of the current economic outlook and how companies are using current conditions to move themselves through technological evolutions, workforce shifts, and financial changes. Even with these headwinds, there's forward progress to be made.

Attracting New Talent

To get different results in staffing, you must change how you define, promote and recruit your job opportunities. How do you become magnetic to high-quality early-career candidates?

Test and Inspection

Test and inspection methods are undergoing rapid change. In this issue, we consider the influence of AOI, AI, and human eyes. How exactly are these pieces of the puzzle changing the role of test and inspection?

Columns

Latest Columns

||| MENU
Celonis, NEC Form Strategic Partnership
August 31, 2023 | JCN Newswire
Estimated reading time: 2 minutes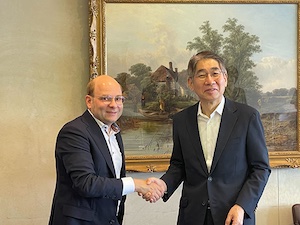 NEC Corporation and Celonis SE have signed an agreement to further expand their strategic partnership. NEC has been named a "Platinum Partner," the top level in Celonis' certification program.
Prior to this, NEC began working with Celonis in May 2022 to gain insight into business processes and improve operations. The multinational IT and electronics company established Centers of Excellence and successfully optimized processes in various areas such as order-to-cash and procurement. Through continuous monitoring of operations, early detection of problems, and implementation of countermeasures, NEC's productivity has already increased by 200 million yen. In the future, NEC plans to further strengthen its operations in the area of supply chain management by introducing artificial intelligence technologies.
With this strategic partnership, the two companies will work together to develop and commercialize Celonis' market-leading process mining technology by applying it to the NEC Digital Platform, a DX platform offered by NEC, and providing process mining services under the NEC brand. In order to facilitate this collaboration, both companies will jointly develop connectors between their products, set up a governance structure, and provide training support by Celonis. Moreover, these efforts will strengthen NEC's delivery system.
Furthermore, through this joint initiative, NEC will utilize Celonis products and services to promote its own DX, accumulate knowledge, and create new businesses by combining them with NEC's assets (biometric authentication, AI, IoT, security, etc.). NEC will support the acceleration of digital transformation (DX) and the realization of data-driven management for a wide range of customers.
"Through the strategic partnership between NEC and Celonis, and the integration of our technology into NEC's DX offering, Japanese customers benefit from tailored solutions to optimize their business processes. This enables our customers to tap into massive savings potential, increase their productivity and run their businesses more sustainably due to reduced resource consumption," said Bastian Nominacher, Co-Founder and Co-CEO of Celonis.
"In recent years, process mining has been attracting attention in business process analysis, and the market for this field is expected to expand in the future," said Toshifumi Yoshizaki, Corporate Executive Vice President and CDO, NEC Corporation. "Under these circumstances, by collaborating with Celonis, NEC aims to provide data-driven business improvement solutions that combine the technologies of both companies to increase customer value. In addition, NEC supports its customers' business transformation through consultation, using our own internal business process business improvement case studies as reference. Going forward, we will continue to develop various businesses in order to successfully drive our customers' business transformations," said Toshifumi Yoshizaki, Corporate EVP and CDO of NEC.
---
Suggested Items
12/01/2023 | Real Time with...productronica
Peter Brandt gives Pete Starkey a tour of atg's latest addition to the a9 line of equipment, the a9a tester for routed boards up to 25 x 21 inches in size. Small and medium size customers requiring small quantity flexibility, or advance technology testing, are atg's target customers for the a9a.
12/01/2023 | Epec Engineering Technologies
Precision Technology, Inc. (PTI) and Epec Engineered Technologies shared that they have joined together to give customers a greater range of high-quality printed circuit boards and other electronic products.
11/30/2023 | PRNewswire
Hi Sharp, a leading maker of video surveillance systems, is globally announcing its expansion into AI and cloud-based technologies for video capture.
11/29/2023 | TT Electronics
TT Electronics, a global provider of custom power solutions and engineered technologies, has announced that its Power and Control business has officially opened its new state-of-the-art research, development and manufacturing facility.
11/29/2023 | Inovaxe
Inovaxe, a world leader and provider of innovative material handling and inventory control systems, proudly announces its role as a distributor for VisiConsult's innovative X-ray Counter solutions in the United States.