Books

Featured Books

smt007 Magazine

Latest Issues

Current Issue

Economic Headwinds

This issue takes stock of the current economic outlook and how companies are using current conditions to move themselves through technological evolutions, workforce shifts, and financial changes. Even with these headwinds, there's forward progress to be made.

Attracting New Talent

To get different results in staffing, you must change how you define, promote and recruit your job opportunities. How do you become magnetic to high-quality early-career candidates?

Test and Inspection

Test and inspection methods are undergoing rapid change. In this issue, we consider the influence of AOI, AI, and human eyes. How exactly are these pieces of the puzzle changing the role of test and inspection?

Columns

Latest Columns

||| MENU
Find Out Why Emerald EMS Is at the Forefront of Design, Engineering & Manufacturing at MD&M Minneapolis
September 7, 2023 | Emerald EMS
Estimated reading time: 1 minute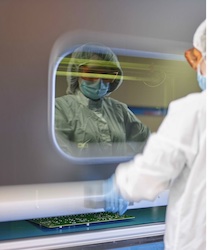 Emerald EMS, an innovative solutions provider, is pleased to announce plans to exhibit in Booth #3815 at MD&M Minneapolis, scheduled to take place Oct. 10-11, 2023, at the Minneapolis Convention Center in Minneapolis, MN. The Emerald EMS team is at the forefront of driving design, engineering, and manufacturing innovation, fostering progress in the life sciences technology sector.
Emerald EMS stands as a trusted partner for original equipment manufacturers (OEM) and life sciences suppliers, offering unparalleled expertise in the development of cutting-edge technologies, including artificial intelligence, machine learning, robotics, disruptive digital health device design, and innovative materials. These advancements are achieved while maintaining compliance with the industry's rigorous standards for precision, reliability, and patient safety.
In a landscape where the demand for advanced medical technology is ceaselessly evolving, Emerald EMS empowers its valued clientele to embrace the challenges and possibilities of this transformative era of human advancement. The ISO-13485-certified U.S. manufacturing facilities operated by Emerald EMS are renowned for their excellence, serving as leaders in providing electronic manufacturing services tailored to high-reliability life science and patient safety applications.
Emerald EMS boasts state-of-the-art manufacturing equipment, enabling the delivery of a comprehensive range of services, including electro-mechanical and system assembly, precision touch-ups, in-circuit and functional testing, rework and failure analysis, complex repair depot services, final testing, integration, box builds, order configuration, and direct order fulfillment. The company's repertoire also encompasses sophisticated SMT placement and clean room assembly, underscoring its commitment to meeting diverse manufacturing needs. 
"Emerald EMS is dedicated to deeply understanding and fulfilling the unique requirements of our clients through a commitment to quality excellence, advanced engineering, and robust customer relationships," said Kip Ferris, Chief Commercial Officer at Emerald EMS. "We are excited to present our latest innovations and capabilities at MD&M Minneapolis."
---
Suggested Items
12/05/2023 | Travis Kelly -- Column: American Made Advocacy
For this month's PCBAA Member Profile, the focus is on Hari Pillai, president, Technology Components, Sanmina. Hari says, "I think I've had a good dose of luck throughout my career. But beyond luck, I had a vision to become a general manager as far back as my undergraduate years. I made all my career decisions based on that. My evaluation criteria was always, "How does this opportunity get me closer to my goal?" Sometimes opportunities come from unexpected places."
12/05/2023 | Amkor Technology
Amkor Technology, Inc., a leading provider of semiconductor packaging and test services, has announced its plan to build an advanced packaging and test facility in Peoria, Arizona.
12/05/2023 | HANZA
HANZA AB has signed an agreement to acquire all shares in Orbit One AB, a Swedish company that offers contract manufacturing of electronics and electromechanics. Orbit One has annual sales of approximately SEK 1.1 billion with an operating profit (EBITA) of approximately SEK 70 million.
12/05/2023 | Arch Systems
Arch Systems, the leading provider of data, analytics, and insightful actions for manufacturing operations, announced this week its collaboration with Plexus Corp., a global leader in complex product design, supply chain, manufacturing, and sustaining services.
12/05/2023 | Mycronic
Mycronic AB has received an order for an SLX mask writer from a new customer in Asia. The order value is in the range of USD 5-7 million. Delivery of the system is planned for the first quarter of 2025.