Books

Featured Books

smt007 Magazine

Latest Issues

Current Issue

Economic Headwinds

This issue takes stock of the current economic outlook and how companies are using current conditions to move themselves through technological evolutions, workforce shifts, and financial changes. Even with these headwinds, there's forward progress to be made.

Attracting New Talent

To get different results in staffing, you must change how you define, promote and recruit your job opportunities. How do you become magnetic to high-quality early-career candidates?

Test and Inspection

Test and inspection methods are undergoing rapid change. In this issue, we consider the influence of AOI, AI, and human eyes. How exactly are these pieces of the puzzle changing the role of test and inspection?

Columns

Latest Columns

||| MENU
Inovaxe Presents Cutting-Edge LS Series Racks and MODI V5 at SMTA International
September 7, 2023 | Inovaxe
Estimated reading time: 1 minute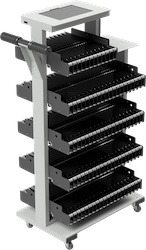 Inovaxe, a world leader and provider of innovative material handling and inventory control systems, is pleased to announce plans to exhibit in Booth #1521at SMTA International 2023, scheduled to take place Oct. 9-12, 2023 at the Minneapolis Convention center in Minneapolis, MN. The spotlight will be on the innovative LS Series Racks and the new MODI V5 incoming goods scanner table, both designed to revolutionize manufacturing efficiency.
Elevating Manufacturing Efficiency with LS Series Racks
Inovaxe's LS700 Series Smart Racks are specifically engineered to seamlessly integrate with pick-and-place machines and feeder tables, streamlining feeder loading and replenishment processes for enhanced efficiency.
The LS700 model stands out with its impressive capacity, featuring four rows of 7" reel storage that can accommodate a maximum of 320 7", 8 mm reels within a remarkably compact 2.5 sq ft of floor space. The LS700-1 model takes capacity to the next level by adding an extra half row of reel storage, allowing for 368 7", 8 mm locations. This expansion doesn't compromise access to essential controls on production equipment, ensuring ease of use and safety.
Both LS700 models come equipped with an integrated display running the standard InoAuto software. Designed with lineside usage in mind, they include optimized features for efficient operation. Additionally, an integrated 1D/2D barcode scanner enhances usability and traceability. These racks can be utilized independently or integrated into a complete InoAuto system, offering seamless interaction with pick-and-place machines and MES systems to automate production operations.
Revolutionizing Reel Measurement with MODI V5
As the North American distributor for MODI, Inovaxe will introduce the new MODI V5 at the show. The MODI V5 incoming goods scanner table marks a significant leap in reel measurement technology. Leveraging the power of AI, this innovation enables real-time determination of reel diameters during the scanning process, optimizing storage capacity. It prevents the storage of reels that can't be processed by your placer, directly at the point of stock entry.
Experience the Future of Smart Storage
Inovaxe invites attendees to visit their booth at SMTA International and explore the LS Series Racks and MODI V5 technology firsthand. Experts will be available to provide insights, answer inquiries, and demonstrate the transformative capabilities of these innovations.
---
Suggested Items
10/06/2023 | BUSINESS WIRE
Curtiss-Wright Corporation announced that it has been awarded a five-year, $34 million firm-fixed-price indefinite delivery, indefinite quantity (IDIQ) contract by the Naval Surface Warfare Center (NSWC) to provide Modular Open Systems Approach (MOSA) based airborne data recorder technology for use on U.S. and Australian manned and unmanned maritime aircraft.
09/21/2023 | Scienscope International
Join Scienscope at the Guadalajara Expo and Tech Forum, where innovation knows no bounds. 
09/21/2023 | Juki Automation Systems (JAS), Inc.
Juki Automation Systems (JAS), Inc., a world-leading provider of automated assembly products and systems and subsidiary of Juki Corporation, is excited to announce its participation in the upcoming SMTA Guadalajara Expo.
09/15/2023 | Transition Automation, Inc.
Transition Automation, Inc. is pleased to announce Squeegee Buddy, a new tool for SMT printer users to help improve process quality and organization.
09/15/2023 | Seika Machinery, Inc.
Seika Machinery, Inc., a leading provider of advanced machinery, materials and engineering services, is pleased to announce a special sale on the McDry DXU-580UF Feeder Storage Cabinet.