Lockheed Martin Opens Futuristic Satellite Operations Center Test Bed
September 11, 2023 | Lockheed Martin
Estimated reading time: 1 minute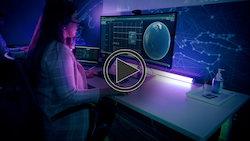 Lockheed Martin announced the opening of its Operations Center of the Future, a technology test bed showcasing how tomorrow's satellite operators will be able to manage multiple space missions simultaneously ­using a web-based, secure cloud infrastructure.
The Lockheed Martin self-funded, futuristic operations center, located on the company's campus near Denver, Colo., utilizes its proven Compass™ Mission Planning and Horizon™ Command and Control (C2) software. This software has already flown more than 50 spacecraft, performing government, research and commercial space missions. The powerful ground system allows for the management of single satellites – or entire constellations of similar or entirely different satellite types – by a single operator at the same time, from almost anywhere.
"The Operations Center of the Future's next-generation AI, automation and cloud capabilities enable operators to remain closer to the mission than ever before, regardless of their physical location," said Maria Demaree, vice president and general manager of Lockheed Martin Space's National Security Space business. "Remote operators can instantly receive timely mission alerts about satellite operations, and then securely log-in to make smart, fast decisions from virtually anywhere."
The innovative test bed first proved its concept of operations earlier this year by successfully flying the company's In-space Upgrade Satellite System (LM LINUSS™) demonstrator, which proved how small satellites can help upgrade and sustain space architectures with new capabilities.
The center's automation and artificial intelligence/machine learning capabilities allow it to manage satellite constellations of almost any size. The center's flexibility allows for minimal staff requirements as operators can use the same baseline software regardless of mission, and enables "lights out" operations by providing remote operation agility and resiliency.
The Operations Center of the Future is also expected to command and control the company's upcoming Pony Express 2, TacSat, and future LM 400 on-orbit tech demonstration missions.
---
Suggested Items
09/28/2023 | GlobalFoundries
GlobalFoundries (GF) announced the official opening of a new hub facility in Penang, Malaysia.
09/20/2023 | Zentech Manufacturing
Zentech Manufacturing is pleased to announce that it has chosen Tim Facklam to be its Chief Operating Officer.
09/15/2023 | STARTEAM GLOBAL
STARTEAM GLOBAL, a leading manufacturer of Printed Circuit Boards (PCB), technology and service solutions, is pleased to announce the opening of our new PCB manufacturing factory in Prachinburi, Thailand, on Wednesday 27 September 2023.
09/12/2023 | Globe Newswire
SigmaTron International, Inc., an electronic manufacturing services company, reported revenues and earnings for the fiscal quarter ended July 31, 2023.
08/31/2023 | JCN Newswire
NEC Corporation and Celonis SE have signed an agreement to further expand their strategic partnership. NEC has been named a "Platinum Partner," the top level in Celonis' certification program.