Books

Featured Books

smt007 Magazine

Latest Issues

Current Issue

Economic Headwinds

This issue takes stock of the current economic outlook and how companies are using current conditions to move themselves through technological evolutions, workforce shifts, and financial changes. Even with these headwinds, there's forward progress to be made.

Attracting New Talent

To get different results in staffing, you must change how you define, promote and recruit your job opportunities. How do you become magnetic to high-quality early-career candidates?

Test and Inspection

Test and inspection methods are undergoing rapid change. In this issue, we consider the influence of AOI, AI, and human eyes. How exactly are these pieces of the puzzle changing the role of test and inspection?

Columns

Latest Columns

||| MENU
Book Excerpt: 'The Printed Circuit Designer's Guide to... Manufacturing Driven Design,' Chapter 4
September 12, 2023 | I-Connect007 Editorial Team
Estimated reading time: 1 minute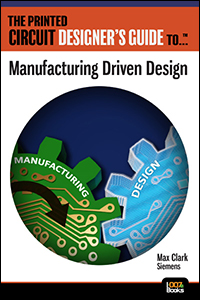 Excerpt from: The Printed Circuit Designer's Guide to... Manufacturing Driven Design, Chapter 4—Concurrent and Intelligent DFM
Bridging the Gap
If Manufacturing Driven Design is to be considered as the eventual end goal of the larger product manufacturing process, it is worthwhile to consider where the current industry is in terms of adoption of this methodology. I spent a good deal of time in Chapter 3 specifically explaining what DFM is not. In this chapter, we will cover what, and where, DFM currently is. DFM has been evolving away from the rudimentary and manual selection Engineering Rules Files to an automated and intelligent means of assigning manufacturing process requirements based on design characteristics.
It could be suggested that DFM is meant to represent the manufacturers' interpretations of the design requirements only from a process perspective. This may suggest that DFM should have been viewed as a transitional solution that is better off taken into consideration throughout the design process. Widespread technological adoption of MDD within the PCB industry has been rather cautious as a whole, especially when compared to similar fields which have already adopted an MDD approach. Many within the industry see the evolution of DFM as the end solution, instead of as a transitionary approach to manufacturing. Within late-stage DFM, there are several significant advancements that are now emerging which show promise in bridging the gap between Digital Rule Checks (DRCs) and MDD. These are the use of Concurrent DFM and Intelligent DFM.
Both concurrent and intelligent DFM complement each other within the typical workflow and represent the beginnings of a transition away from a classical DFM, allowing for an improved NPI process.
---
Suggested Items
12/05/2023 | Travis Kelly -- Column: American Made Advocacy
For this month's PCBAA Member Profile, the focus is on Hari Pillai, president, Technology Components, Sanmina. Hari says, "I think I've had a good dose of luck throughout my career. But beyond luck, I had a vision to become a general manager as far back as my undergraduate years. I made all my career decisions based on that. My evaluation criteria was always, "How does this opportunity get me closer to my goal?" Sometimes opportunities come from unexpected places."
12/05/2023 | Amkor Technology
Amkor Technology, Inc., a leading provider of semiconductor packaging and test services, has announced its plan to build an advanced packaging and test facility in Peoria, Arizona.
12/05/2023 | HANZA
HANZA AB has signed an agreement to acquire all shares in Orbit One AB, a Swedish company that offers contract manufacturing of electronics and electromechanics. Orbit One has annual sales of approximately SEK 1.1 billion with an operating profit (EBITA) of approximately SEK 70 million.
12/05/2023 | Arch Systems
Arch Systems, the leading provider of data, analytics, and insightful actions for manufacturing operations, announced this week its collaboration with Plexus Corp., a global leader in complex product design, supply chain, manufacturing, and sustaining services.
12/05/2023 | Mycronic
Mycronic AB has received an order for an SLX mask writer from a new customer in Asia. The order value is in the range of USD 5-7 million. Delivery of the system is planned for the first quarter of 2025.