SigmaTron Reports Financial Results for Q1 Fiscal 2024
September 12, 2023 | Globe Newswire
Estimated reading time: 2 minutes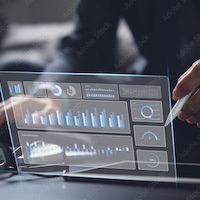 SigmaTron International, Inc., an electronic manufacturing services company, reported revenues and earnings for the fiscal quarter ended July 31, 2023.
Revenues from continuing operations decreased $7.1 million, or 7 percent, to $98.1 million in the first quarter of fiscal 2024, compared to $105.2 million for the same quarter in the prior year. Net income from continuing operations for the first quarter ended July 31, 2023, was $0.3 million, compared to net income of $3.1 million for the same quarter in the prior year. Diluted income per share from continuing operations for the quarter ended July 31, 2023 was $0.04, compared to $0.50 income per share for the same quarter in the prior year.
As previously reported, the Company sold a majority position of its wholly owned subsidiary, Wagz, Inc. ("Wagz"), effective April 1, 2023. As a result, the Company has reported results from Wagz for fiscal 2023 as discontinued operations. For the first quarter ended July 31, 2022, net loss from discontinued operations was $1.7 million. Diluted net loss per share from discontinued operations for the first quarter ended July 31, 2022 was $0.28.
Commenting on SigmaTron's first quarter fiscal 2024 results, Gary R. Fairhead, Chief Executive Officer, and Chairman of the Board, said, "I'm disappointed to report what is essentially a breakeven quarter to begin our fiscal 2024. Our pre-tax profit was $107,964 for the quarter. As mentioned in our fiscal year-end press release, there was a significant amount of uncertainty with the general economy and our customers. It appears that the effort by the Federal Reserve to slow inflation has weakened the economy which has resulted in lower demand from some of our customers. We have certain customers whose demand remains quite strong and others who have experienced short-term softness. I'm expecting this uncertainty to continue through calendar year-end as those customers are indicating to us that they view this softness as a short-term condition and expect their requirements to pick up by year-end.
"While disappointing, we remain enthusiastic about the long-term prospects for our customers. We have several customers that participate in the infrastructure programs coming out of Washington D.C. and we have others in markets where they have a strong position and forecast future upside. Couple this with several new opportunities and we think that we can generate later this fiscal year, the revenue levels we have recently reported in the preceding fiscal year.
"The electronic component marketplace has modestly improved with the slowing of the economy. That's encouraging from a supply chain perspective and should allow us to continue our focus on reducing inventory. That remains one of our important objectives during fiscal 2024. The geopolitical situation, specifically in Asia remains uncertain and may have an impact of how this fiscal year will proceed. The trade war with China does not seem to have any short-term solution so our focus remains working on Chinese domestic opportunities and other opportunities outside of sales directly to the United States. Regardless we will continue to grow our business while utilizing our experienced employees and our desirable footprint."
---
Suggested Items
11/27/2023 | Jaltek
Jaltek Systems, a prominent UK contract electronics manufacturer with AS9100 and ISO 13485 accreditations and over 30 years of experience, joined hands with SG Automotive, a Slovenian Electronic Manufacturing Service (EMS) provider known for manufacturing printed circuit board assemblies (PCBA).
11/23/2023 | BUSINESS WIRE
Venturi Astrolab, Inc. (Astrolab) announced it has reached an agreement with eight enterprise customers to use its Flexible Logistics and Exploration (FLEX) rover to deploy the customers' payloads on Astrolab's upcoming mission to the Moon which is known as Mission 1.
11/23/2023 | Wurth Electronics
Wurth Electronics New Zealand Ltd., the 37th subsidiary of Würth Elektronik, officially celebrated with an opening ceremony.
11/21/2023 | SCHMID Group
The SCHMID Group, a global solution provider for the high-tech electronics, photovoltaics, glass and energy systems industries, is very pleased with the course of productronica in Munich.
11/20/2023 | Dan Beaulieu -- Column: It's Only Common Sense
No matter how you look at it, everything is about customer service—great customer service. If you think about your own experiences, you'll realize it's about how those you are dealing with or buying from— whether it's a car, your internet service provider, or your landscaper—it's all about how they make you feel. You can have the greatest product in the world, but if you don't deliver a great customer experience, it won't matter.