Books

Featured Books

smt007 Magazine

Latest Issues

Current Issue

Economic Headwinds

This issue takes stock of the current economic outlook and how companies are using current conditions to move themselves through technological evolutions, workforce shifts, and financial changes. Even with these headwinds, there's forward progress to be made.

Attracting New Talent

To get different results in staffing, you must change how you define, promote and recruit your job opportunities. How do you become magnetic to high-quality early-career candidates?

Test and Inspection

Test and inspection methods are undergoing rapid change. In this issue, we consider the influence of AOI, AI, and human eyes. How exactly are these pieces of the puzzle changing the role of test and inspection?

Columns

Latest Columns

||| MENU
Seika Machinery Announces Special Sale on McDry DXU-580UF Feeder Storage Cabinet
September 15, 2023 | Seika Machinery, Inc.
Estimated reading time: 1 minute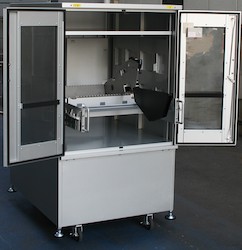 Seika Machinery, Inc., a leading provider of advanced machinery, materials and engineering services, is pleased to announce a special sale on the McDry DXU-580UF Feeder Storage Cabinet. This exceptional cabinet is designed to accommodate up to 25 feeders, depending on the reel size, and is compatible with Universal GSM, Genesis and Gold feeders.
The McDry DXU-580UF Feeder Storage Cabinet has been engineered with precision and is rated at an impressive 1% Relative Humidity (RH). Its compact size and robust construction make it an ideal solution for smaller quantity storage requirements, perfectly suited to be positioned directly in the production line for prompt access and secure storage of moisture-sensitive devices (MSDs) on tape feeders.
One of the key features of the DXU-580UF is its versatility. It comes equipped with one shelf, providing additional space for feeder, reel and tray component storage, ensuring that all your components are readily accessible when needed.
Seika Machinery is committed to providing ergonomic solutions that enhance operational efficiency. In addition to the DXU-580UF, the company offers ergonomic options in this size, ensuring that your workspace is optimized for productivity and ease of use. For larger storage needs, the cart/feeder system is available in the larger DXU-1002-1000 cabinet.
The McDry DXU-580UF Feeder Storage Cabinet incorporates the standard features that define all McDry cabinets. These features include exceptional moisture control with 1% RH, preventing moisture-related defects in sensitive components. With the McDry technology, you can be confident that your components are stored in an environment that safeguards their integrity and reliability.
To provide customers with the utmost convenience, Seika Machinery maintains a comprehensive inventory of McDry cabinets in stock, ensuring fast delivery to meet immediate requirements. The company's commitment to customer satisfaction extends to offering a wide range of McDry cabinet models to suit various needs, ensuring that customers can find the perfect solution for your specific application.
Don't miss this opportunity to acquire the McDry DXU-580UF Feeder Storage Cabinet at a special rate. Contact Seika Machinery today to take advantage of this limited-time offer and secure a reliable, moisture-controlled storage solution for your valuable components.
---
Suggested Items
12/04/2023 | iNEMI
The third session in iNEMI's Counterfeit Components series which will be hold Thursday, December 7, 2023 / 11:00 a.m.—12:30 p.m. EST (US), will look at emerging technologies for detection and mitigation. We will also look at what is ahead for hardware security and review results of an industry survey regarding experiences with counterfeit components and strategies used to mitigate risk.
12/01/2023 | Nolan Johnson, I-Connect007
This week's news items taught me a few things I didn't know. For instance, there's news about the new equipment for THT work, governmental support for advanced packaging technologies, an upcoming webinar from iNEMI on counterfeits, an interview with U.S. Rep. Blake Moore, one of the sponsors of the bipartisan Protecting Circuit Boards and Substrates Act, and columnist Tim Haag, using Star Trek to illustrate why simplicity is, ahem, paramount.
11/27/2023 | Real Time with...productronica
Koh Young's Harald Eppinger talks about the company's technology for the semiconductor and advanced packaging market and how they address the challenges introduced by reflective components and micro solder deposits.
11/24/2023 | iNEMI
iNEMI Tech Topic Series: Counterfeit Components, Emerging Trends in Counterfeit Detection and Mitigation, will be held Thursday, December 7, 2023 / 11:00 a.m.—12:30 p.m. EST (US).
11/24/2023 | Mek (Marantz Electronics)
Mek (Marantz Electronics), a leader in Automated Optical Inspection (AOI) solutions, used last weeks' Productronica show in Munich to proudly introduce the SpectorBOX X series, a modular full 3D AOI system for THT solder joints and THT components.