Thailand's PC Monitor Market Declined by 1.5%, But the Consumer Market Grew by 3.0% YoY in 2Q23
September 18, 2023 | IDC
Estimated reading time: 1 minute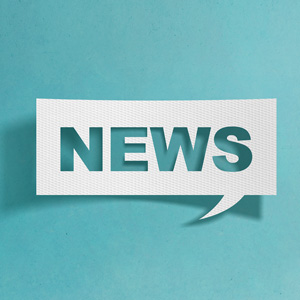 Thailand's PC monitor market declined by 1.5% year over year (YoY) and grew by 0.1% quarter over quarter (QoQ) at 250,000 units in 2Q23. Market players started to balance their tier 1 channel inventory in 2H22, so the inventory level is now under control. Because consumer demand has softened after the COVID-19 pandemic, vendors and channels are more cautious in balancing sell-in volume and market demand.
Most tier 1 distributors have less than 6 weeks of inventory, which is significantly better compared with 2022. Meanwhile, the commercial market declined by 10.2% YoY to 77,000 units in 2Q23. The general election in May 2023 resulted in the commercial market to wait and see the situation until the announcement of a new government formed.
"However, the election is expected to prolong until 2H23. Commercial will most likely refresh contracts after official election result announcement," says Puwanart Pientanyakij, Market Analyst, Devices Research, IDC Thailand.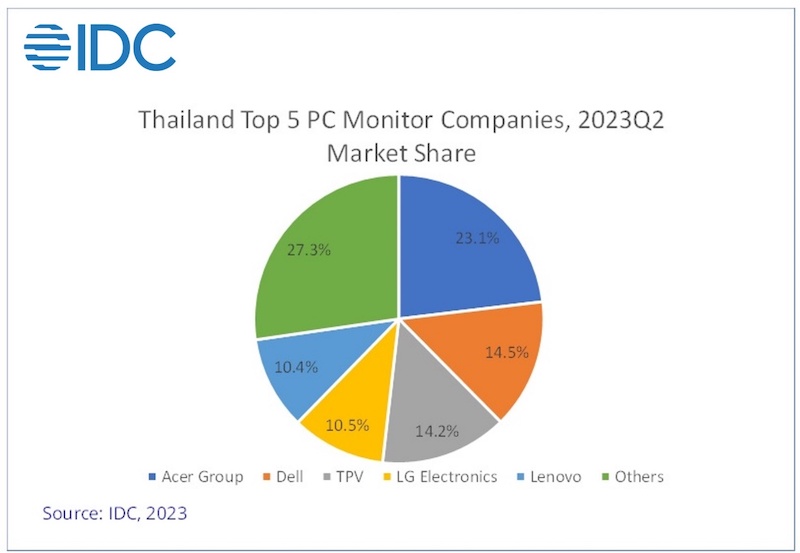 Top 5 Companies Highlights, 2Q23
Acer Group leads the market with a 23.1% share. After clearing its aging stocks and balancing its channel's inventory, Acer Group shipped in bulk volume again in 2Q23.
Dell is at second position with a 14.5% share. It secured the top position in the commercial segment with its good reputation in shorter lead time deliverables and due to a channels marketing program.
TPV holds the third spot with a 14.2% share. It has been able to manage its channel partners' inventory at a healthy level since the early part of the year. Also, it shipped in more entry-level monitors in the quarter with aggressive prices to push sellouts.
LG Electronics is in fourth place with a 10.5% share in the quarter. Even though it declined in shipment, LG Electronics is one of a few brands that have good performance in large screen sizes and was able to have both QoQ and YoY growth.
Lenovo is in fifth place with a 10.4% share. Despite the total shipment decline for Lenovo, it gained share in the commercial segment against last year during the same period with some project fulfilments in the quarter.
---
Suggested Items
09/27/2023 | IFR
The new World Robotics report recorded 553,052 industrial robot installations in factories around the world – a growth rate of 5% in 2022, year-on-year.
09/26/2023 | Kirk Thompson, Isola Group
Despite being a leader in R&D investment in semiconductors and packaging with greater than $50 billion per year, the U.S. has seen its market share decrease to less than 3% in areas like advanced packaging and advanced substrates. The cause for this market share erosion was a laser focus in Asian countries to attract semiconductors and advanced packaging investment through ecosystem development and incentives. If the U.S. is serious about changing the momentum to onshore advanced packaging and advanced substrates, an ecosystem approach to innovation and manufacturing incentives must be employed. It is not enough to have the most innovative technology if the supply chain and manufacturing economics do not deliver competitive commercial opportunities.
09/26/2023 | IDC
The global PC monitor market remained steadfast in its efforts to manage inventory levels amidst a significant drop in demand during the second quarter of 2023 (2Q23).
09/26/2023 | GlobalFoundries
GlobalFoundries (GF) announced it has applied for U.S. CHIPS and Science Act Funding, with two full applications submitted to the CHIPS Program Office of the U.S. Department of Commerce.
09/26/2023 | TrendForce
The latest "Automotive Display Market Analysis" from TrendForce indicates that the overall demand for automotive display panels (automotive panels) is gradually stabilizing and shows an upward trend as the automotive market as a whole slowly recovers, and promotional activities related to smart cockpits continue to expand.