Books

Featured Books

pcb007 Magazine

Latest Issues

Current Issue

The Registration Sweet Spot

Registration is underrated and underappreciated. The key is to ensure proper registration from layer to layer across the entire printed circuit board. It's a holistic process requiring anticipation, prediction, precise attention at each step, and detailed data tracking and monitoring.

High-reliability Fabrication

In this month's issue, our expert contributors discuss the latest in technologies, trends, complexities and resources regarding high-reliability fabrication.

Finding Ultra

New demands on PCB fabrication, namely advanced packaging, ultra high density interconnect (UHDI), and new specialty materials, are converging, changing the landscape of our business. Is it time to start paying close attention to this convergence?

Columns

Latest Columns

||| MENU
RTX's Collins Aerospace Selected by BAE Systems as Large Area Display Provider for Eurofighter Typhoon Cockpit Development
September 18, 2023 | RTX
Estimated reading time: 2 minutes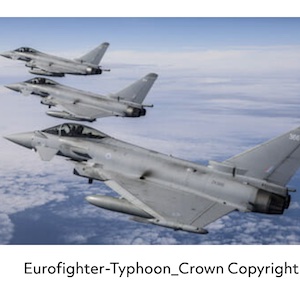 RTX business Collins Aerospace has been selected by BAE Systems as the provider for Large Area Display technology to be integrated into the cockpits of future Eurofighter Typhoon aircraft.
The ultra-high-definition Large Area Display (LAD) will be used by BAE Systems as part of its rapid capability development programme, Project Medulla, which sees it investing in future technologies for use across its combat air portfolio, including Eurofighter Typhoon.
The LAD will serve as a pivotal tool for pilots, consolidating critical flight data, sensor inputs and tactical information into a single, easily accessible interface. Through real-time data feeds from radar, targeting systems, and threat detection, pilots will maintain an up-to-the-second view of the battlefield, enabling swift and precise decision-making during high-stakes engagements.
"The selection of Collins Aerospace as the current best athlete for the LAD equipment will support our continued investment into our combat air platforms, including Typhoon," said Ian Clark, Head of Medulla, BAE Systems Air. "Together with upgraded mission systems and increased processing power our teams are developing, the LAD will enable pilots to harness the full potential of Typhoon's advanced in radar and weapons technology ensuring the aircraft remains the backbone of combat air power for decades to come."
"Our Large Area Display for Eurofighter Typhoon cockpits represents a game-changing advancement in combat aviation," said Craig Bries, VP GM, Marketing, Sales, & Aftermarket Services, Collins Aerospace. "Specifically designed for combat aircraft, the Large Area Display will revolutionise aerial operations by offering complete situational awareness and unparalleled operational effectiveness providing fighter pilots with an unmatched advantage."
The Large Area Display's intuitive design and resistive touch screen technology will streamline information flow and will significantly reduce cognitive workload, allowing pilots to focus on critical tasks and maneuvers, thereby maximising operational effectiveness. With this state-of-the-art technology, combat aircraft pilots will be better equipped to manage complex aerial scenarios, optimise flight paths and respond proactively to enemy threats.
Collins Aerospace will work with BAE Systems to develop a Large Area Display solution that leverages existing, field-proven design elements while incorporating the latest available display technologies in order to minimise obsolescence and development schedule risks.
Collins Aerospace has a long-standing relationship with BAE Systems, which has evolved through successful collaboration on the Tornado, Eurofighter Typhoon and Hawk aircraft programs. Collins Aerospace supplies close to 50 percent of the world's avionics displays and has more than 30 years of experience in producing high performance display products for fighter aircraft as well as trainers, bombers, helicopters, and commercial aircraft worldwide.
---
Suggested Items
12/07/2023 | OSI Systems
OSI Systems, Inc. announced that its Optoelectronics and Manufacturing division has received orders totaling approximately $5 million to provide electronic assemblies to a leading technology OEM. The Company plans to use its operations in the United Kingdom to fulfill these orders.
12/06/2023 | BUSINESS WIRE
Nortech Systems, Inc., , a leading provider of engineering and manufacturing solutions for complex electromedical and electromechanical products announced today Andrew LaFrence has been named CFO and Senior Vice President of Finance.
12/05/2023 | PRNewswire
RTX will help the Department of Defense (DoD) address systemic risk in the procurement and delivery of supplies under an $8 million DARPA contract.
11/30/2023 | PRNewswire
Hi Sharp, a leading maker of video surveillance systems, is globally announcing its expansion into AI and cloud-based technologies for video capture.
11/29/2023 | Airbus
Airbus has signed a contract with the Spanish Ministry of Defence for the development and acquisition of SIRTAP, a High Performance Tactical UAS that will reinforce the tactical capabilities of the Spanish Army and the Air and Space Force.