Books

Featured Books

pcb007 Magazine

Latest Issues

Current Issue

The Registration Sweet Spot

Registration is underrated and underappreciated. The key is to ensure proper registration from layer to layer across the entire printed circuit board. It's a holistic process requiring anticipation, prediction, precise attention at each step, and detailed data tracking and monitoring.

High-reliability Fabrication

In this month's issue, our expert contributors discuss the latest in technologies, trends, complexities and resources regarding high-reliability fabrication.

Finding Ultra

New demands on PCB fabrication, namely advanced packaging, ultra high density interconnect (UHDI), and new specialty materials, are converging, changing the landscape of our business. Is it time to start paying close attention to this convergence?

Columns

Latest Columns

||| MENU
Book Excerpt: 'The Printed Circuit Designer's Guide to... Manufacturing Driven Design,' Chapter 5
September 20, 2023 | I-Connect007 Editorial Team
Estimated reading time: 2 minutes
Excerpt from: The Printed Circuit Designer's Guide to... Manufacturing Driven Design, Chapter 5: Using the Cloud to Accelerate New Product Introductions
Improving Upon Reliability
The importance of validating that a design can be produced with yield, cost, and reliability in mind is important to a successful product launch. This is regardless of whether its manufacturability is ensured based on the traditional DFM approach, or through the Manufacturing Driven Design approach suggested here.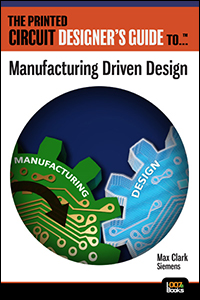 The electronics produced today are more relied upon than ever before. Many historians point to this adoption beginning with the space race. In 1977, twin space probes, Voyager 1 and 2, were launched. To ensure reliability, the deep space probe was built with dual-redundancy on every computerized system—two Computer Command Systems (CCS), two Flight Data Systems (FDS), and dual Attitude Articulation Control Systems (AACS). Even the two computer command systems were built with dual redundancy, two power supplies, two processors, and two buffers; these could operate independently, in parallel, or in tandem with one another.5 Their intended mission length was five years. Forty-five years later that technology is still sending bits of data back to Earth from interstellar space.
Today's electronics respond fast enough to enable rockets to propel a payload into space, return autonomously, and safely land, completing a process that human reflexes could never be fast enough to do alone. Back on Earth, untold thousands count on medical implants to keep us alive. A higher level of importance on the reliability of electronics is closer to all of us and that dependance is ever increasing. If you doubt that, just try to take a mobile phone from a teenager and see how that goes.
To improve upon reliability, all PCB manufacturers are ready and prepared to participate in the planning for PCB production right at the start of the design stage. Most manufacturers suggest that following general guidelines would at the very least minimize manufacturing problems and at the very best reduce cost. Using MDD, the manufacturing process capabilities become defined and shared by PCB manufacturers in a modern collaborative fashion. With this model there is no need for traditional documentation, as there is no longer a need for the designers to understand and interpret all the manufacturer's capabilities. Design organizations often lack the required manufacturing knowledge and find manufacturing topics often unclear, missing important aspects, and even more important to the manufacturer, quickly out of date.
If 45 years after the launch of Voyager 1, documentation is still how manufacturing capabilities are communicated into design, the industry should take a deep look and evaluate how innovation today would result in a brighter future tomorrow. Innovation begins with overcoming limitations imposed by restricting the use of information, and moving toward the idea of forward thinking, where such sharing is to the mutual benefit of both parties.
Visit I-007eBooks to continue reading this book.
---
Suggested Items
12/05/2023 | Travis Kelly -- Column: American Made Advocacy
For this month's PCBAA Member Profile, the focus is on Hari Pillai, president, Technology Components, Sanmina. Hari says, "I think I've had a good dose of luck throughout my career. But beyond luck, I had a vision to become a general manager as far back as my undergraduate years. I made all my career decisions based on that. My evaluation criteria was always, "How does this opportunity get me closer to my goal?" Sometimes opportunities come from unexpected places."
12/05/2023 | Amkor Technology
Amkor Technology, Inc., a leading provider of semiconductor packaging and test services, has announced its plan to build an advanced packaging and test facility in Peoria, Arizona.
12/05/2023 | HANZA
HANZA AB has signed an agreement to acquire all shares in Orbit One AB, a Swedish company that offers contract manufacturing of electronics and electromechanics. Orbit One has annual sales of approximately SEK 1.1 billion with an operating profit (EBITA) of approximately SEK 70 million.
12/05/2023 | Arch Systems
Arch Systems, the leading provider of data, analytics, and insightful actions for manufacturing operations, announced this week its collaboration with Plexus Corp., a global leader in complex product design, supply chain, manufacturing, and sustaining services.
12/05/2023 | Mycronic
Mycronic AB has received an order for an SLX mask writer from a new customer in Asia. The order value is in the range of USD 5-7 million. Delivery of the system is planned for the first quarter of 2025.