Austin American Technology's Justin Cody Worden to Guest Host Exclusive Interviews at SMTA International 2023
September 20, 2023 | Austin American Technology (AAT)
Estimated reading time: 1 minute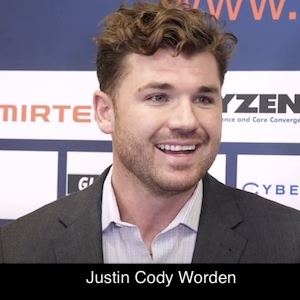 Austin American Technology (AAT) is proud to announce its pivotal role as a key sponsor for the on-camera interviews conducted by Justin Cody Worden for What's New in Electronics (WNIE) at SMTA International 2023, October 10-11 in Minneapolis, MN. In this exciting partnership, AAT underscores its commitment to supporting industry knowledge-sharing and fostering innovation within the electronics manufacturing sector.
What's New in Electronics' Content Creator Kirsty Hazlewood commented: "What's New in Electronics is pleased to welcome Justin as a guest host of our WNIE TV interviews. With a long established track record of interviewing thought-leaders across the global electronics industry, we are confident Justin will continue our mission of keeping WNIE readers abreast of the very latest from live industry events."
Despite his relatively brief time in the industry, Justin Cody Worden has made his mark through his exceptional networking skills, engaging presentations, and charismatic marketing. His active presence on social media platforms and the captivating videos he independently scripts, films, and produces for Austin American Technology (AAT) have garnered him widespread recognition and admiration within the field.
AAT's sponsorship of WNIE's on-camera interviews adds a compelling layer of support to the event, reinforcing its dedication to advancing the electronics industry. AAT, a leading provider of high-performance cleaning systems, assembly automation, and PCB production solutions, brings its vast expertise and commitment to innovation to the forefront.
The star of this partnership is the vibrant and dynamic industry itself, as Justin and AAT's support ensures that WNIE's on-camera interviews capture the essence of SMTA International 2023. These interviews will shine a spotlight on the latest industry trends, emerging technologies, and the invaluable insights of industry leaders and professionals.
SMTA International, renowned for its convergence of engineering and manufacturing professionals, is set to co-locate with Medical Design & Manufacturing (MD&M) once again in 2023. This dynamic collaboration promises to create one of the Midwest's largest gatherings of industry experts and professionals.
---
Suggested Items
12/07/2023 | Real Time with...productronica
Ashley Steers, Electra Polymers, updates Pete Starkey on the company's future, including a new manufacturing facility dedicated to producing inkjet solder mask.
12/07/2023 | Real Time with...productronica
Pete Starkey Interviews Dr. Giovanni Obino From MKS Atotech. Real-time feedback and two points of view are just some of the features of Atotech's IIoT platform.
12/06/2023 | Real Time with...productronica
Randy Temple of Alltemated explains how his company's Place-n-bond™ underfilm is applied at pick and place. The product is made of thermoplastic which means it is 100% reworkable.
12/06/2023 | Real Time with...productronica
Michael Hanke shares key features of Rehm's latest energy-efficient reflow soldering equipment with Pete Starkey. They also discuss the company's complete line of integrated solutions.
12/06/2023 | Peters
As part of the Peters Coating Innovation Forum (PCIF), Peters presented the new MYC50 coating machine in the showroom.