Books

Featured Books

smt007 Magazine

Latest Issues

Current Issue

Economic Headwinds

This issue takes stock of the current economic outlook and how companies are using current conditions to move themselves through technological evolutions, workforce shifts, and financial changes. Even with these headwinds, there's forward progress to be made.

Attracting New Talent

To get different results in staffing, you must change how you define, promote and recruit your job opportunities. How do you become magnetic to high-quality early-career candidates?

Test and Inspection

Test and inspection methods are undergoing rapid change. In this issue, we consider the influence of AOI, AI, and human eyes. How exactly are these pieces of the puzzle changing the role of test and inspection?

Columns

Latest Columns

||| MENU
Murray Percival Offers Exclusive End-of-Summer Sale on Depanelizers
September 20, 2023 | Murray Percival Company
Estimated reading time: 1 minute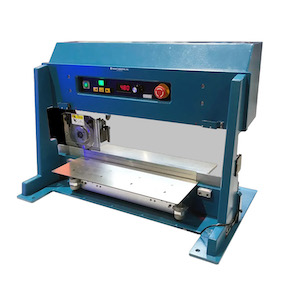 The Murray Percival Company proudly unveils its latest promotion, spotlighting its range of depanelizers. Known for exceptional performance and efficiency, these high-quality depanelizers are now readily available, complemented by spare blades and expert blade sharpening services. Often dubbed as "pizza cutters" because of their precision cutting mechanism, these depanelizers signify a blend of cutting-edge technology and precise engineering that adds unmatched value to electronics manufacturing processes.
Mark Percival Jr., MARCOM Manager at The Murray Percival Co., said, "We are excited to heavily promote Murray Percival Depanelizers to our customers, adding another valuable asset to their toolkits. These depanelizers stand as a testament to the seamless integration of advanced technology and precision engineering, ensuring that our clients consistently achieve flawless and dependable depanelization outcomes. Available in both manual and automated versions, they cater to the diverse process enhancement needs of our customers."
Depanelization, the pivotal process of separating individual PCBs from a panel, plays a pivotal role in electronics manufacturing. These depanelizers provide manufacturers with a dependable solution for efficient and precise PCB separation.
Kelly Voorheis, SMT Manager at KMC Controls, highlighted the transformative impact of Murray Percival Depanelizers, saying, "This machine has significantly elevated our yield of high-quality circuit boards, ready for the next phase of unit assembly. The depanelizer's guides and speed control offer enhanced precision and control during the cutting process, ensuring smooth and effortless separation. We chose Murray Percival for this product due to our longstanding relationship with them. Over the years, they've consistently provided excellent support and customer service, helping us identify the right equipment to enhance our processes and meet our goals."
For electronics manufacturers seeking top-tier depanelizers at exclusive prices, Murray Percival Depanelizers are now available at a discounted rate through the Murray Percival Company website.