Books

Featured Books

smt007 Magazine

Latest Issues

Current Issue

Economic Headwinds

This issue takes stock of the current economic outlook and how companies are using current conditions to move themselves through technological evolutions, workforce shifts, and financial changes. Even with these headwinds, there's forward progress to be made.

Attracting New Talent

To get different results in staffing, you must change how you define, promote and recruit your job opportunities. How do you become magnetic to high-quality early-career candidates?

Test and Inspection

Test and inspection methods are undergoing rapid change. In this issue, we consider the influence of AOI, AI, and human eyes. How exactly are these pieces of the puzzle changing the role of test and inspection?

Columns

Latest Columns

||| MENU
BTU International Partners with SMarTsol to Showcase Locally Built Pyramax Reflow Oven at SMTA Guadalajara Expo
September 20, 2023 | BTU International, Inc.
Estimated reading time: 1 minute
BTU International, Inc., a leading supplier of advanced thermal processing equipment for the electronics manufacturing market, is joining forces with SMarTsol Technologies at the upcoming SMTA Guadalajara Expo, scheduled to take place Oct. 25-26, 2023 at the Expo Guadalajara in Guadalajara in Jalisco, Mexico. The spotlight of the event will be the locally built Pyramax 125 Air model, representing the recently announced reflow oven manufacturing capabilities available now in Mexico.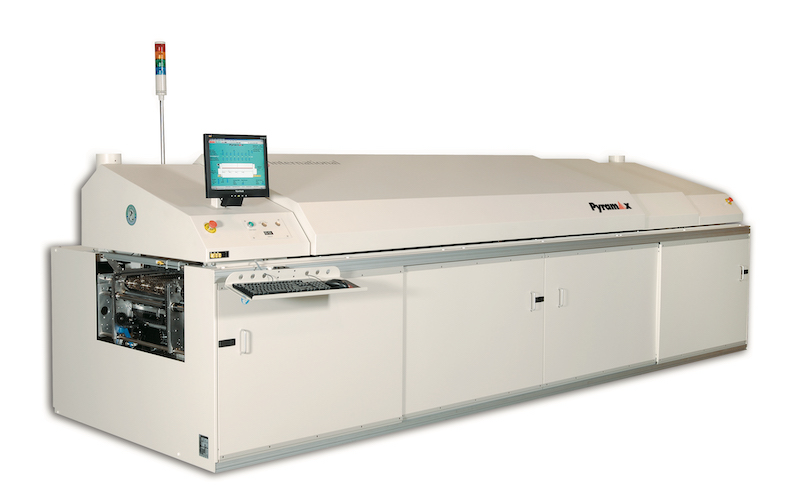 Local Manufacturing Strength Meets North American Demand
BTU International's decision to manufacture the Pyramax 125 Air reflow oven in Mexico underscores the company's unwavering commitment to meeting the needs of its North American customers. This strategic move leverages Mexico's robust manufacturing infrastructure and skilled workforce, reinforcing BTU International's dedication to delivering cutting-edge thermal processing solutions efficiently and effectively.
Pyramax 125 Air Model: Excellence in Thermal Processing
The Pyramax 125 Air model stands as a prime example of BTU International's dedication to innovation and excellence. Built with precision and care in Mexico, this model represents the pinnacle of thermal processing technology. It offers a host of advanced features including closed-loop convection control and the Wincon 8 oven control system, ensuring superior performance and reliability in a compact footprint.
"Our commitment to local manufacturing is not only a testament to our confidence in the Mexican manufacturing industry but also a demonstration of our dedication to serving our valued North American customers," said Rob DiMatteo, General Manager, at BTU International. "We invite attendees to see this locally built Pyramax reflow oven at the SMarTsol booth in Guadalajara," added DiMatteo.
Don't miss the opportunity to explore the locally built Pyramax 125 Air model and learn more about BTU International's commitment to meeting North American demands with excellence.
---
Suggested Items
12/05/2023 | Real Time with...productronica
In this interview, Pete Starkey meets with Bob Bouchard from BTU. With its ability to handle high volume, BTU's Aurora reflow soldering system helps reduce downtime, saves energy, has improved accessibility, and more.
12/05/2023 | Real Time with...productronica
Mark Goodwin announces that Ventec is now in the equipment business, as it were, now offering equipment under representation as well as equipment Ventec is now building. The equipment line matches up well with Ventec's core. Some equipment includes: Legend/solder paste, via fill, press plates, and more. These new offerings just demonstrate how Ventec continues to be a value-add supplier.
12/04/2023 | Real Time with...productronica
John Fix discusses principal challenges in North America and Europe. Environmental concerns are very high visibility in Europe. Fix provides details on melamine mitigation in Taiyo America's products, as well as other environmentally tricky chemicals and wasteful packaging.
12/04/2023 | Gartner, Inc.
Global semiconductor revenue is projected to grow 16.8% in 2024 to total $624 billion, according to the latest forecast from Gartner, Inc. In 2023, the market is forecast to decline 10.9% and reach $534 billion.
12/01/2023 | Nolan Johnson, I-Connect007
Aidan Salvi, chief transformation officer, updates Nolan Johnson on the modernization activity under way at Amitron. Aidan shares that Amitron has added 62 different pieces of new equipment on their production floor, and shares details on what that means for Amitron's production capabilities, data management, and progress toward a Factory 5.0 future.