ULT to Introduce New Soldering Fume Extractor at productronica
September 20, 2023 | ULT AG
Estimated reading time: 1 minute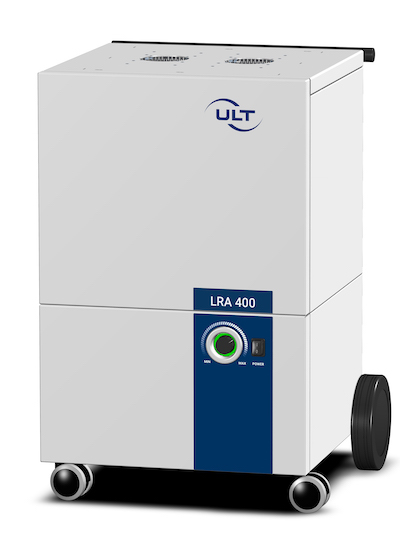 At this year's productronica, the world's leading trade show for electronics manufacturing, ULT will present a brand new extraction solution for solder fumes and vapor.
The LRA 400.1 is the first member of a new series of extraction and filtration systems. It is a modular and extremely quiet fume extractor that can be used in manual and automated soldering processes.
A newly developed and unique filter inflow concept enables increased filter capacity and, thus, very long service life, resulting in significant cost savings for users.
The new LRA 400.1 features an innovative EC dual blower that can achieve high volume flow at high vacuum - ideal for laser and soldering applications in electronics manufacturing. Another advantage is the small footprint of the unit, enabled by the compact unit design.
In addition to the market launch of the new equipment series, ULT will present comprehensive information on air pollution control and occupational safety in the manufacture of electronic assemblies. Starting with the detection of airborne pollutants such as solder or laser fume, vapors, odors, or dusts, through the selection of the optimal extraction and filtration strategy, to the provision of service and maintenance services, ULT is always at its customers' side as a partner.
ULT offers a wide range of mobile and stationary extraction and filtration systems, which are used at manual workstations for individual assembly of sample boards and small series as well as for repair, but also for integration into production lines or processing systems for laser cutting, soldering, painting, casting, coating, gluing, bonding, etc.
ULT at productronica: hall A4, booth 577
---
Suggested Items
12/01/2023 | Cadence Design Systems, Inc.
Cadence Design Systems, Inc. announced that Samsung Foundry successfully taped out a 5G networking SoC design on the Samsung 5LPE technology using the Cadence® Quantus™ Extraction Solution and Tempus™ Timing Solution.
05/31/2022 | Happy Holden -- Column: Happy's Tech Talk
Copper has become a valuable metal, and with the growth of EV has come higher currents needed in PCB with increasing weight of copper in PCBs. This creates the need for increased copper etching and consumption of copper etchants. Today, in an effort to recoup some of that cost, increasingly more extraction and recovery units are being installed in PCB facilities around the world. Annual profit generation from recovering copper and regenerating PCB etchants has the potential to reach six figures.
03/18/2022 | ULT AG
At the upcoming trade show SMTconnect, ULT will exhibit worldwide leading solutions for air purification in electronics manufacturing. The positive effects of sustainable extraction and filtration technology on process chains, product and manufacturing quality, and employee health will be demonstrated.
12/10/2021 | ULT AG
ULT AG, vendor of extraction and filtration technology for air purification in manufacturing companies, presents a new system control. From now on, it will be integrated into the company's cartridge filter systems, which will significantly expand their communication capabilities and thus offer users convenient evaluation and control options.
11/18/2021 | Team Cadence -- Column: All Systems Go
There are many good reasons to use a chip on board (CoB) implementation. When this is combined with wirebonding and the use of rigid-flex PCB, challenges mount. An application that demands all three—CoB, wirebonding, and rigid-flex PCB—is a camera module that goes into a mobile application, the sample design used to illustrate the design and analysis challenges in this article. If you are not aware of and prepared for the potential pitfalls, it is highly likely that your project could fall short or even fail.