Estimated reading time: 6 minutes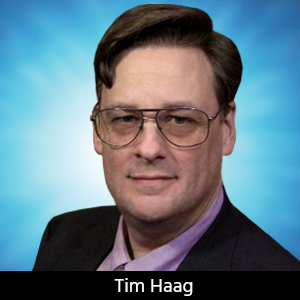 October 5, 2023
Tim's Takeaways: Human Ingenuity and the Rigid-flex PCB
I'm always amazed by human ingenuity. For example, when Frank Walker in the 2015 movie "Tomorrowland" was asked why he made a jetpack, he responded, "I guess I got tired of waiting around for someone else to do it for me."
I'm inspired by that kind of drive and determination in life. I suspect it's why most of us entered the engineering field in the first place. But even though we can trace many advances in technology to various personal motivations, ultimately it has been necessity that serves as the mother of invention. Just look at our own printed circuit board design and manufacturing as an example.
Although the development of the printed circuit board is a story rich in historic and scientific significance, in general it can be said that the creation of PCB technology was fueled by necessity. The roots of our industry go back a hundred years to when electronic products were hand-built with point-to-point wiring connections. As you can imagine, this manual process was very tedious and time-consuming. However, with the introduction of the circuit board, radio and other electronics, manufacturers were able to simplify and speed up their processes. As this new technology matured, the circuit board printing process—and the materials used for substrates—evolved rapidly, making PCBs ideal for military and other advanced applications.
You know the rest of the story. Electronic components evolved by increasing their pin counts and decreasing in size while PCB manufacturing technologies responded with advancements in multiple board layers and new component mounting processes. Today, the modern circuit board bears little resemblance to what was invented 100 years ago, which, if memory serves, were actual boards with holes drilled in them for component wires. But the core purpose remains the same: to provide a stable platform for electronic circuits that simplifies their manufacturing through more efficient processes. But necessity continued to drive invention, and human ingenuity responded with the next step—the rigid-flex circuit board.
Interestingly, electronic circuits started out as flexible boards 100 years ago when you consider that they were all hand wired from point to point. However, these circuits were large, bulky power hogs that generated tons of heat, and could never be used for anything more advanced than the family radio. If you've ever had the opportunity to crack open a really old radio or TV set, you know how brittle and dirty those things could be. As electronic devices shrank in size and grew in functionality, the need for flexible circuitry continued to grow. Once again, the great minds of the day got back to work.
Starting in the 1950s and '60s, the advanced needs of military and aerospace applications demanded a method of connecting electronics together that didn't rely on traditional cabling and connectors. This eventually resulted in rigid-flex PCBs being used in aircraft to reduce weight and increase reliability. Just as with traditional printed circuit boards, flexible PCB technology changed and grew over the years in response to the increasing demands and requirements of the industry. From simple circuit patterns on film, flex circuit technology has evolved to include multiple substrate materials, ultra fine line width and spacing, and multilayer embedded components. Flex circuitry has now become an essential part of nearly every aspect of electronics manufacturing. Consider the following:
Computers: To provide direct connections between displays, keyboards, and other major components, laptops rely on flex circuits for high-performance interconnectivity that is small, robust, and reliable.
Mobile devices: I'm not sure, but I think that the iconic flip-phone is back in style again, and that just won't happen unless manufacturers can leverage the latest in flexible circuitry.
Wearables: Thanks to flex circuits, we can avoid the annoyance of bulky and heavy watches, earbuds, and other everyday devices designed to be worn while we use them.
Automotive: Without the benefit of flex circuits, our car's electronics wouldn't have nearly the capabilities that it now provides. Flex circuitry is now being incorporated into everything from entertainment centers to engine and control systems.
Industrial: The automation in today's modern factories depends on control systems that feature flex circuits. Robotics, sensors, and inventory control systems all have pieces that are constantly in motion that must be connected reliably with flexible circuitry.
Everywhere you look, flex technology is being incorporated into the electronics that are part of our daily lives. The industries listed above rely on rigid-flex PCBs to not only save space but increase their durability thanks to the new materials in use today. This makes the modern rigid-flex PCBs more reliable than traditional cable and connectors. Additionally, rigid-flex PCBs are designed for their specific application. They are crafted to precisely fit the device they are intended for instead of requiring the device be altered to fit the circuitry. At the same time, they are designed with the same constraints as a regular PCB for signal performance and EMI control.
Rigid-flex boards provide precision fit, durability, space and weight reduction, and better performance and reliability. It is tempting to use the phrase, "It really is a dream come true." However, the importance of rigid-flex circuitry in today's electronics is very real and has some very important shoes to fill. One of the most mission-critical uses of rigid-flex PCBs can be found in the medical field. Consider the importance of these medical devices in use today that incorporate flex technology within their designs:
Scanners: Rigid-flex PCBs give ultrasound, MRI, and CT scanners the ability to be positioned correctly for diagnosing a patient. Not only is the PCB able to move as required, but the flexible portion of the design allows for placement of the device within tight areas, while the rigid sections contain the components necessary for processing.
Diagnostic equipment: Depending on the application, diagnostic equipment can connect multiple sensors to their data processors. For large pieces of equipment, flex circuitry saves space over traditional cabling, while the flexible nature of the circuits allows for compact design of smaller hand-held units.
Surgical instruments: Going beyond the traditional scalpel, modern surgical procedures utilize high-technology equipment such as cameras and robotics. Rigid-flex circuitry is essential for motor control and video communication and processing.
Defibrillators and pacemakers: Implantable medical devices need to be able to conform to the shape and contours of a patient's body. Rigid-flex circuitry allows for this while delivering the performance and durability that is essential for the environment that these life-saving devices are operating in.
No matter what, necessity will keep driving invention. But who knows what directions this invention will take once it is coupled with human ingenuity? I'm still waiting for neural interfaces on my CAD applications so I can route traces with my mind without ever touching the mouse. In the meantime, there are so many new and wonderful inventions happening within our industry. If you haven't designed a rigid-flex board yet, chances are you will soon. I'm looking forward to reading more from the experts in this issue about the pros, cons, challenges, and benefits of working with rigid-flex PCBs. If you've got questions, this is a great place to start, and I'm looking forward to seeing what they have to say.
Until next time, keep on designing.
This column originally appeared in the September 2023 issue of Design007 Magazine.