Scienscope to Display Cutting-Edge Inspection & Material Management at SMTA Guadalajara
September 21, 2023 | Scienscope International
Estimated reading time: 2 minutes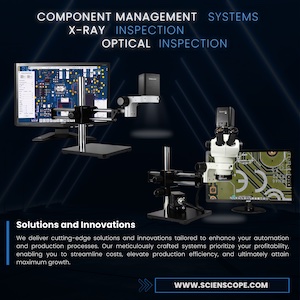 Join Scienscope at the Guadalajara Expo and Tech Forum, where innovation knows no bounds. It's the ultimate platform for professionals in the industry to unite, forging connections and fostering collaboration on a global scale, right in your local community. Immerse yourself in the forefront of global technology. Explore the world of innovation our dynamic sales team eagerly awaits to introduce you to Scienscope's cutting-edge systems and innovations. Get ready as we demonstrate the future of technology.
Mark your calendars for October 25-26, 2023, as we showcase our innovative solutions for your production process needs. Guadalajara Expo and Tech Forum, where innovation meets inspiration!
Under the expertise of Mario Montaño and Cesar Gomez Martinez, Scienscope International is set to captivate attendees with a diverse range of revolutionary component solutions and advanced X-ray inspection systems in Booth 1111. Among the highlights are our AXC-800III X-ray Component Counter, the IMS-100 (T) inventory management system, the Smart Storage Rack, and our state-of-the-art Optical Inspection systems.
The AXC-800III Component Counter is stealing the spotlight, a true marvel empowered by AI algorithms and X-ray technology. Boasting an extraordinary accuracy rate of 99.9% in component counting within reels is a pinnacle of precision. Seamlessly integrating with Manufacturing Execution Systems (MES), the AXC-800III imparts real-time results, automating label generation as reels are withdrawn. This groundbreaking feature not only streamlines labeling but ensures impeccable inventory management.
Another gem in our showcase is our IMS-100 (T) inventory management system. Engineered with a high-resolution barcode camera, this system effortlessly captures and stores data for various reel sizes, accommodating up to four 7", one 13", and one 15" reel. The IMS-100 (T) significantly reduces errors and bolsters overall efficiency by automating the incoming process and simplifying relabeling.
Scienscope's dedication to revolutionizing material management takes form in our ingenious Smart Storage Rack family. Seamlessly harmonizing with Component Counters and Incoming Material Stations, this rack series delivers a flawless, tailored solution for electronic component storage. The Smart Storage Rack redefines material management by boasting features such as automated reel detection and multi-color LEDs for simultaneous multi-kitting.
"Elevating quality control is paramount, and that's why we present our ergonomic stereo zoom microscopes and digital inspection systems" – Cesar G.
The Versa Cam Digital Systems and Mac3 Digital Systems empower visual inspection, precise measurement, and comprehensive documentation, redefining the standards of quality assurance. Experience image quality with flawless 4K resolution and zero image delay. This revolutionary camera is the ultimate solution for those seeking to streamline and digitize their inspection process. Effortlessly measure objects within the field of view using the onboard measuring tools, DXF overlay, or multi-line generator.
Scienscope International is geared to showcase its unwavering commitment to innovation and excellence at the SMTA Guadalajara Expo and Tech Forum. Join us at our exhibit to witness the future of technology that empowers industries.
Scienscope is a one-stop solution provider for warehouse automation, machine vision, and X-ray and optical inspection, offering customization based on facility needs. Scienscope component counters can save time and money, reduce labor, and avoid "line down" scenarios due to a lack of components.
---
Suggested Items
11/27/2023 | Real Time with...productronica
Koh Young's Harald Eppinger talks about the company's technology for the semiconductor and advanced packaging market and how they address the challenges introduced by reflective components and micro solder deposits.
11/27/2023 | HyRel
HyRel Technologies, a global provider of quick turn semiconductor modification solutions, announces the achievement of International Traffic in Arms Regulations (ITAR) registration.
11/27/2023 | Altus Group
Altus Group, a leading distributor of electronics assembly equipment in the UK and Ireland, has helped Sellectronics, an innovative contract electronics manufacturer to significantly improve its component inventory management through the implementation of the Scienscope AXC-800 III automated X-ray component counter.
11/24/2023 | iNEMI
iNEMI Tech Topic Series: Counterfeit Components, Emerging Trends in Counterfeit Detection and Mitigation, will be held Thursday, December 7, 2023 / 11:00 a.m.—12:30 p.m. EST (US).
11/24/2023 | Mek (Marantz Electronics)
Mek (Marantz Electronics), a leader in Automated Optical Inspection (AOI) solutions, used last weeks' Productronica show in Munich to proudly introduce the SpectorBOX X series, a modular full 3D AOI system for THT solder joints and THT components.