Books

Featured Books

smt007 Magazine

Latest Issues

Current Issue

Economic Headwinds

This issue takes stock of the current economic outlook and how companies are using current conditions to move themselves through technological evolutions, workforce shifts, and financial changes. Even with these headwinds, there's forward progress to be made.

Attracting New Talent

To get different results in staffing, you must change how you define, promote and recruit your job opportunities. How do you become magnetic to high-quality early-career candidates?

Test and Inspection

Test and inspection methods are undergoing rapid change. In this issue, we consider the influence of AOI, AI, and human eyes. How exactly are these pieces of the puzzle changing the role of test and inspection?

Columns

Latest Columns

||| MENU
Thermaltronics to Showcase Cutting-Edge Soldering Solutions at SMTA Guadalajara Expo & Tech Forum
September 21, 2023 | Thermaltronics USA, Inc.
Estimated reading time: 1 minute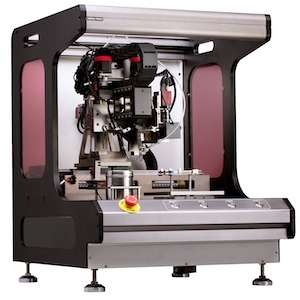 Thermaltronics USA, Inc., a globally acclaimed manufacturer of Precision Soldering Robots and innovative Curie point soldering systems, is excited to announce its participation in the highly anticipated SMTA Guadalajara Expo & Tech Forum, scheduled to take place from October 25-26, 2023. The event will be held at The Guadalajara Expo & Tech Forum, and attendees are invited to visit booth #114 to witness firsthand the cutting-edge soldering solutions offered by Thermaltronics.
TROIKA LATIN AMERICA, Thermaltronics' esteemed representative in Mexico, will be showcasing the company's groundbreaking soldering technologies at the expo. Gerardo Rodriguez, the principal of TROIKA LATIN AMERICA, expressed his enthusiasm for the event, stating, "We are thrilled to provide attendees with an opportunity to experience the advanced capabilities of Thermaltronics' Soldering Robot and Curie point soldering systems."
The SMTA Guadalajara Expo & Tech Forum comes at a crucial juncture, with the manufacturing industry witnessing a surge in activity coupled with a shortage of skilled labor. In this context, the advantages of automating the soldering process have never been more apparent. Gerardo is confident that Thermaltronics' Soldering Robot will not only address these challenges but also redefine the standards of efficiency and precision.
Thermaltronics' participation in the expo underscores its unwavering commitment to innovation. The company's Precision Soldering Robots and Curie point soldering systems are designed to revolutionize the electronics manufacturing industry by enhancing productivity, precision, and reliability.
---
Suggested Items
12/06/2023 | Indium Corporation
Indium Corporation is proud to announce the addition of Sales Engineer Meik Fratzel to its European team.
11/21/2023 | Pete Starkey, I-Connect007
Productronica 2023 played host to the IPC World Hand Soldering Competition, bringing talented regional solder champions from all over the globe to compete for the title of World Champion. Each competitor was given sixty minutes to assemble a complex printed circuit board with their performance judged in accordance with IPC-A-610 Class 3 criteria. Each competitor's efforts were rated on the merits of the results achieved, scored on the quality of the assembly process, the electrical functionality of the assembly and the speed at which the assembly was produced.
11/21/2023 | MacDermid Alpha
MacDermid Alpha Electronics Solutions, a leader in integrated materials and technologies for the electronics industry, introduces ALPHA® SF828-MBB.
11/09/2023 | IPC
IPC's Taiwan Region Hand Soldering and Rework Competition 2023 was held in Taipei City, Taiwan on October 13, 2023.
11/06/2023 | Altus Group
Altus Group, a leading distributor of electronics assembly equipment in the UK and Ireland, has announced a significant enhancement to its product offerings with the introduction of Solderstar's cutting-edge technology, the Reflow Shuttle O2 measurement module.