Books

Featured Books

smt007 Magazine

Latest Issues

Current Issue

Economic Headwinds

This issue takes stock of the current economic outlook and how companies are using current conditions to move themselves through technological evolutions, workforce shifts, and financial changes. Even with these headwinds, there's forward progress to be made.

Attracting New Talent

To get different results in staffing, you must change how you define, promote and recruit your job opportunities. How do you become magnetic to high-quality early-career candidates?

Test and Inspection

Test and inspection methods are undergoing rapid change. In this issue, we consider the influence of AOI, AI, and human eyes. How exactly are these pieces of the puzzle changing the role of test and inspection?

Columns

Latest Columns

||| MENU
Purdue's Semiconductor Innovation Ecosystem Grows with CHIPS-funded, Indiana-led Semiconductor Hub and With Upcoming Summit
September 25, 2023 | Purdue University
Estimated reading time: 2 minutes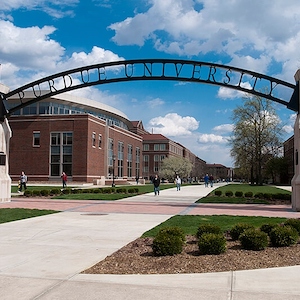 Purdue University continues building momentum as America's leading university in semiconductors, with a broad range of updates this fall semester.
Submitted through the Applied Research Institute, the Indiana-led proposal "Silicon Crossroads" was announced Sept. 20 by the Department of Defense as one of eight Microelectronics Commons Hubs selected out of over 80 proposals across the U.S. The Naval Surface Warfare Center, Crane Division (NSWC Crane), in Indiana will manage the program.
The hubs are the first major program funded through the CHIPS and Science Act 2022, co-sponsored by U.S. Sen. Todd Young of Indiana. The total five-year budget is around $2 billion; FY23 is year 1 and has a budget of $238 million. The Indiana-led consortium, with participation from Illinois and Michigan, received $33 million as part of the year 1 budget and is the largest hub in the Midwest.
"Located in America's heartland, Silicon Crossroads builds on the Midwest's strengths in research and development as well as workforce training at all levels to build a domestic semiconductor industry — a national security imperative to keep our nation ahead of our adversaries," said Indiana Gov. Eric Holcomb.
"As we collectively work to grow the nation's microelectronics base, Indiana will play a key role in the development of these critical national security technologies and capabilities," Young said. "More broadly, this announcement shows how the CHIPS and Science Act will connect more of America, including the industrial Midwest, to the innovation economy."
Indiana leads the Silicon Crossroads Hub, and as its leading university Purdue will collaborate with many members of the consortium in the coming years.
Purdue is also the university leading the Department of Defense workforce program SCALE, with a national consortium of 18 universities.
Serving the state of Indiana
Purdue is a national leader in microelectronics materials, devices, chip design, tool development, manufacturing, packaging and sustainability, spanning the semiconductor ecosystem in software and hardware with long-standing faculty excellence.
Strategic initiatives in semiconductors, such as the first comprehensive Semiconductor Degrees Program, which was announced before the CHIPS and Science Act passed in 2022, are intended to prepare a next-generation workforce for industry. Economic development and research collaboration followed as well, including from Skywater, MediaTek, and Belgium-based imec.
As part of Purdue Computes initiative, Purdue's growing semiconductor innovation ecosystem includes $49 million in new facilities and tools for the Birck Nanotechnology Center, which will also be accessible by Ivy Tech, Indiana's statewide community college and a local partner with Purdue in developing next-level workforce and brain gain strategies for Indiana.
Earlier this month, Purdue announced the creation of Purdue@Crane, a permanent Purdue presence for national security research collaboration with NSWC Crane, including participation in the WestfGate Foundry with companies such as Everspin Technologies and NHanced Semiconductors.
---
Suggested Items
12/20/2022 | SCS
Specialty Coating Systems' (SCS) Indianapolis coating facility has achieved Nadcap accreditation for conformal coating of electronics – printed board assemblies, demonstrating their continued commitment to quality.
07/21/2022 | Purdue University
SkyWater Technology announces that it plans to open a $1.8 billion state-of-the-art semiconductor manufacturing facility in Discovery Park District at Purdue University marks a huge step forward for the American semiconductor industry, Purdue's thriving innovation district and the university's continued emergence as one of the principal drivers of the Indiana economy.
05/09/2022 | Purdue University
Purdue University and Ivy Tech Community College are partnering to help meet the future workforce needs in microelectronics, a field that is expected to add more than 100,000 workers over the next decade.
04/21/2021 | Libra Industries
Libra Industries, a privately-held systems integration and electronics manufacturing services (EMS) provider, announced the appointment of Terry Townsend as a Financial Controller.
10/21/2019 | Kimball Electronics
Kimball Electronics, Inc. has been named the 2019 Indiana Large-Tier Manufacturer of the Year, at the Indiana Manufacturers Association's (IMA) 2019 Hall of Fame Luncheon, held on October 16, 2019, at the Biltwell Event Center, in Indianapolis.