Books

Featured Books

pcb007 Magazine

Latest Issues

Current Issue

The Registration Sweet Spot

Registration is underrated and underappreciated. The key is to ensure proper registration from layer to layer across the entire printed circuit board. It's a holistic process requiring anticipation, prediction, precise attention at each step, and detailed data tracking and monitoring.

High-reliability Fabrication

In this month's issue, our expert contributors discuss the latest in technologies, trends, complexities and resources regarding high-reliability fabrication.

Finding Ultra

New demands on PCB fabrication, namely advanced packaging, ultra high density interconnect (UHDI), and new specialty materials, are converging, changing the landscape of our business. Is it time to start paying close attention to this convergence?

Columns

Latest Columns

||| MENU
Rigid-flex Design Guidelines 
September 27, 2023 | Cherie Litson, CID+, Litson1 Consulting
Estimated reading time: 4 minutes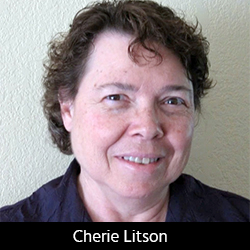 Rigid-flex circuits are unique structures; part rigid board and part flex, they're increasingly working their way into many of the electronic devices we use every day.
There have been many advances in rigid-flex lately as more companies find themselves exploring this technology. So, before I started writing this article about rigid-flex design, I double-checked a few things. Fortunately, there is plenty of rigid-flex information available on a variety of great websites that we all know and trust. So, here's a quick look at some of the principles of rigid-flex design.
Rigid board designers who consider entering the rigid-flex arena typically have a handful of questions. One of the most obvious is, "Why do we need rigid-flex anyway?" If we just need a way to fit circuitry into a case and it will stay that way, rigid-flex will work fine. But if the board will be moving on a regular basis during operation, then opting for just flexible circuits or attaching flex to a traditional rigid board is a better way to go.
Another common question is, "How does my PCB layout software work with curves and hatched planes?" There are a lot of curved traces and hatched planes in flex circuits. If it's a hassle to create a curved trace, you may need a different software package that is optimized for flex and rigid-flex design. Many of today's EDA tools are set up for rigid-flex design.
Rigid-flex boards use the same materials as any rigid board. One way to do this is by creating the flex portion along with the layers of the rigid board, and use a delamination process to remove any unwanted layers. No components are mounted on the flex portion of the board. One layer is used for the return and the other layer is used for your signals. The return is commonly a GND plane and hatched in the flex area of the board. Vias are not usually placed in this area either but may be used if needed.
Another rigid-flex approach is to first create a flex board and then laminate or adhere a rigid board (or just a stiffener) to the flex. This is done when you need more signal layers in the flex portion, the flex needs to be longer, and/or it needs to withstand multiple flexing without breaking. The rigid portions are processed separately and have the components assembled to them. In general, components should not be mounted on the flex portion. Flexing solder joints is just a bad thing.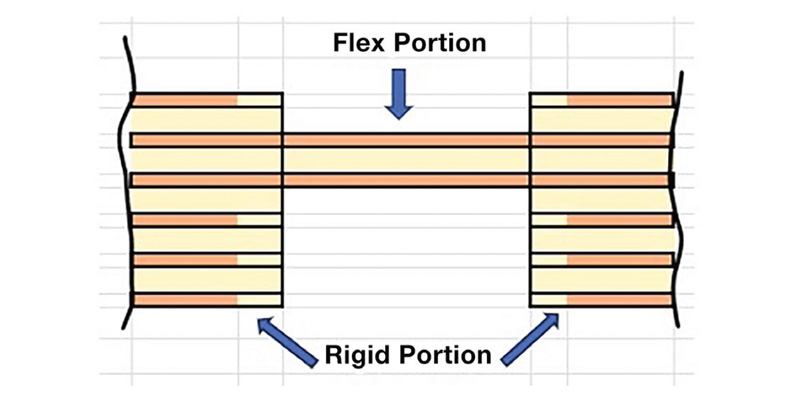 Now you've got the basics, what's next? Here are a few guidelines, in no particular order:
Layer stackup: Keep the flex layers to a minimum of two for increased mechanical flexibility and reduced costs.
Electrical design constraints: What needs to be on the flex and what doesn't? Trace widths may need to vary. They may need to be very long. Make sure that the signals can handle these conditions. Also, designers should have a good understanding of the heat sinking capabilities of the flex portion.
Mechanical design constraints: You will need more clearance to the edges of the board, cutouts, slots, other traces, etc., as well as more space around bends and corners. Any slots or holes that must be cut will need "relief" features so that the material doesn't tear.
Component placement and finishes: As I mentioned, components in general, should not be mounted on flex, but there are exceptions. Some components can be mounted on the flex portion with a stiffener material attached beneath them to prevent solder joint breakage. The finish used to protect the open copper traces is usually an overlay material or a thicker solder mask—not LPI. Both of these have larger clearance areas around the components. Conformal coatings can be used to protect the bare copper after soldering.
Testing and verification: Because of the unique structure of rigid-flex circuits, testing and verification are critical parts of the process. Test points must be strategically placed, not too close to edges or components, and not covered by solder mask. Ask your fabricator for more information.
Rigid-flex Resources
IPC has a variety of great resources and specific industry standards on its website. IPC-6013 Qualification and Performance Specification for Flexible Printed Boards, features a treasure trove of information. IPC-4201 through IPC-4204 cover many of the base materials used for flex circuits. IPC-4562 covers copper foils and IPC-SM-840 defines the masks that can be used.
Once you've defined what you need in your rigid-flex design, find a flex fabricator you can work with to get the job done. Most of the guidelines listed by fabricators online focus on the company's limitations. They all have different capabilities, so be sure to match your needs with their limits for the best cost return. Pay close attention to their "standard" feature sizes, not the "highest-end capability." If your electrical and mechanical constraints are critical to your design, be sure to have a conversation with the production engineer at the facility. This will help you and the fabricator.
Your EDA software company should also have an online section titled "How to Layout a Flex Design." These are great resources and worth looking at. If you don't like your software's approach to rigid-flex, check out some of the videos from the other software companies. You might find something you didn't think of before.
Cherie Litson is a PCB design and engineering consultant.
This article originally appears in the September 2023 issue of Design007 Magazine.
---
Suggested Items
12/05/2023 | All Flex Solutions
All Flex Solutions has purchased and installed a new inner layer factory in their Rigid Flex Center of Excellence located in Minneapolis. This continues their investments in plants and technology to support customers' needs for capability, speed and increased yield.
11/30/2023 | BUSINESS WIRE
Ciena, a U.S.-based networking systems, services and software company, is adding domestic manufacturing through an expanded agreement with global diversified manufacturer Flex.
11/29/2023 | Intel
Ahead of Enlit Europe, Intel announced that its technology is helping power the Edge for Smart Secondary Substations (E4S) Alliance's new solution to modernize the energy grid.
11/27/2023 | Wurth Elektronik
HyPerStripes project partners will create a technology platform including manufacturing techniques for roll-to-roll (R2R) processing as well as the integration of electronic components onto very long ("endless"), flexible and stretchable printed circuit boards.
11/23/2023 | BUSINESS WIRE
Venturi Astrolab, Inc. (Astrolab) announced it has reached an agreement with eight enterprise customers to use its Flexible Logistics and Exploration (FLEX) rover to deploy the customers' payloads on Astrolab's upcoming mission to the Moon which is known as Mission 1.