Medtronic CEO Geoff Martha to be Keynote Presenter at 2023 SIA Awards Dinner
September 28, 2023 | SIA
Estimated reading time: 1 minute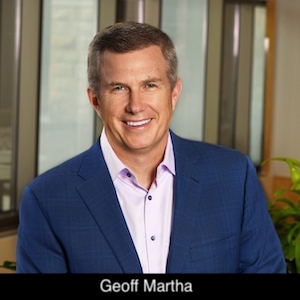 The Semiconductor Industry Association (SIA) announced Geoff Martha, chairman and CEO of healthcare technology leader Medtronic, will be the keynote presenter at the 2023 SIA Awards Dinner on Thursday, Nov. 16 in San Jose, Calif. Martha will offer perspectives on the role of semiconductors in enabling the future of medical technology. SIA represents 99% of the U.S. semiconductor industry by revenue and nearly two-thirds of non-U.S. chip firms.
"Geoff Martha is a leading expert on medical technology, a field that is rapidly advancing thanks in large part to semiconductor innovation," said John Neuffer, SIA president and CEO. "We are pleased to welcome Geoff as the keynote presenter at the 2023 SIA Awards Dinner and look forward to hearing his views on the trends that will shape healthcare technology in the years ahead."
Geoff joined Medtronic in 2011 and assumed his role as CEO as the COVID-19 pandemic rocked communities around the world. As part of his commitment to lead with purpose, Geoff quickly mobilized the company and took action to help global healthcare professionals and partners continue to treat patients and protect themselves. In addition to accelerating the development of remote solutions, he made the unprecedented move to open source the company's intellectual property, making proprietary ventilator designs available to manufacturers around the world. The move helped address growing global demand for ventilators, resulted in new partnerships, and broke down barriers across industries to enhance care.
Prior to becoming CEO of Medtronic, Geoff held various leadership roles on the company's executive committee, including SVP, Strategy and Business Development; Chief Integration Officer; and Executive Vice President, Restorative Therapies Group. Before joining Medtronic, Geoff spent 19 years in a variety of business development, strategic marketing, and sales management roles at GE Healthcare and GE Capital.
The 2023 SIA Awards Dinner also will feature the presentation of the semiconductor industry's highest honor, the Robert N. Noyce Award, to Sanjay Mehrotra, president and CEO of Micron Technology. The Noyce Award is named in honor of semiconductor industry pioneer Robert N. Noyce, co-founder of Fairchild Semiconductor and Intel.
---
Suggested Items
12/07/2023 | Real Time with...productronica
Ashley Steers, Electra Polymers, updates Pete Starkey on the company's future, including a new manufacturing facility dedicated to producing inkjet solder mask.
12/07/2023 | Real Time with...productronica
Pete Starkey Interviews Dr. Giovanni Obino From MKS Atotech. Real-time feedback and two points of view are just some of the features of Atotech's IIoT platform.
12/06/2023 | Real Time with...productronica
Randy Temple of Alltemated explains how his company's Place-n-bond™ underfilm is applied at pick and place. The product is made of thermoplastic which means it is 100% reworkable.
12/06/2023 | Real Time with...productronica
Michael Hanke shares key features of Rehm's latest energy-efficient reflow soldering equipment with Pete Starkey. They also discuss the company's complete line of integrated solutions.
12/06/2023 | Peters
As part of the Peters Coating Innovation Forum (PCIF), Peters presented the new MYC50 coating machine in the showroom.