Estimated reading time: 3 minutes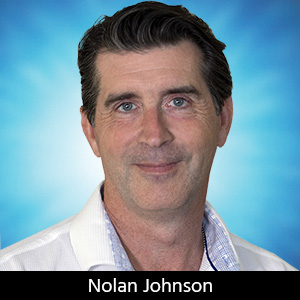 October 3, 2023
Nolan's Notes: The Eyes Have It
A great example of AI's power at pattern matching images in medicine is the Google Automated Retinal Disease Assessment (ARDA) program, which turns retinopathy screening—once a test performed by an ophthalmologist—into a technician-level task. Given that only a small percentage of patients test positive for retinopathy, the AI-based assessment means that ophthalmologists now only see the patients who test positive on the app.
The computers do the data-crunching, and the expert humans do the critical analysis using that data. The result is that many more patients can be reliably checked for retinopathy than ever before. The ARDA program is extremely successful.
This medical example illustrates where imaging technology is overlapping application spaces; the fundamental image processing technology that works for medical works for industrial applications as well. The kind of data analysis built into the retinal scan is the same concept as used in automated inspection systems. Both application spaces benefit from the advances in vision and compute hardware, development database building, and predictive algorithms, such as AI engines, to provide fewer false positives, more sophisticated capabilities, and perhaps most important of all, data—both raw and analyzed—for process feedback in the automated factory.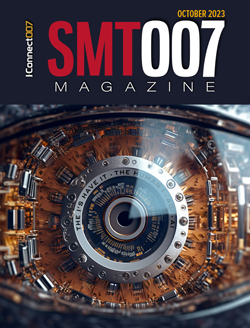 The test function benefits from all this data and AI as well. In the October 2023 issue of SMT007 Magazine, we talk with experts who are on the cutting edge of what the eye can see. Bert Horner at The Test Connection paints a picture of increased test coverage and efficiencies, due in part to predictive software in setup, as well as having more data (design data, and manufacturing process data) available. The result is that Horner's team can use the data to make critical design decisions which get much closer to 100% test coverage.
ASTER Technologies' Will Webb shares how AI and digital twin concepts come together as a modeling technique to improve coverage prior to running the job: humans leveraging multiple what-if scenarios to find the most efficient. Raj Vora and Darren Carlson at VAS Engineering share how process benchmarking not only helped them increase productivity, but how it gives them opportunity to continue improving their process optimizations, while Miles Moreau at KIC Solutions details the concept of reflow process inspection. Brent Fischthal at Koh Young shares how his company is working with academic AI research teams to continue progress into ever more capable inspection systems.
Our cadre of columnists—Mike Konrad, Jennie Hwang, Michael Ford, and Ronald C. Lasky—round out this fascinating and "eye-catching" issue. Konrad dispatches a thorough interview with three experts in the AOI space, and Dr. Hwang takes us to a conceptual viewpoint overlooking the potential of AI applications. Ford shares his thoughts on the merging of automation and custom manufacturing, and the lasting impact it will have on manufacturing processes. And Lasky, in his ongoing tutorial on process optimization based on real world examples, leaves us with a heck of a cliffhanger this month.
As I look back over all this innovation, I can't help but reminisce a bit about developing vision systems for semiconductor manufacturing 20 years ago. The black-and-white camera systems and image recognition software, limited by compute power to only processing image contrast, have given way to much more capable hardware and sophisticated software. Oh, what we could have done then with what we have now.
Look me in the eye, or rather the "I": Inspection and test. Artificial Intelligence. The human eye. Each brings a necessary component to making this system work. Enjoy!
This column originally appeared in the October 2023 of SMT007 Magazine.